Zlatan Ibrahimovic: Man for all seasons -- or just one?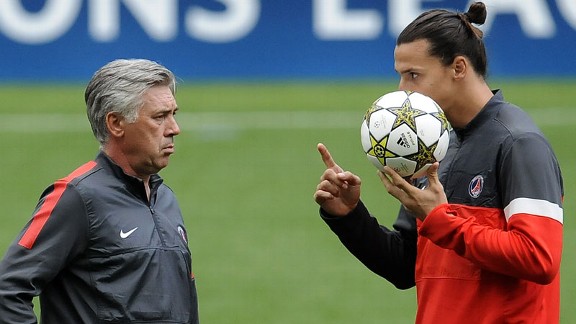 APCarlo Ancelotti has the backing of Zlatan Ibrahimovic at PSG
When Paris Saint-Germain step out onto the synthetic turf at the Stade du Moustoir on Sunday night to face Lorient, Zlatan Ibrahimovic will need just one goal to equal Jean-Pierre Papin's 30-goal haul in 1989-90. Recently crowned Ligue 1 player of the year, the Swede's impact regardless of whether he equals or breaks the 23-year-old record has been phenomenal this season. His first in France, he has been a resounding success despite some brief periods of inconsistency.

A deserved winner at the recent National Union of Professional Footballers awards ceremony, it is fair to say that without the towering striker's incredible 29 goals and seven assists in the league alone -- 34 goals, 13 assists in 44 games if you include all competitions -- he pretty much single-handedly led the capital club to a first Ligue 1 title in 19 years. However, recent speculation continues to link him with a move away from the French capital.

-Rooney open to PSG move
-Benitez could be tempted if PSG call

"I have learned this in football," he told the Swedish media about the speculation at the Parc des Princes on Wednesday. "At times when I have said I will stay, I have changed clubs, so I dare not say anything anymore.

"I have two years left on my contract and anything can happen."

Hardly confidence-inspiring stuff for those in Paris who are keen to see him remain for another season at least -- but by the same token, he did not make a move seem likely. Contrary to reports, the Swedish international did not suggest that Carlo Ancelotti's exit would spark a seven-player exodus in the same interview. Instead, he claimed "seven or eight (members of the coaching staff) would likely follow him."

Ibra said of the Italian: "I have a great relationship with him and I do not want him to leave. For me he is the right man for this project.

"The team is now well-regarded internationally and has many great personalities on the team. There are not many who could handle it."

He has a point. Ancelotti's value to PSG extends much further than just getting results, even if that is the Italian's primary function in the eyes of the club. His taming of Ibrahimovic, often considered an unruly character, is a tribute to his fantastic work so far. This season has been the 31-year-old's best to-date, exceeding previous purple patches at Inter and AC Milan.

But this season has also seen Ibrahimovic demonstrating a different, more mature side of his game. While it would be futile to argue that the Swede's creativity has been of higher value than his goals, he has demonstrated an ability to take responsibility in both roles. Given the success he has had this season in both taking and creating chances, the club would be foolish not to complement him with another striker, more of a pure scorer, ahead of next season.

Perhaps this is where some of the recent rumours linking Wayne Rooney with the capital club come in. The Englishman has apparently been approached by PSG and would likely partner Ibra next season if the transfer did materialise. Though the former AC Milan man is far from in the twilight of his career just yet, it would also be unreasonable to expect him to replicate this season's form next year without additional backup. The move for Rooney would offer him that, although it is hardly a natural fit.

The pair play similar withdrawn roles, which would make it hard for either one to become the natural predator in the side without the other compromising. Ibrahimovic is now so important to PSG's style of play, at least under Ancelotti, that it is impossible to see him accommodating Rooney to take that role. Instead, the English international would have to take that position and the Swede would be the one pulling the strings, creating openings but also taking chances when they present themselves.

A faster player could be a better option to partner the talismanic striker -- as Ancelotti has done with Ezequiel Lavezzi and Jeremy Menez since December -- but they must be a natural striker and one with a clinical edge that neither of the former have.

On many occasions this season Ibra has been the team's saviour, in matches like both clashes with Nancy (where his goals were the difference on both occasions), Lille, Marseille and Valenciennes where PSG victories were inspired by his goals. Les Parisiens need to take that weight of responsibility off his shoulders going into next season. There is no doubt that he can do it by himself, but Ancelotti's side have been fortunate that injuries have been few and far between for their star man this campaign. That might not be the case next season.

For now, Ibrahimovic can enjoy the adulation of the Parisian public == it has been well deserved. The Swede has gained the credit he deserves for his imperious efforts throughout the season and could enjoy further plaudits with more goals this weekend. A potential move to France for Rooney may or may not yet materialise, and it is debatable whether the club would be better served bringing in the Englishman or instead going for the likes of Saint-Etienne's Pierre-Emerick Aubameyang or another top European talent.

One thing that is certain though, Ibrahimovic will still be the main man for PSG next season regardless of whoever arrives this summer and what happens to Ancelotti.