PSG celebrate title, bid adieu to Beckham, with victory over Brest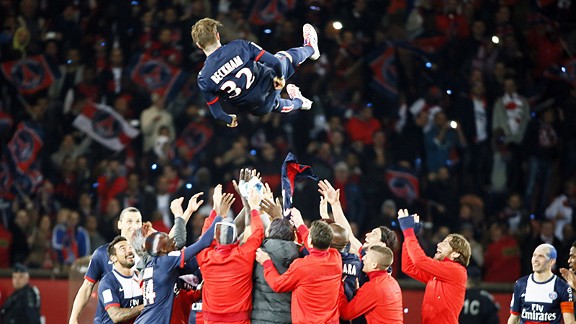 GettyImagesDavid Beckham is lofted in the air by his PSG team-mates after the game against Brest
Paris Saint-Germain brought the curtain down on the 2012/2013 season in style at the Parc des Princes with a 3-1 win over already relegated Brest. Saturday's match preceded title celebrations that went a long way to erasing the bad memories of the previous week's events. To add to the occasion, the capital club had iconic English midfielder David Beckham's retirement to cater for with the 38-year-old having called time on his glittering career just days before. Making his last ever appearance on a football pitch, the club chose to hand him the captain's armband one last time.

Sporting a new kit that was supposed to be unveiled on the cancelled boat cruise from Monday night (not to mention matching dyed hair), it was only fitting that, despite it being Beckham's night on account of celebrating his career, PSG's most valuable player of the season Zlatan Ibrahimovic dominated the match. Experiencing a three-match drought prior to the clash, unheard of for the Swede in his debut campaign, he wasted no time in reminding the Parc des Princes of how valuable he remains to the club with a splendid opener on five minutes. Clement Chantome, rewarded with a start for his impressive recent form, found Ibra who turned his man before firing an unstoppable shot past Alexis Thebaux for his 28th goal of the season.

His second was even better, but it came after another deserving character got himself in on the act. Blaise Matuidi, one of Carlo Ancelotti's most consistent performers this season converted a Beckham corner on the half hour, hitting his shot into the ground on its way in. Ibrahimovic's second followed five minutes later when a free-kick was awarded in Beckham range, the Swede was not in a charitable mood though and slammed a rasping shot into the roof of the net from 25 yards out. Thebaux got a hand to it, but couldn't keep out Ibrahimovic's 29th goal of the campaign and it is now statistically the best season of his carer. On top of that, his 29 goals represent the best season tally in Ligue 1 since Marseille's Jean-Pierre Papin hit 30 in 1989/1990, and one goal in Lorient next week would tie that record.

Although Brest did pull one back through Charlison Benschop, just minutes before Beckham was replaced by Ezequiel Lavezzi, the evening was about celebration for Ancelotti and PSG. The Italian showed kindness towards his squad players, rewarding left-back Siaka Tiene with his first appearance in 384 days, as well as giving Kevin Gameiro a much-deserved 90-minute run out. In a touch of further generosity, he gave 20-year-old third choice goalkeeper Alphonse Areola a second half cameo to ensure that he received his winner's medal.

But the moment everybody had been waiting for, since the announcement on Thursday that he would end his career, was Beckham's tearful goodbye that came in the 83rd minute. The Englishman was given a rapturous exit from the field and after the match the players threw the 115-time capped international above their heads in celebration not only of his time in Paris, but his sparkling career that has inspired a number of the team-mates he will leave behind in the French capital. The match finished 3-1 with little else of note, as you'd expect of a side that had already wrapped up the title and another that already knew their fate of relegation.

Beckham's final blaze of glory was just the beginning of the celebrations though. After the final whistle a spectacular ceremony replete with flashing lights and lavish decorations that stretched on long into the night. Each player was introduced individually and the medals were distributed before a trophy lift that would not get marred by over-zealous fans. Lavezzi's ruffling of the hair of French League President Frederic Thiriez was arguably the pick of the highlights in the celebrations as the fans gave the team the sort of adulation that was expected in Trocadero days before.

The Parc des Princes has seen its last action for the season, but it has been a superb campaign and a much-anticipated first title in 19 years was finally delivered. The crowd made it known that they would like Ancelotti to stay on as coach, with rumours over his future set to come to a head on Sunday, but the Italian was just happy to enjoy the moment.

It was a proud night to be a Parisien and now, champions too.