Clement Chantome: PSG's quiet man whose claims are getting louder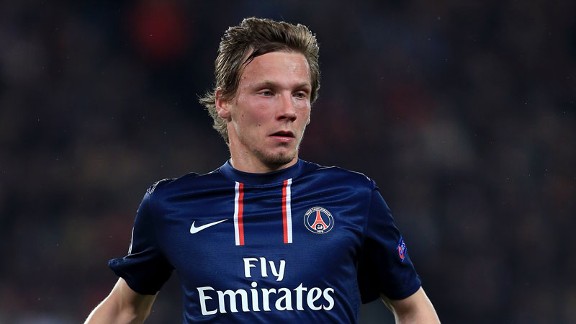 GettyImagesAcademy product Clement Chantome is considering a move away from PSG
There have been a number of poignant moments since Paris-Saint Germain sealed a first Ligue 1 title in 19 years with a 1-0 victory at Lyon on Sunday. The wild celebrations on the Stade Gerland pitch, the thronging masses that greeted the team at Place Trocadero that witnessed celebration turn to aberration, David Beckham's retirement and Zlatan Ibrahimovic's dedication of the title victory to the late Nick Broad. All will figure prominently when the occasion is reflected on. But one moment was particularly touching, and although it will likely get lost in time because of the scenes that marred the following day's festivities, it will remain with many PSG fans for years to come.

After the final whistle and the jubilation had stopped, and after the fans had emptied the Gerland, a group of Parisian players were sat in the centre circle drinking in the success. Led by youth academy product Mamadou Sakho in celebration, Clement Chantome, Blaise Matuidi, Kevin Gameiro, Sylvain Armand, Nicolas Douchez and Ronan Le Crom all took great satisfaction in savouring the capital club's first league victory since 1994. It was the realisation of a dream for many of them, particularly the local lads. Judging by Sakho and Matuidi's wild celebrations, it was a moment that they had waited for as long as the fans had done.

- Beckham: Au revoir, tout le monde
- Ancelotti '50-50' on PSG future
- Violence erupts as PSG celebrate

The title will have had particular significance for another home-grown member of that group, Chantome, a youth academy graduate along with Sakho and a symbol of the club. I think he took everyone by surprise as he sat in the centre circle swigging a beer because so many people just didn't have that image of him, but it will have endeared him even further to the PSG faithful, who already know that he is one of them. The softly spoken midfielder is often overlooked in the newly crowned French champions' side, but he is never forgotten as a reminder of what the club stands for. One year ago, his future at his formative club was a point of debate, and the recent triumph marks the end of a long struggle for Chantome. One of the longest serving members of the current side; the 25-year-old is finally tasting success with the club having seen plenty of ups and downs at the Parc Des Princes.

This season has been a particular success for this unsung member of Ancelotti's squad. He has played an important role for the team, but largely gone without credit. Selected 26 times in the league so far this season, only five outfield players have been called upon more often than Chantome. In the midfield, only Blaise Matuidi and Javier Pastore have been more involved (Jeremy Menez counts as a striker now). He has made 30 appearances overall in all French competitions this term, 18 of those starts, scoring his first goal since April 2011 in the recent victory over Nice. Extend that into Europe, where he has played a further six times (four of them starts) including one assist, and he has played nearly 40 games for PSG this season.

It is a remarkable turnaround for a player who only managed 15 league appearances last season; eight of them from the start, and two further in the Coupe de France. He has more than doubled his playing time under Ancelotti this campaign with the Italian keeping his promise to Chantome that persuaded the midfielder to stay at the club last summer.

"I had a difficult choice to make," he said at the start of the season. "There was a club that really wanted me. I had a conversation with Carlo Ancelotti, who told me that he was really counting on me. I think that he's shown that since the start of the season."

He has, and that difficult decision for Chantome has paid off. His good form resulted in international recognition with Les Bleus under new coach Didier Deschamps in October, representing remarkable progress for the PSG man. Particularly for a player in the team with the lowest domestic bias in Ligue 1, fielding on average only 3.9 French players per game in the league instead of: fielding on average only 3.9% French players per game in the league.

On top of that, he has done it all playing out of position at times. Always one to show thorough commitment to the cause, Chantome just gets on with it instead of complaining about being shunted out onto the right flank on occasions in order to accommodate the dubious claims of the soon-to-retire Beckham. His ability to win the ball back, and more importantly to keep it, makes him an important part of Ancelotti's side, but also one of its most undervalued. For instance, not many people would have guessed that across the entirety of Ligue 1 for the whole season, Chantome boasts the best passing accuracy at an astonishing 92%.

Whilst he may not be the flashiest, the most controversial or the most marketable footballer in the PSG stable, the Sens native has something that Qatar Sports Investments' money can't buy: heart, spirit and devotion to the club. He is dependable.

Chantome likely won't become an indispensable member of this PSG side, nobody outside of the big boys like Zlatan Ibrahimovic, Thiago Silva and Matuidi can expect to. But Chantome won't expect to start every game for Les Rouge-et-Bleu, he'll just aim to make the most of the opportunities that he works hard for and that Ancelotti rewards him with, and he seems to have accepted his rotation status well. He is certainly one of the most undervalued members of the squad, but after Matuidi's unexpected success this season, who is to say that he can't do the same?

Without him playing the understated role that he plays, quietly going about his duty, wearing his heart on his sleeve and fighting for the cause every time he takes to the pitch, the side would be worse off. A new coach, if Ancelotti leaves, may come in and see no future at the club for Chantome at first. But he, as the Italian coach has found out since he arrived, will discover that the man who joined the club as a 12-year-old is proof that you can't judge a book by its cover.