Lack of discipline a real issue at PSG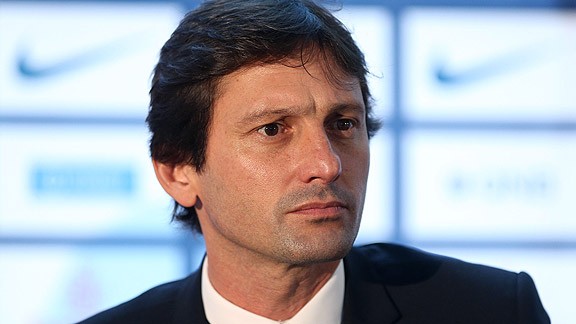 John Berry/Getty ImagesThe meddling and antics of Leonardo, above, have severely undermined the efforts of Carlo Ancelotti at PSG.
The bad-tempered 1-0 win over Evian a fortnight ago should have been an isolated incident, but following Paris Saint-Germain's 1-1 draw with Valenciennes on Sunday, it has now become a major problem for the capital club. Captain Thiago Silva saw red on the pitch before halftime for raising his hands to referee Alexandre Castro's chest, a controversial enough decision, but it was the actions of PSG's sporting director Leonardo that should be of greater concern to the club.

- LFP to review Leonardo 'ref attack'
- Leonardo: Officials holding back PSG

After the match, the Brazilian went to dispute his compatriot's red card with Castro and video footage shows him shoving the 42-year-old when the Frenchman refused to discuss the decision with him. Given PSG's recent lucky escape from harsh sanctions following the team's role in an ugly post-match fracas in Annecy, Leonardo's actions were ill-advised no matter how contentious the decision was.

The actions once again illustrate a flagrant lack of discipline and is a reflection of the internal problems that likely have coach Carlo Ancelotti in two minds over whether to continue or not. Rightly or wrongly involved, Leonardo should have kept out of the issue no matter how incensed he was by the decision. Ancelotti has a right to expect this behaviour from his players from time to time, as well as he has the right to rebuke them for it, much like he did with Marco Verratti against Evian. But he won't expect it from Leonardo, a man who Ancelotti has no authority over to criticize, yet someone who regularly involves himself in first team affairs in the way a coach would and is responsible for assembling the squad. The pair are supposedly friends, but the recent reports in Paris suggest the relationship has soured thanks to the Brazilian's meddling.

The Silva red card was inexplicable, regardless of the furor that has come in the wake of it. From start to finish of the match, it seemed like Castro wanted to stamp his authority on the game. Watching from the stands it was unclear as to why Silva had been ejected as attention was diverted from the pair at a crucial time. Nonetheless, Ancelotti soldiered on and salvaged a point from the match as he rallied Les Parisiens to fight for a draw. Then and only then did he express his dissatisfaction.

"French referees are very strict," the Italian said after the match.

"Thiago Silva didn't deserve a red. I was angry with Verratti last week, but I can't be with Thiago. I don't know if we can appeal, but we're going to look at the possibilities."

He is right, even if PSG do have by far the worst disciplinary record of any leader of Europe's top five championships with 69 yellows and nine reds. But to claim a conspiracy as Leonardo has is rubbish. Yes, a number of very harsh and contentious decisions have gone against the capital club this season, but there have also been times that PSG have been saved by the officials.

"It went beyond all logic" argued Leonardo. "If it continues like this, we'll find ourselves with ten players suspended and no team.

"They're trying to hold us back. With five players out, it's more difficult. We've got three games left and need a win."

Leonardo's reaction is understandable in many ways, admirable even that he is so impassioned, but it was not the time or the place to wade in with his opinion and it could prove costly. PSG were hardly blame-free in the events at Evian with Verratti, Salvatore Sirigu and Blaise Matuidi all particularly badly behaved. The least this will land PSG is likely a fine and a ban of some sort for Leonardo from all technical areas on match days. The most though, could be a points deduction, a nightmarish scenario given that Les Rouges-et-Bleu lead Marseille by seven points with only three games to go.

"Look at the pictures," protested Leonardo. "I don't touch the referee with my shoulder but with my back. Because I was the one pushed. It is me who was assaulted."

To anyone who has seen the footage this is obviously stretching the truth. In the heat of the moment Leonardo got carried away to the point where he was literally led away by club President Nasser Al-Khelaifi. Any potential point penalty puts PSG in a precarious position considering they face a tough trip to Lyon before a home clash with Brest and a tricky match at mid-table Lorient. More importantly though, what sort of example does it set?

The potential ramifications of such behaviour are far-reaching, even if it is unlikely that PSG will be docked points. The French football league's disciplinary committee have never handed out a point deduction in similar circumstances in 40 years of existence, but Leonardo will surely face a heavy sanction. But the Brazilian's actions almost encourage members of PSG's side to indulge their prima donna tendencies while Ancelotti is trying to stamp that culture out.

Ancelotti has done a superb job for PSG this season and gets the best out of his squad, but he is in danger of being undermined by his partner Leonardo (and not for the first time) who can't seem to relinquish certain privileges he formerly enjoyed when coached in Italy. The Brazilian could yet become a candidate for the Italian's position should he decided to leave at the end of the season. But on this evidence it would be a poor decision with the club finally recognising the importance of Ancelotti's tough-love approach to the job.