Champagne on ice vs. Valenciennes but title almost guaranteed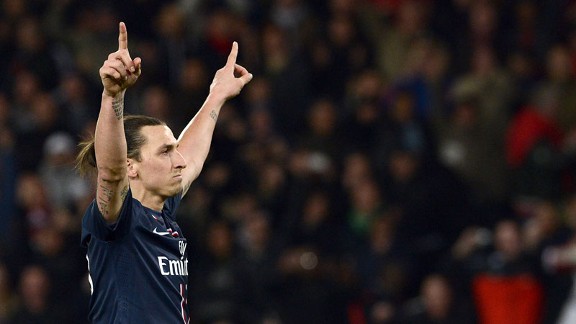 Franck Fife/Getty ImagesThe official celebration of a Ligue 1 title will likely happen away from the Parc Des Princes for Zlatan Ibrahimovic and PSG.
Marseille's 2-1 win over Bastia at the Stade Velodrome on Saturday stops Paris Saint-Germain from being able to celebrate an historic first Ligue 1 title in 19 years as early as Sunday. But in reality, the party will still go on should Carlo Ancelotti's side beat Valenciennes in their penultimate home match of the season.

Barring a run of victories, a massive goal swing and complete capitulation from the capital club over the last four games of the season, PSG victory at the Parc des Princes would all but seal Le Championnat. It would leave just a point needed from Les Parisiens' last three matches to officially secure the title.

But perhaps the most frustrating thing about the delayed confirmation of a first French title since 1994 are the question marks surrounding the futures of both coach and players which will drag on for at least another week.

Ancelotti, in particular, continues to be under intense scrutiny as speculation heightened again this week regarding a potential move to Spanish giants Real Madrid. Zlatan Ibrahimovic is also one of a number of key players for PSG that are reported to be nearing a Parc des Princes exit. While any announcement from the player regarding his future will likely only be made once the season officially finishes, Ancelotti's declaration of intent could come immediately after securing the title.

The Italian's comments during his pre-match press conference have done little to quell the reports of an imminent departure.
"It is very difficult to stop a coach from leaving, even if he is under contract," stated the two-time Champions League winner.

Despite the immediate future looking rosy with Ancelotti's side on the verge of securing the first piece of silverware in the Qatar Sports investments era, PSG are facing a summer of uncertainty. For all of the rumours being created by Cristiano Ronaldo's agent and his comments regarding a potential move to the French capital, Les Rouge-et-Bleu's supporters have realised the potential negative impact that Ancelotti's departure could have on the team.

- PSG move possible for Ronaldo

A group of fans recently wrote an open letter to the Italian pleading with him to stay at the Parc des Princes. Javier Pastore did something similar in his press conference on Friday without saying as much, claiming that he would be "sad" should Ancelotti depart for Madrid. The Argentine also spoke of his excitement at potentially being crowned a champion for this first time in his career, likely a feeling reflected by many of his teammates. But a long-term a rebuilding process could be on the cards, undoing the valuable work accomplished this season if Ancelotti heads a summer exodus.

There is a sense around the club that Ancelotti's departure is inevitable, and the stories documenting PSG's agreement of a deal with Jose Mourinho to take over next season back when the team were struggling under the Italian are well-documented. However, with the Portuguese seemingly equally as keen on returning to former club Chelsea, or at least the English Premier League, title jubilation threatens to turn hollow rather quickly should Ancelotti's announcement be of the deflating variety.

The longer the anxiety remains around the club, the more it threatens to tarnish what has been an extremely positive season with a less than impressive finish to the campaign. Because of that, in many ways, the prolonged wait will heighten the disappointment felt by many PSG fans and overshadow the team's title-winning exploits.

It is now, if it wasn't before, an almost certainty that one more victory and any points picked up in the three remaining matches after this weekend will secure the title officially. The pity is that it won't likely come at the Parc des Princes. If it does, then that will mean the title race has been made that little bit more interesting in the build-up to PSG's final home match of the season against a seemingly doomed Brest outfit.

That said, a win on Sunday will still spark raucous celebrations in the capital with the realisation that the title race is over barring events that would defy all logic and belief to hand it to bitter rivals Marseille. For now, all PSG fans can do is enjoy the moment without looking too far into the future. Until Ancelotti formally announces his decision, all paper talk remains exactly that.

For all of Mourinho's gushing that hints towards a Chelsea reunion, there are so many potential reasons why he would also not return to Stamford Bridge. However, it appears his constant baiting of the British media, so as to not be forgotten, has been temporarily overlooked. The capital club could yet have a bright future under his leadership, or that of Malaga's highly-rated Chilean tactician Manuel Pellegrini, or a number of other potential candidates so this trophy is almost certainly not going to be PSG's last for some time.

Regardless of whether or not Ancelotti goes in the summer, collecting the title represents mission accomplished for the Italian and the club this season.