Lack of discipline spoils PSG win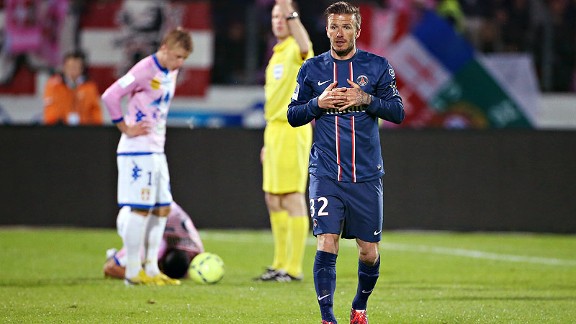 John Berry/Getty ImagesDavid Beckham was one of four players red-carded in PSG's away win at Evian.
Although ugly scenes marred the end of Paris Saint-Germain's 1-0 win over Evian in Annecy on Sunday night, the result leaves Carlo Ancelotti's side on the verge of their first Ligue 1 title since 1994. They can sew up that crown with victory over Valenciennes at the Parc des Princes in six days' time, providing that bitter rivals Marseille fail to beat Bastia at the Stade Velodrome. Javier Pastore's solitary goal was enough to secure a win that ended a tumultuous second half of the week on a high, but that minor positive was marred by shocking scenes at the end of the clash at the Parc des Sports d'Annecy.

- Leonardo: Referee 'lost his head'

A rough weekend for the capital club started on Friday when Le Parisien reported that Ancelotti had informed the club's hierarchy earlier in the week of his desire to leave in the summer. The Italian has since denied the story linking him with Real Madrid and Manchester City, but so far PSG have failed to officially confirm or refute the story's credibility. It is yet another sign that the two-time Champions League winning boss is growing increasingly agitated at his situation and certainly is the clearest indication yet that the club will be under new leadership next year.

After a performance like the one at Evian though, who can blame him? The issue that has apparently riled Ancelotti more than anything this season has been the club's owners and their interference with his work. That has often manifested itself in the hierarchy criticising the Italian's relationship with the team. At no point has his frustration been clearer than the team's previous two visits to Annecy.

Marco Verratti's red card following two yellows particularly drew his ire. Ancelotti was seen lambasting his young protegee as the Italian international left the field and justifiably so. Not only was the coach furious at Verratti once again giving in to his short temper and putting his side in danger, it marred what had been a superb performance from the 20-year-old.

However, it was the youngster's reaction to the perceived foul nine minutes from time and not his tackle itself that warranted the second caution. Indeed, it had looked like referee Olivier Thual was prepared to let the incident go before the Italian flew off the handle in typically hot-blooded Mediterranean fashion.

If Ancelotti cannot subject the likes of Verratti to constructive criticism when needed, he is wasting his time in the capital. Mind you, so too would any potential successor to Ancelotti. But what he saw just minutes after that made him even more irate. David Beckham was brought on following Verratti's dismissal to shore up the midfield and confirm the victory. Six minutes after entering the fray, he was heading back to the changing room and Ancelotti was as white as a sheet. The Englishman's tackle on Youssef Adnane was in extremely poor taste and, although it did not actually result in that much contact, it belied a player of his experience.

If Verratti needs a stern word here and there to keep him on the straight and narrow, then Beckham at 37 years old and almost 38 certainly doesn't need telling twice. Unfortunately, it is something that has become an all-too-familiar sight from Beckham in Ligue 1. His petty arguments that follow rash challenges have become a regular part of his cameo appearances. It smacks of a player desperately struggling to end a stellar career on a high having failed to recognise how to quit when he is ahead. His ability to do that has now been seriously damaged by a considerable suspension that further underlines his limited contribution.

Blaise Matuidi and Salvatore Sirigu also contributed to the late fracas that saw the Italian and Evian's Saber Khlifa also red carded for his role in the melee. Although Matuidi was not entirely at fault and did not receive a post-match red -- celebrating wildly in front of your opponent's bench in a match marred by a series of contentious decisions (including a disallowed Khlifa goal) is hardly advisable -- the bottle he had thrown at him to spark the events was not wholly unjustified. The French international will face deserved internal discipline for his part in the ugly scenes.

Add to that an off night for the PSG strikers, with Ezequiel Lavezzi and Zlatan Ibrahimovic in particular missing gilt-edged chances, and you start to understand why Ancelotti feels so exasperated. The night's events wrongly overshadowed a hard-fought win that takes PSG to the brink of a first title success in 19 years, and it was thanks to an improving Pastore. The Argentine drew deserved criticism for his poor reaction to the Italian's assessment of his side's last performance against the Savoyard outfit (another recent match where he scored) in the Coupe de France, but his performance in Annecy was another sign after last week's 3-0 win over Nice that the 23-year-old is steadily improving.

It was a small positive, though, on night of largely major misdemeanours and this week looks set to be key in deciding both Ancelotti's future and those of a number of players in a squad that, at times, lack professionalism. If there is any chance of the Italian staying, then PSG have to do everything in the power to make him happy, including allowing him to have a few harsh words.

Those harsh words, particularly on this evidence, may well be justified and are certainly vital to getting the best out of the current squad approaching next season with higher expectations.