PSG looking to future without Ancelotti?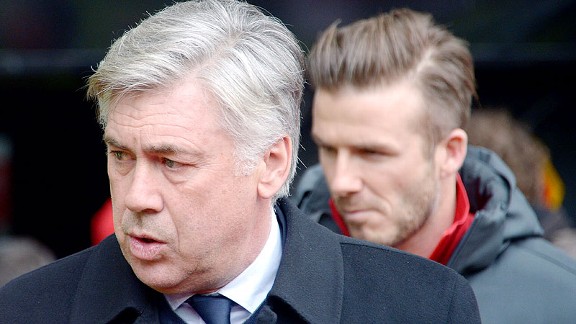 DAMIEN MEYER/AFP/Getty ImagesCarlo Ancelotti is pleased to have David Beckham at PSG but doesn't like the owners peering over his shoulder all the time.
With so many transfer rumours flying around the Parc des Princes and speculation regarding a few members of the Paris Saint-Germain squad, including Zlatan Ibrahimovic, sporting director Leonardo had to come out and say something.

-Reports: Ancelotti edging closer to Real Madrid

He reaffirmed on Wednesday that he will remain at the club next season as will the Swede, Ezequiel Lavezzi and Marco Verratti, two others linked with an exit from the capital club.

Crucially though, it is the man whose future the Brazilian did not confirm that will have the capital club's fans approaching the summer with a sense of trepidation.

That coach Carlo Ancelotti's future is "in his own hands" is the clearest indication yet the Italian is not entirely satisfied in Paris, something first mooted back in February by Le Parisien.

Although nothing can be decided until the team have won the title, something that now looks a formality, there is a chance that the two-time Champions League winning coach will not be there next season. His departure would surely only be for a club of considerable stature such as Real Madrid, who apparently have been courting him, but it would come as a massive blow to PSG's ambitious project to lose their chief halfway through.

Ancelotti has done extremely well this season -- first to ride the initial storm caused by a less-than-desirable run of results in November, culminating in a victory over Porto in Europe saving his job. But also to have taken Les Parisiens to a Champions League quarter-final two years into a five-year plan.

His recent tactics have been almost flawless, with his selections and rotations very nearly seeing PSG past Barcelona and building up an unassailable lead atop Ligue 1. A poor performance from players in the Coupe de France against Evian though incurred the wrath of the owners, and it appears this latest outburst has unsettled Ancelotti once more, who rightly laid the blame for the shock loss firmly at the feet of the players.

The timing could not be further from ideal. The capital club look set to celebrate their first French title in 19 years inside the next fortnight, and planning for next season have already likely begun in earnest despite Leonardo's protests that no bids have been lodged.

But searching for a new coach will not have been on the Brazilian's agenda for the summer, and all potential hirings and firings will have to wait until a definitive decision has been made about the Italian's future once winning the league triggers the automatic clause in his contract.

PSG stand to lose a lot if Ancelotti walks away, or is lured away, given the crucial stage that the current project is at. The squad is taking shape and the former Chelsea coach has done remarkably well to form a coherent unit out of a core of largely individualistic players.

What's more is that, the Evian debacle aside, Les Rouge-et-Bleu have looked convincing over the second part of the campaign, something that could not be said pre-Christmas. Any change in management arguably undoes all of the Italian's hard work over the past 12 months since Montpellier pipped their illustrious rivals to the title.

A number of players are at key stages in their development under his tutelage; Verratti, Blaise Matuidi and Lucas Moura included, and the team have finally understood Ancelotti's methods and formations. It is a far cry from the disappointing end to last season that saw PSG finish three points off the pace with the players struggling to adapt to their coach's possession-based style of play.

Also, the future of a number of players who appear to have caught the eye across Europe may also hinge on Ancelotti's future, with a possible departure sparking an exodus Leonardo and the club's hierarchy had not planned for.

Rumours continue to circulate suggesting that Arsene Wenger could be lured from Arsenal to the soon-to-be-renovated Parc des Princes this summer given his status within the domestic game and preference for youth. The introduction of the Frenchman would surely initially take PSG a step back, though, given the amount of time it would take Wenger and the copious level of changes he would no doubt demand throughout the club to suit his style. Speculation that Jose Mourinho could take over in a managerial swap with Ancelotti has died down for now, though expect it to resurface depending on the result of his post-season discussion with the Real Madrid leaders.

The side from the capital are gearing up to face Evian away on Sunday, with a chance to take revenge against the side that dumped them out of the Coupe de France unceremoniously less than a fortnight ago. PSG are two wins or less away from securing the title, and a victory in Annecy would all but make them champions.

However, with such speculation in the background and an air of uncertainty surrounding the club, the players need to stay fully focused on the job at hand. Any blunder at this stage could potentially be catastrophic and Ancelotti's possible exit could play a big role in any title implosion that could occur were PSG to suffer defeat on Sunday.

As soon as the season finishes, the club must sit down with Ancelotti and do everything they can to persuade him to stay. Allowing the Italian to leave prematurely could be extremely costly for the club in the long run. So if his terms are that the club's hierarchy get off his back a little about some of the team's more surprising results and challenge the players about them instead, then so be it.