Edinson Cavani a perfect fit for PSG, if Zlatan stays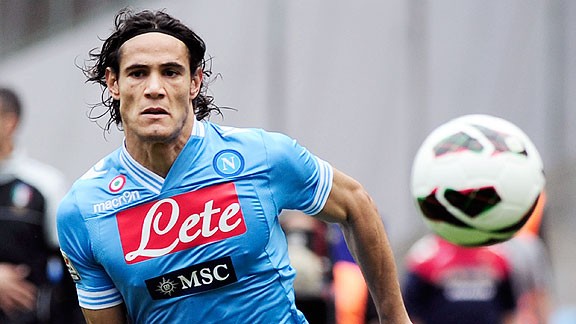 Roberto Salomone/AFP/Getty ImagesCavani is a reported target of several top European sides
RMC Radio claimed on Tuesday that Paris Saint-Germain have struck a deal with Napoli's serial goal scorer Edinson Cavani, suggesting that an agreement between the capital club's sporting director Leonardo, the player and his entourage has been reached.

Crucially the reports stopped short of claiming that Napoli have also sanctioned the sale and Leonardo has also since denied that PSG have made a bid. But RMC have been proved correct on these matters before, most notably with Ezequiel Lavezzi's move to the French capital. However, following the suggestions that Manchester United's Wayne Rooney was on his way to the Parc des Princes, there is little doubt that the Ligue 1 leaders are in the market for a new striker.

- Agent: Ibra has not asked to leave
- PSG play down Cavani report
- Horncastle: Should Cavani leave?

The prolific Uruguayan fits the bill in every possible way for Les Parisiens and comes with a price tag and salary demands to match, but the reports regarding the 26-year-old's arrival follow ones suggesting that current star marksman Zlatan Ibrahimovic will be leaving. Although Cavani is undoubtedly one of the few players in world football capable of replacing such a unique talent in terms of goals, the Cavani move would arguably make more sense if the Swede stays.

For large parts of the season, particularly recently in both Ligue 1 and the Champions League, it has become increasingly obvious that Ibrahimovic needs a predator to play behind to be most effective. The 31-year-old has now netted 27 goals in Le Championnat this season after his penalty against Nice, but all too often the towering striker has been required to inspire the team to victory on his own. Ibra has done that in abundance this term, but Carlo Ancelotti's side cannot continue to rely on the former AC Milan man so heavily. He needs somebody to share his burden

The club have also been linked with a bid for Wayne Rooney, but the Swede's preference to drop further back (particularly in Europe) raises immediate questions over those links and how the pair would play together. When Ibrahimovic has been absent PSG have failed to win in three of their four matches and have struggled to break their opponents down. Even with the mercurial striker in the side it has still been a difficult task overcoming some stubborn opponents. The problem has not been a creation of chances; it has been an inability to take them, and Ibrahimovic consistently pays the price for that as the focal point of the team, often taking the flak. It is no wonder he is getting a bit sick of it.

Ancelotti's formation is a loose 4-2-2-2 with two wide players flanking Ibrahimovic alongside Ezequiel Lavezzi, Jeremy Menez or Kevin Gameiro, utilising the trio's pace to compliment Ibra's wizardry. The preferred option has been Lavezzi, though Menez had an extended run when the Argentine was injured and suspended earlier in the season. That has meant Javier Pastore occupying a wide berth on the left with Menez and then from January, Lucas Moura on the right. The mixture creates plenty of chances, and on their day plenty of goals as well, but too often Lavezzi and Menez's lack of clinical finishing has been exposed.

Cavani offers that missing cutting edge, that guarantee of goals needed to get past even the most stubborn of Ligue 1 teams regularly or at least once per match. That reassuring presence then takes the pressure off of Ibrahimovic, arguably a contributing factor towards any reported unhappiness in Paris. Lavezzi, who has apparently played a big role in Cavani's potential move, could then move back to his favoured role wide on the left where he excelled with Napoli both in Italy and on the European stage. It would also enable Ancelotti to keep Lucas Moura out on the right where he appears to be more effective than in the middle, at least domestically, by virtue of his pace.

The biggest problem, once again, is where to accommodate Javier Pastore in the current line-up if Cavani was to arrive. The Argentine can play in the number 10 role behind two strikers, but PSG can ill-afford to sacrifice a central midfielder for a more advanced role because of the pressure it would put Blaise Matuidi under. Playing him out wide still would mean dropping one of Lavezzi or Moura, which looks unlikely, meaning that Ancelotti must once again consider playing Pastore in a deeper role. It was an experiment that failed miserably in the Italian's first few games in charge, but it is that or dispense with the €42 million man.

However, this is all assuming that Cavani actually arrives and that Ibrahimovic does not leave. Given Ibra's creativity, that potential outcome would mean that PSG need to promote Pastore further forward as a support striker, something that only met with mixed success last season, or find a new number 10. That is unlikely considering that the Cavani deal would almost certainly dominate PSG's summer transfer activities, so a move further back seems more probable. Also, what of Verratti if Pastore was moved further back? That would then surely make the promising young Italian surplus to demands, especially if another mooted transfer target Etienne Capoue was to arrive.

It would appear that any potential move for Cavani will have been done with Ibrahimovic in mind. If not, then Leonardo and PSG will have a further move up their sleeve. However, it seems fruitless to either get rid of or to allow your best player of the season to leave the club after one highly productive campaign, swapping like for like in terms of goals, but losing out on creativity. It also would add fuel to criticism of Ibrahimovic that he is a mercenary, staying for a solitary season in France and only having a league winner's medal to show for it, given that PSG would have been expected to canter to the title regardless of whether or not he had arrived.

The Swede is a rare breed and is itching for Champions League success, but for that he arguably stands his best chance at this stage of his career in the French capital. But for PSG to get the best out of him, and to realise their lofty ambitions for improved European success and further domestic dominance next season, PSG would need Cavani and Ibrahimovic to strike up a potent partnership.