Transfer news LIVE: United turn down Blues bid for Rooney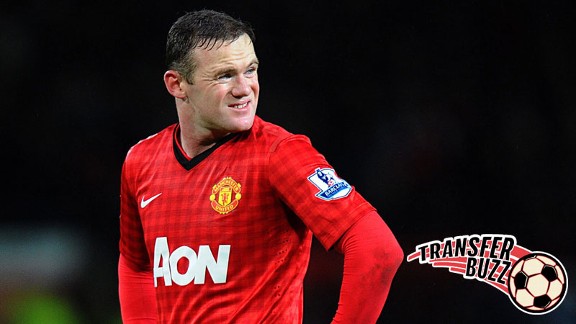 PA PhotosWayne Rooney could lodge an official transfer request
22.39 BST: Former Sunderland and Wigan defender is hopeful of making an emotional return to Ipswich Town as a free agent this summer.

21.52 BST DONE DEAL: Former Chelsea midfielder Florent Malouda has joined Turkish side Trabzonspor, the club have confirmed. The Super Lig outfit announced the deal on their official website, with the Frenchman signing a two-year deal.

20.44 BST DONE DEAL: Sheffield United have signed Lyle Taylor from Falkirk for an undisclosed fee.

20.17 BST DONE DEAL: Paris Saint-Germain have continued their summer spending by signing young French left-back Lucas Digne from Lille.

20.09 BST: Chelsea boss Jose Mourinho has confirmed that Wallace will go out on-loan in Europe this season, as Chelsea have options at right-back, with Branislav Ivanovic and Cesar Azpilicueta, and the Brazilian is unlikely to get a work permit.

20.01 BST: Marvin Pourie is set to join Danish champions FC Copenhagen from Silkeborg.

19.48 BST DONE DEAL: Boca Juniors striker Sergio Araujo, who was on loan at Barcelona B last season, has joined Argentine club Tigre on loan.

19.21 BST: Croatia starlet Marko Dabro, 16, has chosen to join Fiorentina after starring for hometown club Ciablia Vincovci last season.

19.01 BST: Blackpool are hoping to complete a deal to sign defender Paul Caddis from Swindon Town.

18.31 BST DONE DEAL: Jermaine Beckford has been signed by Bolton Wanderers from Leicester City, with the Trotters paying an undisclosed fee for the player.

18.10 BST: Alvaro Negredo has moved a step closer to joining to Man City, he has agreed terms and now only the medical stands in his way. He will say goodbye to the club in a ceremony at 1930 CET. Here's what Sevilla tweeted:


Negredo se despedirá en el antepalco del Sanchez Pizjuán a las 19.30 horas en un acto en el que estarán sus compañeros. #SevillaFC

— Sevilla Fútbol Club (@SevillaFC) July 17, 2013
17.33 BST DONE DEAL: Kilmarnock have completed the signing of defender Darren Barr, the Scotland international and former Hearts player.

16.52 BST: This Rooney story just keeps moving all the time. Now Jose Mourinho has suggested it is Rooney or bust for Chelsea in this transfer window. "I think that this situation is clear - nothing is a secret anymore," he said. "The official bid is just about a certain amount of money and doesn't involve players. We want the player. We made the bid and now we have nothing more to say. Now it's up to Manchester United."
Asked if Chelsea had made any other bids, Mourinho said: "No, and we won't."
Asked whether it is now "Rooney or bust", Mourinho said: "yes."

16.28 BST: Manchester United are reported to have said that Woodward's return has "nothing to do" with the ongoing Rooney transfer speculation frenzy. So make of that what you will.

16.15 BST: Happiness is... Stoke City, says Peter Crouch. The striker tells the Sentinel he is enjoying life at the Britannia Stadium, although he accepts that situation might change if new manager Mark Hughes decides he is surplus to requirements and decides to sell in order to bring in another striker. "Of course I am happy here, and happy to stay," he told the paper.

16.05 BST: Make of this (from the Press Association) what you will: Manchester United chief executive Ed Woodward has flown back to the UK from the club's tour of Australia, leaving early in order to carry out some urgent transfer business. Rooney? Chelsea? Or something else altogether?

15.30 BST: Back to those Santi Cazorla/Atletico Madrid rumours from earlier in the day. President Enrique Cerezo said: "We have no news of Cazorla," he said. "They are inventions that occur every day."

15.15 BST: Toronto FC are playing their cards close to their chest, hedging their best and suchlike – but it seems they could, perhaps, sign Internacional striker Diego Forlan. President Kevin Payne said: "Look, I don't think it's a good policy to talk about deals that are in progress. It can't do anything to help the deal. And it also can make you look pretty dumb if the deal doesn't happen."

15.05 BST: Stewart Downing, who has been linked with a summer move to West Ham, doesn't want to do anything except stay at Liverpool, he has said. Downing forced his way into Brendan Rodgers' plans on a regular basis in the second half of last season and insisted: "I'm here to stay. I'm enjoying it, especially last season when I got a good run in the team. Hopefully that will continue. I want it to continue. It's why I came here, to play in a successful team."

14.50 BST: Joel Campbell's agent has told ESPN talks with Arsenal about his future are ongoing. The forward, 21, was signed by Arsenal from Saprissa in 2011 but has since been loaned out in order to aid his development.

The Costa Rica international, who spent time on loan with Lorient before being sent to Real Betis last season, has been granted a work permit to play in England.

14.40 BST: Manchester City may not have confirmed his departure, but Roma are already rolling out the welcome mat for Maicon. They've done it like this:



Benvenuto Maicon! | Welcome aboard, Maicon! #ASRbrunico2013 pic.twitter.com/SEJ0bsyMHc


— A.S. Roma (@OfficialASRoma) July 16, 2013
14.30 BST: Feyenoord have said they would welcome a return by Manchester City striker John Guidetti, who spent a season on loan with them in 2011-12. The club's technical director, Martin van Geel, said "door is always open" for the 21-year-old.

14.07 BST: And more on the story that Sevilla's Alvaro Negredo seems to be going to Manchester City, not long at all after he apparently wasn't.

13.51 BST - DONE DEAL: Southampton midfielder Richard Chaplow has moved to Millwall, and seems pretty pleased about it, saying he is "delighted to be a Millwall player - looking forward to getting into training and to get back playing."

13.37 BST: Sevilla president Jose Maria del Nido has said Alvaro Negredo is set to join Manchester City.

13.28 BST: More on Chelsea, Rooney and the big story of the day:


#CFC will not sell Mata but will listen to offers for Luiz.

— Ian McGarry (@garbosj) July 17, 2013
#CFC bid for Rooney was £20m cash. No players were offered. #MUFC

— Ian McGarry (@garbosj) July 17, 2013
13.20 BST - DONE DEAL: Another actual deal. Ashley Vincent goes from Port Vale to Cheltenham on a free.

13.15 BST - DONE DEAL: An actual deal. This is more like it. Bury have signed centre-back Richard Hinds on a one-year contract after his release by Yeovil Town, newly promoted to the Championship, at the end of last season.

13.12 BST: The BBC reports that Chelsea have said the following: "Chelsea Football Club can confirm that yesterday it made a written offer to Manchester United for the transfer of Wayne Rooney.

"Although the terms of the offer are confidential, for avoidance of doubt and contrary to what is apparently being briefed to the press in Sydney, the proposed purchase price does not include the transfer or loan of any players from Chelsea to Manchester United."

13.01 BST: Word from West London: Chelsea have confirmed they have made a bid for Wayne Rooney, but denied the offer included a player in part-exchange. Here, to reiterate, is the story of what has emerged so far today.

12.49 BST: New Eintracht Braunschweig striker Simeon Jackson has said it was time to seek a new challenge after struggling to get into the Norwich first team under manager Chris Hughton last season, and has set his sights on helping his new club stay in Germany's top flight. Jackson – as you can see below – scored the goal that won the Canaries promotion to the Premier League in 2011.

12.47 BST: Paris Saint-Germain president Nasser Al Khelaifi has given short shrift to speculation that Zlatan Ibrahimovic could leave the French champions, saying Thiago Silva, linked with Barcelona, would also be staying put.

12.22 BST: It is, of course, not at all like Ipswich Town to hark back to the past – but manager Mick McCarthy says Titus Bramble could be about to return to Portman Road, where he began his career.

12.15 BST: Lille's highly-rated full-back Lucas Digne has agreed a €15 million move to Paris Saint-Germain, lequipe.fr has reported. The 19-year-old is undergoing a medical and is expected to sign a five-year deal, worth €250,000 a month, with the French champions.

11.59 BST: Remember all the hoo-ha around Watford and the loan market last season? Well, Gianfranco Zola's club have just signed Brazilian midfielder Iriney Santos from Granada, also owned by the Pozzo family... on loan.

11.58 BST: And more Roonery: here's one take on how things could begin to pan out:


#MUFC will not enter negotiations for Rooney until the player submits a written transfer request. #CFC

— Ian McGarry (@garbosj) July 17, 2013
11.18 BST: And staying in that part of London, Brentford defender Harlee Dean has committed his future to the Griffin Park club, signing a new three-year contract.

11.15 BST: More goings at QPR, potentially – West London Sport says Anton Ferdinand, Luke Young, Adel Taarabt and Hogan Ephraim have all been left out of QPR's squad for the pre-season trip to Austria. Below is a reminder of some of the sparkling contributions Taarabt has made for Rangers.

11.01 BST: Also from Spain: Real Sociedad want to sign Arsenal's young Spanish defender Ignasi Miquel on a season-long loan.

10.55 BST: It's all getting a bit strange today: reports in Spain were suggesting that Arsenal could let their Spanish playmaker Santi Cazorla go to Atletico Madrid, with newspaper Marca claiming personal terms had been agreed. Arsenal, however, have dismissed those reports, the Daily Mirror has said.

10.45 BST: As we appear to be moving towards the 'Rooney endgame', ESPN FC's Manchester United blogger Musa Okwonga tries to make sense of it all.

10.33 BST: Both the BBC and the Daily Mail say that rejected offer was £10 million plus Mata or Luiz, as mentioned earlier. Why would anyone want to get rid of Juan Mata? And, not only that, to get rid of him to a direct rival?

10.30 BST: And so it begins to speed up: Manchester United have rejected a bid from Chelsea for Wayne Rooney, according to reports. More on this, inevitably, throughout the day.

10.17 BST - DONE DEAL: Reading have said that 24-year-old midfielder Daniel Carrico has joined La Liga side Sevilla on loan for next season, with the move likely to be made permanent.

10.15 BST: Here's the Daily Mail's take on the Wayne Rooney situation – Britain's angriest paper reports that United have turned down a Chelsea offer of £10 million plus either Juan Mata or David Luiz for him.

10.11 BST: Luiz Gustavo will be allowed to leave Bayern Munich if a suitable offer for him is received, according to a report in German paper Sport Bild.

10.04 BST - DONE DEAL: Crystal Palace have loaned 20-year-old winger Jason Banton to Peter Winkelman's all-singing, all-dancing football frenzy in Milton Keynes until January.

10.01 BST: Bad news, Arsenal fans: Napoli president Aurelio de Laurentiis has confirmed that his club is interested in signing Real Madrid forward Gonzalo Higuain, linked with the Gunners throughout the summer.

Napoli have cash to spend following the €64 million sale of Edinson Cavani to Paris Saint-Germain and have now entered the race for Higuain's services. Asked in a Twitter Q&A whether his club were in talks for Higuain and Internacional forward Leandro Damiao, De Laurentiis replied: "It's true."


@ADeLaurentiis Presidente, è vero che ci sono delle trattative per Higuain e per Damiao? #AskADL

— AMOROSOBlack heart (cards) (@OlgaIlliano) July 17, 2013
E' vero

— AurelioDeLaurentiis (@ADeLaurentiis) July 17, 2013
09.40 BST: More on Suarez and clauses: Liverpool and the striker's agent are in disagreement over a reported £40 million clause in his contract, according to the Times.

Suarez signed a new long-term contract with Liverpool last summer, and the paper says there is confusion about a clause inserted into that deal. It claims Liverpool interpret the stipulation as being that they "must consider" offers of £40 million or more, whereas agent Pere Guardiola believes such an offer "would effectively trigger his release".

Liverpool managing director Ian Ayre recently confirmed to Bloomberg that Arsenal have made an offer for the Uruguay international, with a second bid from the Gunners said to be in the region of £35 million. Real Madrid have also been strongly linked with him, but it is understood that they have yet to table a bid.

Watch a video about Arsenal's bid for Suarez here.

09.17 BST: This rather echoes Jose Mourinho's comments about wanting to go somewhere where people loved him, doesn't it?


After getting a little inside info, I think Wayne Rooney wants to go somewhere where he feels needed and loved.Is that still true at United?

— Ian Darke (@_IanDarke) July 17, 2013
09.11 BST: Hull central defender Jack Hobbs has joined Nottingham Forest on a season-long loan which will become a permanent transfer next summer. Manager Billy Davies described the 24-year-old as "one of the brightest defensive prospects outside the Premier League".


Hearing Hobbs deal is done. Year loan initially, two year contract beyond that. Also believe he is here, but not playing #nffc

— Paul Taylor (@nottmtails) July 16, 2013
09.03 BST: West Ham boss Big Sam Allardyce has said Duvan Zapata, a Colombian striker who plays for Estudiantes, could move to Upton Park if work permits can be obtained. But Allardyce has denied reports that the Hammers could be in for West Brom midfielder Graham Dorrans.

08.52 BST: Fair point, Lou Macari: the former Manchester United player has warned Wayne Rooney that he could be well on the way to alienating himself from the Old Trafford faithful. Macari told Five Live Breakfast: "He's got to be careful, because he may be going from one of the most popular players at Old Trafford to the most unpopular. Supporters look at players and their wages, and when they are "angry and confused" about getting £10 million, normal working people get very uptight and angry because £10 million a year is massive wages."

08.40 BST: Goaded by Barcelona's very public interest in defender Thiago Silva, Nasser Al-Khelafi, the president of PSG, has said there is no way the Brazil player is leaving. What's more, he wants his club to sign one or two Barcelona players. So take that, Barca.

"Thiago will not leave for Barcelona. He has a four-year contract left," he told RMC Sport. "He will line up for us against Bordeaux for the Trophee des Champions on August 3. So he will definitely be with us. But we, on the other hand, are following some Barca players."

08.30 BST: News from Germany: Sought-after St Etienne defender Kurt Zouma, 18, has turned down an offer from Wolfsburg, Klaus Allofs, the Wolfsburg general manager, has said, adding: "We negotiated but he won't make the switch this year." Hoffenheim Germany Under-21 international attacker Kevin Volland, 21, who has been linked with several clubs, has said he does not want to go anywhere for now. "I have only heard or read about it," he said. "Only Hoffenheim counts for me."

And from Spain: According to La Gazzetta, Raul Albiol has agreed terms with Napoli for a €12 million move from Real Madrid, while Alan Hutton will move to Mallorca on a free transfer from Aston Villa after playing there on loan last season.

08.15 BST: Chelsea manager Jose Mourinho has ruled out the sale of defender Branislav Ivanovic, insisting the Blues will not be letting any of their star players go this summer.

Ivanovic, David Luiz and midfielder Juan Mata have all been linked with exits from Stamford Bridge amid reports they do not fit into Mourinho's plans, but the Chelsea boss told Sky Sports News the club had not received any formal offers for the Serbia international. "They didn't contact Chelsea. If there was any interest, it was not official," he said. "We are very, very clear that there is no chance that Ivanovic will leave Chelsea."

07.36 BST: David de Gea has said he would welcome the arrival of Cesc Fabregas at Manchester United amid reports that the Premier League champions are willing to break their transfer record in order to land the Spain international.

06.15 BST: Newcastle are keen on Algerian striker Rafik Djebbour, who plays for Olympiakos, The Sun reports. The paper says the 29-year-old is rated at £2.25 million after scoring 20 goals in 24 games last season, with Marseille also eager to secure his services.

05.09 BST: The Mirror reports that Fulham are threatening to hijack Crystal Palace's pursuit of West Brom striker Peter Odemwingie. The Premier League new boys looked to be in the driving seat for the 31-year-old's signature, but now Fulham and new owner Shad Khan are looking to make a move.

04.40 BST: Widespread reports in the English press suggest former Chelsea man Florent Malouda has joined Turkish club Trabzonspor. The Frenchman was forced to train with the Blues' youth squad last season, and had been seeking a fresh start.

03.35 BST: Globo Esporte reports that Flamengo have opened talks about a move for Arsenal left-back Andre Santos. Santos, who is under contract at the Emirates until 2015, spent time on loan at Gremio last season. Flamengo boss Mano Menezes has previously worked with the defender – and what manager wouldn't want an outfield player who, as this video shows, can strap on the gloves occasionally?



The news that Wayne Rooney is "angry and confused" about recent comments made by manager David Moyes has sent the transfer rumour mill into a spin. It's safe to call this whole thing a 'saga' now – one that seems to be dragging on more than the 2012 Carlos Tevez affair.

Wednesday's papers once again suggest Rooney could be Chelsea-bound, with the Daily Star claiming that Roman Abramovich has a cheque ready if United confirmation that the England international is on the market. There are claims that personal terms have already been agreed, but Chelsea are yet to open formal negotiations with United - who insist Roo is not for sale.

So how much would it take to prise Rooney away from Old Trafford? A measly £80 million is the answer. According to the Sun, Chelsea's deal to sign the 27-year-old would include a £52 million wage package on top of a £28 million transfer fee. Mourinho would be likely to offer Rooney a £200,000-a-week, five-year deal.

From one endless saga to another - Luis Suarez. While no club has come close to offering an attractive deal for Liverpool's Uruguayan - Arsenal's £30 million bid apparently fell way short of the mark - the Daily Mail suggests his agent, Pere Guardiola, is ready to test Liverpool's resolve by asking clubs to make £40 million offers.

The Reds feel they are not obliged to accept that amount, but Guardiola is confident that a £40 million bid would trigger the release clause in Suarez's contract.

Arsenal forward Gervinho is the subject of a bidding war between Roma and Lyon, the Daily Mail claims. The Italian side have the upper hand, having made a £6.9 million bid for the Ivory Coast international, but Lyon are hopeful of hijacking that potential deal by proposing a swap with midfielder Yoann Gourcuff as well as a fee. Arsenal's pursuit of another established midfielder could get Lyon over the line.

Life after Christian Benteke, possibly, has begun for Aston Villa, with manager Paul Lambert turning his attention to Lyon striker Bafetimbi Gomis, the Sun says. Lambert would need to pay around £7 million for the France international as Lyon look to cash in before he is able to leave on a free next summer. But Villa will face tough competition from Premier League rivals Swansea, Newcastle and Cardiff, along with Shakhtar Donetsk, who have all been chasing Gomis.