Transfer news LIVE: United's Cesc appeal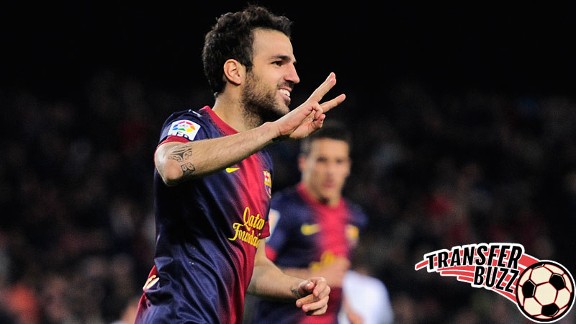 AssociatedUnited have reportedly rekindled their interest in another Barcelona midfielder.
22:55 BST: That's all for now, but we'll be back shortly with all the latest from the morning papers.

22:52 BST: Celtic striker Gary Hooper is repeatedly linked with a move south of the border, and Sky Sports News reports that Queens Park Rangers have made an improved offer.

22:49 BST: DONE DEAL Aberdeen have signed former Manchester City goalkeeper Nicky Weaver on a six-month deal following his release by Sheffield Wednesday.

22:47 BST: New Fulham owner Shahid Khan has told talkSPORT: "You want to empower the best people and give them the resources. Martin Jol has a great reputation and the goal is to support him. I want the best for the club and want to provide the resources."

22:39 BST: Yet more quotes from Ian Ayre tweeted by the man who interviewed him, this time confirming Liverpool had wanted to sign Henrikh Mkhitaryan before he joined Borussia Dortmund.


Ayre on Mkhitaryan: We were absolutely interested in HM. It didn't work out bcos it wasn't the right deal in the end but that's what it is

— tariq panja (@tariqpanja) July 15, 2013
22:12 BST: More quotes emerging from Liverpool MD Ian Ayre's interview with Bloomberg on the Suarez front, and they make interesting reading for Arsenal fans.

"We had an offer which is fairly public from Arsenal," he said. "We said no to that offer, and as far as we're concerned he turns up for training when he's due back. And we'll move forward on that basis. I've heard him say it would great to have an opportunity to play for Arsenal and likewise Real Madrid. But he certainly hasn't called me up and said he wants to leave.

"We get offers for lots of our players at different times. Unless we get to a situation where that player absolutely doesn't want to be here and we don't want him to be here then that's a different kettle of fish. Right now we'd love to see Luis put on a Liverpool shirt for this season and beyond and we hope that once he gets back things will settle down."

21:48 BST: David Villa has confirmed he had planned to move to the Premier League before agreeing to join Atletico Madrid. STORY HERE.

21:28 BST: Bursaspor have announced the signing of goalkeeper Sebastien Frey from Genoa. STORY HERE.

21:17 BST: Sky Italia reports that Roma have raised their bid for Arsenal forward Gervinho to €8 million.

20:48 BST: Liverpool MD Ian Ayre says the club would be prepared should Luis Suarez move on this summer. STORY HERE.

20:30 BST: Goal.com believes Manchester City have now agreed a €27 million fee for Fiorentina forward Stevan Jovetic.

20:20 BST: Here is the full story on Barcelona midfielder Rafinha's loan move to Luis Enrique's Celta Vigo.

19:46 BST: Sky Sports News is reporting that Sunderland expect to announce the signing of Emanuele Giaccherini from Juventus within the next 24 hours.

19:40 BST: Sevilla have warned Manchester City that they will have to pay the full asking price if they are to sign striker Alvaro Negredo before the start of the new season. STORY HERE.

19:01 BST: Sky Sports News is re-running an interview with Cesc Fabregas from 2011 in which he said he'd only ever play for Arsenal or Barcelona.

18:44 BST: DONE DEAL Hull City boss Steve Bruce has confirmed to Sky Sports News that the club have signed former Newcastle goalkeeper Steve Harper on a free transfer. STORY HERE.

18:32 BST: Interesting rumour courtesy of Tancredi Palmeri.


Manchester City have received no payment for selling Maicon to Roma, according to Sky Italy. Actually they paid him 2m € to leave!

— Tancredi Palmeri (@tancredipalmeri) July 15, 2013
18:20 BST: If there's a chance, Arsenal should bring back Cesc Fabregas, Arsenal blogger Andrew Mangan writes.

18:08 BST: Crystal Palace are set to complete the signing of Spain Under-20 midfielder Jose Campana from Sevilla on Tuesday after agreeing a fee with the Spanish club. STORY HERE.

17:39 BST: Rangers manager Ally McCoist is keen to sign another goalkeeper to give Cammy Bell competition. "We've got two or three goalkeepers who have been put to us but we've nothing new to report on that front so far," he told the club's official website.

17:20 BST: Everton boss Roberto Martinez hopes to keep Marouane Fellaini despite reported interest from several top clubs. STORY HERE.

16:56 BST: DONE DEAL ...or Dunne deal. Richard Dunne has indeed completed his move to Loftus Road. STORY HERE.


DUNNE DEAL: Eire international Richard Dunne pens one-year deal #DunneDeal https://t.co/5eGUUJcekf

— QPR FC (@OfficialQPR) July 15, 2013
16:48 BST: Hull City are interested in signing Arsenal striker Nicklas Bendtner, a source has told ESPN. STORY HERE.

16:32 BST: ESPN understands that Richard Dunne's move to Queens Park Rangers will be completed today. The move is not yet official, but Dunne should sign his one-year contract by the end of the day.

16:30 BST: Lazio have confirmed the signing of Santos midfielder Felipe Anderson for a fee in the region of £7.7million, reports Sky Sports.

16:24 BST: Tranmere have announced the signing of striker Akpo Sodje. He signs on a one-year deal with the option of a further year.

16:12 BST: Sky Sports Italia claim Stevan Jovetic is close to leaving Fiorentina for Manchester City. The offer stands at €27million, but that could rise to over €30million if certain bonus clauses are activated. The move could be confirmed within the next 48 hours. Much has been said of Jovetic this summer, check out some of his highlights from last season below:

16:06 BST: ForzaItalianFootball reports that AC Milan could propose another player exchange to secure the services of Parma striker Nicola Sansone.

15:56 BST: The Daily Star reports that Spurs will offer £20million for Aston Villa striker Christian Benteke, despite reports elsewhere that he'll cost at least £25million. Arsenal and Chelsea are reportedly 'waiting in the wings' to see what happens with Tottenham's bid.

15:41 BST: Reading striker Pavel Pogrebnyak has said he wants to either stay in the Premier League or return to Russian football. FULL STORY HERE.

15:25 BST: Corriere dello Sport are reporting that Leandro Damiao has agreed terms with Napoli. Internacional are expected to strike a deal with the Italians once Edinson Cavani's move to Paris Saint-Germain is complete.

15:18 BST: Former Liverpool defender Carl Medjani is close to joining Olympiakos, reports talkSPORT.

15:07 BST: Football411 have some quotes from Bayern Munich midfielder Toni Kroos. He welcomes the signing of Thiago Alcantara. Kroos may be moved to the fringe of the Bayern team, with the abundance of talent that now fills it. It's a good time to try and pry him away from Munich for any teams in need of a hugely talented playmaker. But Pep is sure to want to hold onto all his midfielders for now at least.

14:50 BST: One for Liverpool fans. Gerrard agrees to a two-year extension on his contract.

Steven Gerrard signs an extension to his #LFC contract at Melwood pic.twitter.com/gngOAMSxBi

— Liverpool FC (@LFC) July 15, 2013
14:44 BST: Lot's of news coming through on Twitter today.

Sevilla chairman José María Del Nido: "We're far from reaching an agreement with Manchester City for Negredo".

— Espcore (@espcore) July 15, 2013
14:42 BST: It's been confirmed now that Ashley Westwood has signed a new four-year deal at Aston Villa, and Steven Gerrard has extended his deal at Liverpool. Both official!

14:38 BST: Interesting tweet from Tancredi Palmeri.

Liverpool should receive an offer from Real Madrid in the next days, for a swap Higuain+small cash for Suarez

— Tancredi Palmeri (@tancredipalmeri) July 15, 2013
14:25 BST: Read the full story on Manchester United's €30million bid for Barcelona midfielder Francesc Fabregas, HERE.

14:12 BST: FIFA agent Ernesto Bronzetti expects Milan to complete a major signing before the transfer window closes. Football-Italia have the full story.

14:03 BST: Sorry, another Barcastuff tweet. Both of Barca's Alcantara's are officially gone.

Picture: Rafinha signing his one-year loan contract at Celta #fcblive [celtavigo] pic.twitter.com/WRyNLrr4Iy

— barcastuff (@barcastuff) July 15, 2013
13:52 BST: Thiago Alcantara swapping Spain for Germany.

Picture: Thiago at Barcelona airport, leaving for Germany pic.twitter.com/ReU8kP04lk [via @dbr8] #fcblive

— barcastuff (@barcastuff) July 15, 2013
13:36 BST: talkSPORT have some more information about Nacer Chadli's proposed move to Spurs. According to the article, the winger hasn't ruled out a move to Swansea instead.

13:22 BST: More Barcelona news now. Sky Sports claim Barcelona could be in for Marseille playmaker Mathieu Valbuena. The 28-year-old would be quite a surprising addition to the squad, but with Thiago gone and perhaps Fabregas on his way out. Maybe it becomes more feasible.

13:05 BST: Cagliari will only sell Nainggolan for the right money reports Football-Italia.

12:49 BST: Big news for the day. Cesc maybe on his way to United.

Manchester United have just made a 30 million euros offer for Cesc Fabregas. More on @diarioas soon

— Guillem Balague (@GuillemBalague) July 15, 2013
12:40 BST: According to Football-Espana, Real Madrid will get €10million if Manchester United sign Ezequiel Garay from a sell-on clause in the player's contract, if he goes for the expected €20million fee.

12:25 BST: Inter Milan will make a move for Lazio star Hernanes according to Tuttosport. But they will have to fund the move, believed to be €25million, with the sale of Andrea Ranocchia and Freddy Guarin. Seems like a big sacrifice for one player by Inter, if true of course. Both players have been linked to the Premier League.

12:09 BST: Middlesborough are close to the loan signing of Napoli forward Eduardo Vargas, if you believe reports on GazetteLive.co.uk. The 23-year-old hasn't impressed since joining the Italians in 2012 and was on loan at Gremio in Brazil last season.

11:51 BST: According to SportsDirect News, Roma are edging closer to a deal for PSV Eindhoven midfielder Kevin Strootman. They hope to announce the transfer this week. Another Manchester United target slips away?

11:39 BST: Here's the word on Manchester United's apparent interest in Cesc Fabregas. Barcastuff tweet about The Independent's report.

Man United are interested in Barcelona player Cesc, who could be available for 39.5M, although Arsenal have a 29M first option [independent]

— barcastuff (@barcastuff) July 15, 2013
11:31 BST: Nacer Chadli's agent is quoted in De Telegraaf as saying that Spurs are yet to make a bid for the FC Twente player. They also report that Everton are interested in Ajax defender Toby Alderweireld, who was linked to Norwich last week.

11:26 BST: According to Sky Sports, Aston Villa midfielder Ashley Westwood is ready to sign a new deal at Villa Park.

11:14 BST: Kaka's top 5 goals at Real Madrid below. Number one is worth waiting for.

11:10 BST: Nice picture of Kaka greeting Isco at Real Madrid. The passing of a generation. Could Kaka be out the door this summer?

Kaká greeting Isco. pic.twitter.com/eBy1CWdPyK

— Real Madrid Info (@RmadridInfo) July 15, 2013
11:00 BST: Corriere dello Sport claims that a €35million fee has been agreed by PSG and Roma for Marquinhos, and the player will now talk terms with the Parisien club. The deal seems to be drawing ever closer now.

10:52 BST: Sporting director Matthias Sammer provides some doubt from the Bayern Munich camp following the signing of Thiago Alcantara from Barcelona. FULL STORY HERE.

10:37 BST: Velez Sarsfield of Argentina have announced on their official website that they have signed Lazio forward Mauro Zarate. English fans will know him best from his loan spell at Birmingham City in 2008.

10:31 BST: Voetbal International claim Liverpool attacker Oussama Assaidi is close to securing a loan move to Feyenoord.

10:23 BST: Interestingly West London Sport are reporting that Queens Park Rangers have had no bids for Napoli and Arsenal target Julio Cesar, with quotes from CEO Philip Beard.

10:15 BST: David Moyes has some bad news for Wayne Rooney. It seems as though he'll only be back-up for Robin van Persie, nothing more. FULL STORY HERE.

10:08 BST: Reports coming out of Spain suggest that Thiago Silva will NOT see out his Paris Saint-Germain contract and will hand in a transfer request. SambaFoot have the full story.

10:00 BST: If Stoke do sign Nando, they'll be interested to see his goal in the NextGen Series against Wolfsburg. Which you can view below:

09:59 BST: Barcastuff tweet to say that Stoke have nabbed one of Barcelona's young talents from one of their youth teams.

Juvenil A midfielder Nando Quesada (19), whose contract expired, will join Stoke City this week. He'll start at the Reserves team. [rac1]

— barcastuff (@barcastuff) July 15, 2013
09:48 BST: Zlatan Ibrahimovic will make way for incoming striker Edinson Cavani at PSG claims Napoli chairman Aurelio De Laurentiis. FULL STORY HERE.

09:36 BST: Sky Sports are reporting that Julio Cesar's agent has confirmed that the Queens Park Rangers goalkeeper is close to a move to Napoli.

09:28 BST: Been waiting for Edinson Cavani's move to Paris Saint-Germain to go through for a while now. It looks like he's in Paris today for it to finally happen.

PICTURE: A clearer view of Edinson Cavani in Paris this morning: pic.twitter.com/udJTuckTCl - #PSG

— FFW (@FrenchFtWeekly) July 15, 2013
09:22 BST: Scott Parker, Clint Dempsey, Tom Huddlestone, and Gylfi Sigurdsson have all been linked with moves away from Spurs this summer. But all four players are included in the provisional Spurs squad ahead of their pre-season tour in Asia. These players won't be moving on, at least for now it seems.

09:14 BST: forzaitalianfootball.com reports that Manchester City defender Maicon is nearing a move back to Italy, this time with Roma. The fee is reported to be between £4.8-£6million.

09:06 BST: Sport Witness deliver the latest news on Swansea's reported approach of Espanyol forward Wakaso. Spanish newspaper Sport say the deal could be done in the next few hours unless Rubin Kazan look to steal him away from The Swans.

09:00 BST: Thiago Silva's agent delivers some bad news for Barcelona there. Could the Blaugrana now turn their attention to David Luiz or another? Roma youngster Marquinhos was a target but many report he has already agreed to sign for PSG.

08:49 BST: Big news involving Paris Saint-Germain and Thiago Silva.

Thiago Silva's agent has told PSG's official website the Brazilian centre-back will "go to the end" of his five-year contract. #PSG

— ESPN FC (@ESPNFC) July 15, 2013
08:31 BST: Numerous reports suggest that Liverpool captain Steven Gerrard will sign a new contract at Anfield. FULL STORY HERE.

08:25 BST: If you missed the big news about Thiago Alcantara joining Pep Guardiola at Bayern Munich last night, then read the full story HERE.

08:22 BST: The Spanish papers have a similar theme today, reaction to Thiago's transfer to Bayern Munich, and Carlo Ancelotti's first training session with the Madrid team, dominate the front pages. See them all here on Football-Espana.

08:10 BST: The Bolton News claims that Jermaine Beckford's transfer from Leicester City to Bolton could reach an end within the next 24 hours.

06:20 BST: The arrival of Rafa Benitez at Napoli could benefit highly-rated youngster Soma Novothny, who has revealed he may no longer go out on loan next season after receiving praise from the Spaniard. "More teams contacted Napoli during the summer and indicated that they would like to sign me for one year," Novothny told Nemzeti Sport. "But at the end of June I was informed that I shouldn't think about leaving because Rafael Benitez is curious about me."

04:35 BST: You can breathe a sigh of relief, the Peter Odemwingie saga may be nearing an end. The Telegraph says Crystal Palace are ready to offer £1.75 million for the West Brom striker, although the Baggies are reportedly demanding an even £2 million.

02:50 BST: As far as shock transfer rumours go, this one tops the lot. The Daily Star says Real Madrid are attempting to sign Liverpool striker Luis Suarez for just £25 million. Right, then, as you were.

Manchester City struck out in their first pre-season friendly on Sunday and it seems Manuel Pellegrini is eager to quickly stamp his authority, reportedly requesting further talks over moves for Sevilla's Alvaro Negredo and Fiorentina's Stevan Jovetic. The Sun says Pellegrini is set to step up his chase for the duo as City continue to search for Carlos Tevez's replacement. It is believed Negredo and Jovetic could be snared for a combined total of £40 million - not a bad price for a likely guarantee of goals. But with Sergio Aguero a very apt option up front, it seems likely that Pellegrini will have to choose carefully between the two.

There are conflicting reports around Europe regarding the future of Chelsea defender Branislav Ivanovic. According to the Mirror, Paris Saint-Germain are seriously considering making a bid for the Serbia international. With Gregory van der Wiel seemingly headed for Inter Milan, Ivanovic could become a prime target for new coach Laurent Blanc. The French champions would offer an initial £8 million for Ivanovic, but with David Luiz still on Barcelona's radar, it is unlikely Jose Mourinho would be eager to offload the centre-back. Ivanovic could be tempted by a four-year contract and a significant pay rise to move abroad.

The Mirror also reports Tottenham will be the first to chime in for Aston Villa striker Christian Benteke, with an offer set to be made later this week. The Belgium international handed in a transfer request to Villa and he could be the solution to Spurs' striker shortage, with Clint Dempsey reportedly nearing an exit. Although Paul Lambert is reluctant to sell Benteke, a bid of around £25 million could do the trick for Tottenham.