Luiz just a sideshow at Chelsea as Barca, Real circle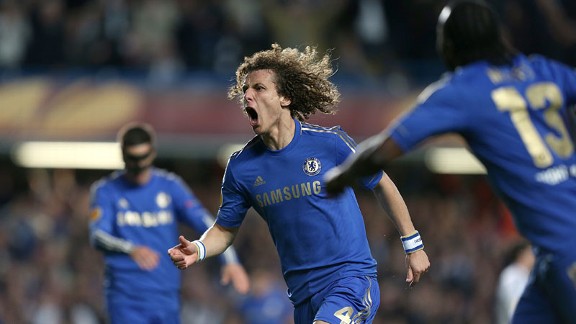 GettyImagesIt's been a standout season for David Luiz, but it may not be enough to keep him at Chelsea
It seems a series of cracking goals and a successful move into the midfield wasn't enough for David Luiz to impress Chelsea's likely next manager Jose Mourinho. According to the Daily Mail, Luiz could be the first casualty of Mourinho's reign, with the Real Madrid boss not a fan of the 26-year-old's defensive abilities. The Mail reports Spanish giants Barcelona and Real Madrid would consider making a move for Luiz if he becomes available in the summer, with Chelsea looking to make a profit on the £21 million they paid for the Brazil international in 2011. While Luiz responded well to a shift into a holding midfield role, Mourinho would aim to recruit a more established player for that position, as well as a defender and a striker.

Arsene Wenger may soon relinquish his interest in Fiorentina striker Stevan Jovetic after the Serie A club warned Arsenal they would have to pay more than £30 million to force a summer move, the Mirror reports. Jovetic is believed to be Arsenal's number one target for next season, but Wenger could instead turn his focus to Real Madrid forward Gonzalo Higuain, who is likely to be available for a much lower fee. Fiorentina are determined to maximise their earnings for Jovetic and will wait for a bigger offer. Higuain looks set to be offloaded from Real, although Juventus are also interested in signing the Argentinean.

Chelsea interim manager Rafa Benitez has been installed as one of the favourites to replace Tony Pulis at Stoke City, just a matter of hours after the manager was sacked. The Sun suggests the Spaniard could earn as much as £3 million-a-year to move to the Britannia Stadium, but they will face competition from Napoli who are also chasing the Spaniard.

Life after Jamie Carragher has already begun for Liverpool and Brendan Rodgers is on a mission to replace the veteran defender. While yesterday's rumour mill linked unwanted Manchester City player Kolo Toure with a move to Anfield, the Mirror claims 21-year-old Schalke centre-half Kyriakos Papadopoulos is also on the Reds' radar. It is unclear whether Rodgers has a preference for youth or experience, but it is unlikely Toure and Papadopoulos could be recruited without changes to the current defensive line-up at Liverpool and the highly-rated Greece international may force one of Liverpool's current central defenders out of the squad. It is reported Liverpool will make a formal approach in the next week depending on Papadopoulos' recovery from a knee injury.