Bayern to Rob United of Lewandowski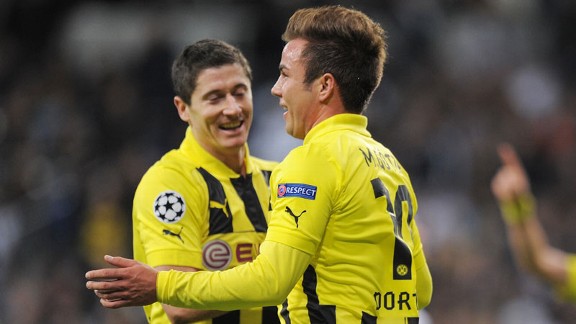 GettyImagesMario Gotze has already signed for Bayern. Will Robert Lewandowski?
Manchester United's summer plans of luring Borussia Dortmund's Robert Lewandowski to Old Trafford are under threat from the German club's domestic rivals - Bayern Munich.

According to the Sun, Lewandowski wants to join the Bavarian giants who in recent weeks, not only became Bundesliga champions at Dortmund#s expense, but also acquired one of their prized assets, Mario Gotze.

And that could spell big trouble for United, who have made no secret of their admiration for the £25 million-rated Poland international.

Meanwhile, United's Premier League rivals, Chelsea, are facing a transfer battle of their own - hoping to secure the services of Jose Mourinho before he can be swayed by big-spending Paris Saint-Germain.

Real Madrid manager Mourinho's proposed move back to the Blues has been one of the ongoing rumours of the year, but the Times is reporting PSG are ready to trump their English rivals for their ideal replacement to current boss Carlo Ancelotti.

But if Chelsea owner Roman Abramovich is feeling the pressure, he certainly isn't showing any signs of crumbling under it.

According to the Telegraph, Mourinho's agents have lowered their demands in recent days as Mourinho, and not Chelsea, try to get the deal signed, sealed and delivered.

Rumour has it that the Portuguese coach was demanding a £12 million-a-year salary, a get-out clause in his contract and total control of transfer dealings, but was forced to backtrack as the Russian owner flat out refused all three demands.

Seen the new advertising for Liverpool's 2013-14 jersey? Well, the Daily Mail is suggesting the marketing campaign is the best indicator yet that Luis Suarez will be at Anfield next season.

The ad features Suarez, captain Steven Gerrard and Pepe Reina modelling the new home kit, with many fans believing Suarez's inclusion means rumours of his exit are finally debunked.

Aston Villa have issued a 'hands off' warning to other clubs circling young forward Christian Benteke, with the Sun reporting Villa are ready to ignore offers in the vicinity of £30 million for the Belgium international.

Villa manager Paul Lambert has created a promising, young side and believes losing the 22-year-old Benteke would undermine his plans.

However, Lambert's fears may never be realised with the Mirror suggesting Villa are ready to tie Benteke and fellow forward Andreas Wiemann to long-term deals.

And finally, soon-to-be Premier League contenders, Cardiff City, are eyeing Stoke's Kenwyne Jones as their first bit of business in the big time.

According to the Mirror, the Championship winners believe Jones would be the perfect player to lead their frontline heading into one of the biggest seasons for the club.