Arsenal gunning for Valdes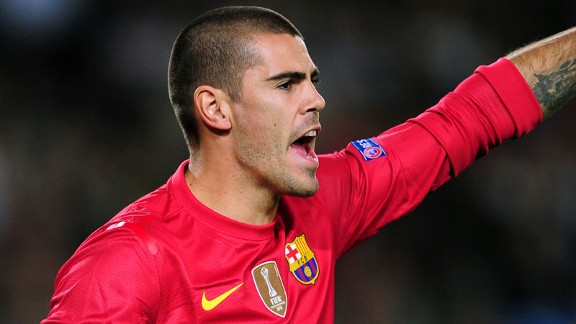 PA PhotosBarcelona's Victor Valdes has been linked to Arsenal.
Barcelona custodian Victor Valdes is reportedly set for a move to the Premier League, with Arsenal weighing up an off-season bid.

According to The Sun, the La Liga leaders are willing to let the Spanish international make the move as long as the North London club can meet the £10 million asking price.

But the price tag is not the only stumbling block with Valdes commanding a £120,000-a-week at the Spanish club – a wage unheard of at the Emirates.

However, with Arsenal manager Arsene Wenger recently questioning the form of current 'keeper Wojciech Szczesny, he may just decide to crack the club's frugal wallet to sign the Champions League winner.

On the other side of London, Frank Lampard continues towards the Chelsea exit door according to The Mirror, with the England midfielder's likely destination to be the old haunt of former international team-mate David Beckham - Los Angeles Galaxy.

And just like Beckham's deal with the MLS franchise, Lampard will be allowed to spend his American off-season with a European club to properly prepare for next year's World Cup.

On top of the opportunity to head out on loan, the Galaxy are offering a two-year $US4.5 million contract, a rent-free home and first-class flights between the United Kingdom and Los Angeles.

Meanwhile, Liverpool are close to acquiring Argentinean ace Lucas Biglia.

The Anderlecht playmaker is on the outer with his club and The Mirror reports that the Merseyside club have been urged to make a play for the 27-year-old.

And the news gets even better for Liverpool manager Brendan Rodgers with the Brussels-based club prepared to accept £4.5 million for the player - a massive slash on the £8 million rated Biglia.

However, Premier League rival Southampton and European clubs Real Madrid, Napoli and Fiorentina have also been notified of Biglia's situation.