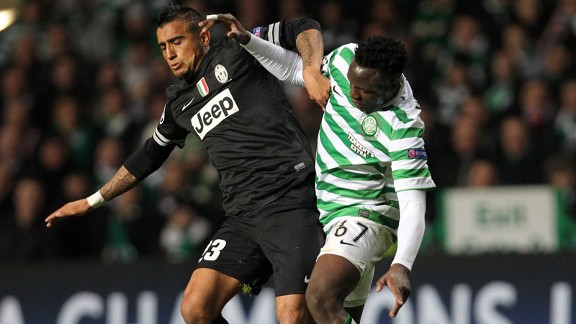 PA PhotosArsenal sent a scout to watch Victor Wanyama against Juventus, according to reports
There just seems to be no end to the rumours linking Arsenal with every defensive midfielder catching the eye of manager Arsene Wenger.

Hot on the heels of last week's speculation that the Gunners were lining up France international Etienne Capoue, the Daily Mail and Daily Telegraph both report that Arsene Wenger is stepping up his pursuit of Celtic's 21-year-old midfielder Victor Wanyama. The Gunners apparently sent a scout to file a report on the Kenyan's performance against Juventus, although the Bhoys' 3-0 defeat might not have boosted Wanyama's prospects of a move to the Emirates.

The Daily Star thinks Everton are ready to swoop for Chelsea midfielder Frank Lampard in the summer, and would happily offer him a three-year deal. Whether or not they'll succeed remains to be seen, as the paper thinks the 34-year-old is still holding out hope that the Blues will offer him a new deal. The Star also thinks Chelsea hold an interest in Reading goalkeeper Alex McCarthy as they look to identify a back-up to Petr Cech.

Strap yourself in to the nearest time-travelling DeLorean because we're going back to the future! Well, at least David Bentley seems to be.

Remember Bentley? The former Arsenal winger, who moved to Blackburn Rovers, found a home, his scoring boots, an England call-up and promptly dashed back to London for another chance at the big-time with Tottenham? No? Well, that's probably because Bentley has hardly been seen at White Hart Lane, and the 28-year-old has been farmed around a number of clubs on loan, most recently FC Rostov.

But according to The Sun, Bentley could be about to relaunch himself in England back at Ewood Park, with Rovers manager Michael Appleton looking to bring the player in on loan.

Meanwhile, a host of Premier League clubs - including Liverpool, Manchester United, Manchester City and Tottenham - have been alerted that Ajax midfielder Christian Eriksen doesn't want to resign with the Dutch club.

The Daily Mail is talking up the chances of the 20-year-old being the next big thing in England, but with competition at home, and abroad, expected to be intense, it could be who pays best rather than who plays best which grabs the Denmark international.