Gala finally snare Sneijder
Galatasaray have finally snared Wesley Sneijder as they announced on Twitter that they would be bringing him to Turkey. Meanwhile, Pep Guardiola hasn't taken up his post at Bayern Munich yet, but reports claim he has already set his sights on recruiting Liverpool striker Luis Suarez.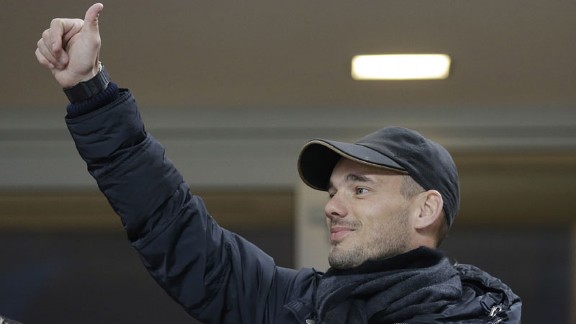 AssociatedWesley Sneijder

- ESPN FC Transfer Centre
- All the DONE DEALS

23:55 GMT: That's a wrap for Sunday's transfer news, some exciting rumours coming up in the paper round-up. Don't go away.

23:26 GMT: Serie A side Genoa have confirmed coach Luigi Delneri has been sacked from his position. A statement on the club's website read: "Genoa CFC announce that Coach Luigi Delneri has been removed from his post. The club thanks Mr Delneri, along with his staff of collaborators Conti, D'Angelo and Alimonta for their efforts in this period."

22:50 GMT: As mentioned earlier, Lewis Holtby will NOT be moving to Tottenham in January, according to Schalke. FULL STORY.

22:10 GMT: Ligue 1 outfit AC Ajaccio have confirmed they are closing in on a deal for Kenya striker Dennis Oliech from AJ Auxerre. "Dennis Oliech will sign in the beginning of the week," the club said on their website.

21.22 GMT: Mesut Ozil look like he is staying at Real Madrid. "Madrid is a fantastic city, I'm really happy here," the 24-year-old told Bild. "I know the club has great confidence in me and I have many friends here, like Sergio Ramos and Benzema."

20.35 GMT: BREAKING NEWS: Galatasaray have announced that they have agreed a deal to sign Inter Milan's Wesley Sneijder for a reported fee of around ¬7.5 million. FULL STORY

20.00 GMT: Wigan boss Roberto Martinez is on the hunt for a defensive reinforcement to ease the burden on his relegation-threatened team. "What is clear is that we weren't strong enough defensively, If Ramis had been on the pitch it would have been a very different situation."

"I need to make sure we rectify that and bring someone in who will give us the
same strength Ivan was giving us. Antolin is still injured and we need to see how quickly he is going to be available because it is very unfair that the players who are here are having to cope with a lack of really good player alternatives for such a long period."

19.55 GMT: Wales coach John Hartson insists Aaron Ramsey needs regular football to re-find his best form, and believes a loan move away from Arsenal could be the answer, reports Goal.com.

19.47 GMT: Dutch local newspaper Eindhovens Dagblad is reporting that Chelsea defender Jeffrey Bruma is set to leave Hamburg.

Chelsea advisor Piet de Visser claims the defender is set to leave HSV in search of first team football,"his situation at Hamburg is currently not as we hoped, he is currently not a first choice with his coach. Bruma is a boy who needs to play week in week out."

19.20 GMT: Joe Ledley is not surprised about the growing speculation surrounding the
future of Gary Hooper but hopes his Celtic team mate resists the temptation to try pastures new.

"Everyone will want to sign him because of what he has done but hopefully he is happy and will stay here for a long time. I wouldn't be surprised if more bids came in, he is a talent and a goalscorer and he showed that yesterday."

"But the players, management and fans want him to stay. He has a year and a half left (on his contract) which is a long time so hopefully he can continue his form and the speculation goes out the window."

19.00 GMT: Juventus chief executive Beppe Marotta: "I do not deny that with Llorente and his entourage we are very advanced in our talks, I am very optimistic although we may have to wait until July 1," he told Gazzetta dello Sport.

Marotta also played down suggestions the club were ready to sell Arturo Vidal and denied the club had received a bid amid reported interest from Bayern Munich and Real Madrid.

"We have received requests for our players, but we are generally more accustomed to buying than selling, it's no real surprise that Bayern want him, but there are no offers."

18.45 GMT: Michael Dawson has admitted that he could have left Tottenham last summer, but he was determined to prove his worth. Sky Sports quote him as saying: "If I had wanted to leave, I could have gone. They accepted an offer for me and I chose to stay and fight for my position. I wasn't going to jump ship at the first sign of hard times."

"But the gaffer never once left me out of things. He's been great like that. Everyone's got their opinions and, hopefully, I've changed his opinion now. It was hard for me, but you can never doubt your own ability. You back yourself to bounce back and perform. I think I've done that."

"I've been at Tottenham for eight years this month and it's not always been easy. I've had times when I've been out of the team before and I've got back in. Now, hopefully, I can stay in for as long as possible."

18.30 GMT: beIN sport are claiming Montpellier captain Mapou Yanga-Mbiwa will sign a contract with Newcastle tomorrow.

18.20 GMT: AC Milan vice-president Adriano Galliani on Kaka: "It is a very complicated operation and for it to go through we need all three parties to make sacrifices. President Silvio Berlusconi is enthusiastic about the move."

17.50 GMT: More on Newcastle. They are finally set to add the numbers Alan Pardew has asked for. France Football is claiming the Magpies are set to conclude a double deal for Massadio Haidara of Nancy and Montpellier captain Mapou Yanga-Mbiwa. The deals are expected to cost a total of ¬11million.

17.30 GMT: Rafael Benitez has confirmed Ashley Cole 's new contract: "Now the club has an agreement with the player... really pleased. The paperwork has to be done but the agreement is done."

17.10 GMT: Tancredi Palmeri has tweeted: "Meeting ongoing between Inter and Sneijder's agent. According to Sky Italy it's for a payout, and Sneijder might sign tonight for Galatasaray."

16.45 GMT: Schalke have rejected an "unacceptable" offer from Spurs for midfielder Lewis Holtby to join them before the end of the transfer window, general manager Horst Heldt has confirmed. This is after various rumours surrounding a bid yesterday.

"Tottenham have made an offer, which was not acceptable, therefore it was rejected," Heldt said. "The transfer window is still open and Lewis has not become any cheaper."

Holtby said: "I am not going to just leave without busting my arse for the team. I will give my all for Schalke until the last second. Everything else must be decided by the clubs."

16.28 GMT: Liverpool are still desperately trying to prize Coutinho from Inter Milan. They had a £6.5 million bid rejected, and according to Sky Sports, they will continue to negotiate for the youngster.

15.58 GMT: Sneijder told inter.it: "I spoke a lot with president Moratti because we have a good relationship, we had a good talk, nothing more than that."

"He said that it's looking like I'll be off to Galatasaray but there's still a
slim chance I could stay? What the president said is exactly right. The Inter fans expect me to stay? Inter fans are the best around, I've won everything here and I'm happy here."

"Now I don't know whether I'll be saying, 'I am happy here' or 'I was happy here'. One of two things could happen, we'll see."

15.50 GMT: Inter Milan president Massimo Moratti cleared the air with Wesley Sneijder today as the midfielder prepared to finalise a move to Galatasaray.

He told inter.it: "I met Sneijder. I wanted to have a chat with him, I thought we needed to. Have we made peace? I don't think there was ever a war in the first place, and certainly not with me personally. Did we chat to see if we were all moving in the same direction? Which one? It's a surprise... Is he close to a move to Galatasaray? Yes, I think so.''

15.26 GMT: The Mirror are reporting that Derby are adamant that starlet Will Hughes will not be leaving this month despite Manchester City stepping up their interest in the highly-rated midfielder.

15.03 GMT: Update on Yann M'Vila. Rennes president Pierre Dreossi has confirmed the player will leave the club tomorrow, with the midfielder's options believed to be either QPR or Rubin Kazan, but he has not said where the player will go.

14.36 GMT: Chelsea are keen on Birmingham City goalkeeper Jack Butland, according to the Sunday People. Could he be a replacement for Courtois, should the Belgian shot-stopper be snapped up by Barcelona?

14.05 GMT: Various sources seem to agree that Michael Owen will not be leaving Stoke this month, on loan or otherwise.

13.40 GMT: Liverpool captain Steven Gerrard has said he would love to see Wesley Sneijder join the club and believes he would be a superb signing for them. He told Sky Sports: "He is a top player. We have seen that at every major tournament he delivers. I'd love nothing better than to see him in a red shirt."

"If Brendan [Rodgers] wants him, we'd love to welcome him. I think he'd be a fantastic player for Liverpool. The Daniel Sturridge signing was a great one. [I would like] another two more: a defender because we have got an injury at the moment to [Jose] Enrique and we may need a little bit more cover; and maybe a No. 10 or an attacking type player who can play out wide."

13.17 GMT: InsideFutbol.com report that Lyon may loan Yoann Gourcuff to Arsenal until the end of the season.

12.55 GMT: Read our full story on Cisse's move to Al-Gharafa here.

12.37 GMT: News on Twitter: (@GFN_France): Newcastle have had a bid accepted for Massadio Haidara of Nancy.

12.12 GMT: DONE DEAL: Djibril Cisse has joined Qatari side Al-Gharafa on loan until the end of the season.

11.50 GMT: It looks like Jake Livermore's potential loan move to QPR is definitely off now. Spurs need cover for the injured Sandro, and QPR are stepping up their pursuit of Yann M'Vila.

11.32 GMT: Stoke City manager Tony Pulis has conceded that striker Kenwyne Jones may be leaving the club, reports Sky Sports. He said after Stoke's game yesterday: "If an offer comes in for any player in the Premier League and it's the right offer then you look at it."

"There is an offer there and it's around about what the club would expect, but I've said to the player if you don't want to leave mate, then you can stay, and he wants to stay. This is the position [with Kenwyne]. We are in no financial trouble at this football club. We run the club soundly and I'm honest with the players."

"If it comes to a point where we accept an offer from Swansea then it will be down to Kenwyne whether he wants to go on that. Because if he says no, there will be no problems with me."

11.15 GMT: Yesterday we had the thoughts of Tony Adams. Today, it's Sol Campbell telling his former manager who Arsenal should be signing. "They need to get back to the old days - get some good British players and mix them with some foreign guys," he said in the Daily Star Sunday. "That's what Arsene did in the early days and it has been copied up and down the country. They need to invest. The landscape has changed and it costs a bit more now to be competitive."

10.56 GMT: Dermot Corrigan, ESPN's man in Spain, tweets: "In news totally unrelated to Sevilla's debts, there's a nice photo of Alvaro Negredo on Doyen Group's English language homepage..."

10.39 GMT: Juventus director general Beppe Marotta on the proposed signing of Athletic Bilbao striker Fernando Llorente, who looks certain to move to Turin when his contract expires in the summer: "We are looking to the future and monitored those players who will be out of contract, among them the Basque striker, who we are at an advanced stage with."

10.23 GMT: Brendan Rodgers has said he wants experienced players and yet, according to widespread reports on Saturday, bid £8 million for 20-year-old Phillippe Coutinho. Regardless of their age, Liverpool captain Steven Gerrard just wants some new signings at Anfield. "In general, I like the direction the club is going in, but the harsh reality is that we still need two or three big players who can help," he said in the Daily Mirror. "We were short before the last deadline and I think we struggled to find consistency because of that."

10.05 GMT: Norwich boss Chris Hughton has confirmed he wants Swansea's Danny Graham or Celtic's Gary Hooper as he bids to improve his attack. Story here.

09.40 GMT: An update on the Mario Balotelli situation from Gazzetta's Carlo Laudisa, via Twitter: "#Milan #Balotelli's price is going down to eur 28 mio, #City can accept a six-year payment. The Italian club ready to talk about it. #gds"

09.33 GMT: Rafa Benitez has often bemoaned the fact the then Liverpool owners led to his downfall because they wouldn't let him sign the players he needed. It now turns out he was in for Santi Cazorla back when he was a Villarreal player. "It wasn't possible to sign him because it was a big risk with the amount of money we had to spend," Benitez said. "At the time he was a winger and not playing between the lines or as a second striker. We knew he could be a great player, but he was [going to cost] too much at the time and we could not afford him."

09.16 GMT: ...and Sky Sports Italia says Galatasaray have told Sneijder he has until Tuesday to make his decision.

09.09 GMT: Interesting line from La Gazzetta dello Sport: Wesley Sneijder decided that, with Galatasaray his only suitors, he was willing to take a pay-cut to stay at Inter Milan after all. But president Massimo Moratti told him it's too late, so now the Dutchman stays in limbo.

08.50 GMT: The Mail on Sunday thinks Barcelona will turn to Liverpool goalkeeper Pepe Reina. Barca need a replacement for Victor Valdes, who will not sign an extension to his current deal, which expires in 2014.

07:13 GMT: ESPN writer John Duerden (@JohnnyDuerden) has tweeted: "FC Tokyo apparently stepping up their efforts to sign (Alessandro) Del Piero from Sydney." That'll irk some Australian fans.

06:24 GMT: According to the Daily Star, Manchester United will announce the signing of Crystal Palace youngster Wilfried Zaha for around £7 million in the next 48 hours. That's not what the Mirror says, though. They claim a deal will not be done until the summer after Palace demanded more than the £10 million they were offered. Expect more developments after United's clash with Tottenham.

04:20 GMT: Real Madrid have put a €25 million price tag on AC Milan target Kaka, according to Spanish paper Marca.

03:25 GMT: Carlos Tevez has rejected a new contract offer from Manchester City in preference of a return to Argentina. "I would prefer to return home, but it is very difficult because City won't let me leave for nothing," he told the Mirror. "I will stay in Europe for another two years and then go back." Tevez says Boca Juniors have insisted he would be welcome back to his former club.

02:17 GMT: Chelsea midfielder Frank Lampard has begun "positive talks" with Italian giants AC Milan, according to the Mirror. LA Galaxy have also reportedly made a move for Lamps, but he could sign a pre-contract agreement with the Italian giants in the next fortnight.

01:00 GMT: Here is Sunday's paper round-up, with some interesting rumours floating about.

Pep Guardiola is yet to take up his post at Bayern Munich, but the Spaniard is already looking to spend big. And Bayern's bosses won't be quick to deny Guardiola's request for a new player, with the Sunday People claiming the former Barcelona manager is keen to make a move for Liverpool striker Luis Suarez. With the Uruguayan now a fan favourite at Anfield, it would take a fair sum to prise him from the Reds and it is believed the Bundesliga giants could offer as much as £40 million for Suarez. The hefty offer could be difficult for Liverpool to turn down, but the 25-year-old's promising partnership with Daniel Sturridge should make the decision a little easier.

After Chelsea defender Ashley Cole agreed to sign a new one-year deal with Chelsea, the money mill exorbitant figures filtered through Sunday's papers. The Sun reports that Cole is set to rake in a staggering £10 million next season. Although the England international wanted longer terms, the £50,000-a-week pay rise should ease those blues. A Chelsea insider told the Sun: "Ash is getting around £200,000 a week but he is worth every penny. Everyone is pleased it has been sorted at last."

Back to the Mirror and Arsenal fans who have jumped on the Arsene Wenger hate train could have their wishes answered with Paris Saint-Germain reportedly interested in luring the Frenchman to the Parc des Princes. It's believed current PSG boss Carlo Ancelotti would welcome a job swap with Wenger and after the Ligue 1 leaders' pursuit of Pep Guardiola showed their intent to find a managerial replacement, a switch could appease fans in both Paris and London. Wenger's current salary of around £7m would be readily increased if he moved back home, with PSG's wealthy owners happy to spend big for their man.