West Ham midfielder Mohamed Diame has been targeted by Arsenal, but the Hammers say no deal has been agreed. Marseille striker Loic Remy is also in the transfer news on Tuesday, with a move to QPR expected to be announced in the next 24 hours. Stay tuned.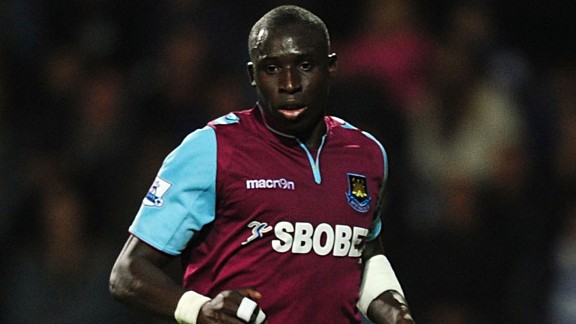 GettyImagesMohamed Diame has a buyout clause of £3.5 million apparently
- ESPN FC Transfer Centre
- All the DONE DEALS

23:59 GMT: That's a wrap for Tuesday's transfer news. Stay tuned for the latest from England's newspapers in Wednesday's paper round-up.

23:45 GMT: Eduardo Vargas will join Gremio on loan for the rest of the season, Napoli sporting director Riccardo Bigon has confirmed. He told Sky Sport Italia: "Something happened with Vargas that I'd never seen before. He received many offers from South America and we are set to complete a transfer within hours, so it could be made official tomorrow. This shows the huge interest around Edu, who will gain experience in a different League. It will be a six-month loan with a series of options, but they will not have the option to buy him outright."

23:12 GMT: Galliani also spoke of Manchester City's Mario Balotelli, a player regularly linked with Milan. He said: "The president [Silvio Berlusconi] is right, we have never spoken about signing Mario and I don't think he is for sale," he told Sky Sport 24.

22:55 GMT: 19-year-old Racing Avellaneda midfielder Ricardo Centurion is a player of interest to AC Milan, vice-president Adriano Galliani has confirmed. "Centurion? The Milan of the future will be young, so let us see what happens," Galliani told Sky Sport 24.

22:15 GMT: Christian Eriksen's agent Martin Schoots has reiterated that his client is not interested in speculation linking him away from Ajax. He said: "For the last couple of weeks, and also because of the holidays, the press have kept their distance, which is something (Eriksen) does not regret. I'm not saying that this means no-one is interested as it would be strange for a player who has been followed by the biggest clubs in football since he was 14 years old to not be on their radar anymore."

21:51 GMT: Lucas Biglia's agent has talked up a move to the Premier League or Serie A for the Anderlecht midfielder. "Given his valuation at the moment, he could be bought by Chinese or Russian clubs. But he does not want to go to either of those places. Italy or England would be his preferred destinations," Enzo Montepaone told La Derniere Heure. The Argentinian has been linked with AC Milan.

20:58 GMT: Southampton are one of the club's keen to sign defender Frederik Sorensen, who is co-owned by Bologna and Juventus, according to quotes attributed to the 20-year-old's agent. "It is correct that Southampton are among the clubs who have contacted Bologna regarding an interest in Frederik," Michal Bolvig, told Sporten.dk. "He has now produced regularly on a high level in a good league and it is natural that there is interest for a young player like him. The Premier League is an exciting option for Frederik. But he is not in a hurry to interrupt the progress he is going through at Bologna right now."

20:18 GMT: More on Atletico's goalkeeping situation - Chelsea goalkeeper Thibaut Courtois has told AS he would be happy to remain at the club on loan again next season. He said: "I am a Chelsea player, but I am happy here. I'll have to see what is best for them but I would be very happy if I stayed here for another year. I still haven't spoken to Chelsea though. If I can't play for them, then Atletico is the best club I can be at."

20:05 GMT: Liverpool goalkeeper Pepe Reina could be a summer target for Atletico Madrid, according to AS. The Spaniard, 30, is being lined up to replace Thibaut Courtois who is expected to return to Chelsea when his loan expires at the end of the season.

19:39 GMT: The news we brought you at 17:10 that Nancy's Massadio Haidara was being tracked by Roma has an update. Sky Sports News sources are claiming that Newcastle have now made a bid.

18:45 GMT: Nigel Adkins has refused to discuss how advanced Southampton's move for Vegard Forren is. The Molde defender, 24, looked to be headed for Liverpool until Saints stepped in, but Adkins is remaining coy on the transfer, saying: "Like everything through the transfer window, there is always going to be speculation and people talking about different deals and I think it is prudent that, until someone signs a bit of paper, you don't announce it."

18:15 GMT: The London Evening Standard report that Shakhtar Donetsk will cash in on Tottenham and Chelsea target Willian after signing Taison from Metalist Kharkiv. Shakhtar are understood to rate the Brazilian forward at £20 million.

17:45 GMT: Tottenham new-boy Ezekiel Fryers has told the club's official website that he is already feeling settled in his new surroundings. He said: "It's been great so far, mixing in with the lads and the facilities here are great to learn and to get better. Read more here.

17:29 GMT: Galatasaray club official Semih Haznedaroglu's has admitted that the club are still waiting for a reply from Wesley Sneijder over a potential move to the club. "We can't force him to come here if he doesn't want to. Perhaps he prefers to play in the Premier League," he told Bugun.

"He has to give us an answer as soon as possible because we have done all we can. Perhaps he'll give us an answer today, but all this delay isn't ideal. All this waiting is no good for us and we'll look for an alternative. It was the same situation with Kaka. We did everything possible without any success."

"We can understand that there is no rush from Sneijder, but we have done our job. We've got an agreement with Inter and made the player an offer. We need a decision from him, a yes or no."

17:10 GMT: Forzaitalianfootball.com are reporting that Roma are close to sealing a move for Nancy's Massadio Haidara.

16:55 GMT: Newcastle have joined QPR in pursuit of West Brom's Nigerian striker Peter Odemwingie, who is thought to be keen on a move away from the Hawthorns, reports Sportingpreview.com

16:39 GMT: Sky Sports are reporting that West Ham are interested in signing George Friend from Middlesbrough, with other Premier League sides Stoke City and West Brom also in for the defender.

16:17 GMT: Gremio believe they are close to capturing Napoli striker Eduardo Vargas on a season-long loan after Sao Paulo withdrew their interest in the player reports Sambafoot.com.

16:00 GMT: TalkSPORT are reporting that Fulham will give up in their pursuit of Jack Butland and go in for Roma goalkeeper Maarten Stekelenburg.

15:40 GMT: Toulouse midfielder Etienne Capoue is closing in on a move to Everton reports footballfancast.com. According to reports from French newspaper Sud Ouest, the 24-year-old Capoue will undertake a medical at Goodison Park in the next couple of days.

15:26 GMT: Newcastle have failed in a bid to land Lorient striker Jeremie Aliadiere reports TalkSPORT. Manager Christian Gourcuff says the 29-year-old is not heading to Newcastle: "I know his wife misses England but Jeremie will be here on February 1," he told L'Equipe.

15:18 GMT: Quotes from Arsene Wenger from an interview with Al Jazeera Sport recorded before the Man City defeat: "My plan is to keep all of the players we have and then to add maybe, if possible, two new players to the squad. We WILL spend big [again], because we had restricted finances because we had the stadium built and had to pay that back."

"You look at any club who has done that, and they have gone down [in performance]. We stayed at the top level, yes without winning the Premier League, but we were always at the top level. Now we have come out in a much stronger position financial again, so we can spend. But our way is a bit like Barcelona as well, to produce the core of the team from inside and add from outside the players who really give a plus."

The Frenchman accepts his time will soon "be up": "It is [time up], because I am 63 years old and will not work at 100. That, though, is not the most important, what is important is that when you are somewhere, you give your best. How long will I stay? I have a contract until 2014, and I always respected my contracts."

14:59 GMT: Real Madrid are prepared to release outcast Kaka on a free transfer this January according to El Economista, the Real hierarchy are reportedly fed up with the Brazilian's costly wages and poor performances after he was sent off at the weekend against Osasuna.

14:40 GMT: According to Sky Sports, Manchester City have now confirmed that Michael Johnson actually left their books in December, without an official parting of ways being announced.

14:30 GMT: Guillem Balague has tweeted to say: "Can confirm that Loic Remy has chosen QPR ahead of Newcastle United." Meanwhile, Sky Sports are reporting that he is having his medical at QPR today.

14:20 GMT: Latest news on Diame. West Ham manager Sam Allardyce has played down speculation linking midfielder Mohamed Diame with a move to Arsenal. He told reporters: "You are always worried about losing players but we have not had a bid from Arsenal for Mo Diame. I can't see where he would fit into their side." Full story here.

14:09 GMT: Football-Espana report that Juan Zuniga and Juan Fernando Quintero's agent, Riccardo Calleri, has claimed that Barcelona are one of several clubs interested in signing the Serie A-based duo. "There are several teams at the highest level in Spain and the Premier League who are tracking Zuniga," Calleri is quoted as saying.

"I think it's normal, because he is a player that every big club could use due to his versatility to play at the back or further up the pitch, he would fit in very well. Barcelona are following him, and also Quintero."

13:53 GMT: There has been much speculation regarding Toulouse midfielder Moussa Sissoko this month. Numerous clubs, including Tottenham, Arsenal and Newcastle, have reported interest in the 23-year-old, and now ITV are reporting that Aston Villa want to sign the player.

13:39 GMT: DONE DEAL Its now official, as Rafa Benitez confirms in his press conference. Chelsea youngster Lucas Piazon has joined Malaga on loan for the remainder of the season.

13:31 GMT: Sunderland will continue to sign players this month according to Martin O'Neill: "On February 1, whatever you've got left, that's it and we're still short here on players. Every side has had their injuries this season so we want to make some provisions for those things happening to us."

13:14 GMT: Atletico Madrid have been linked with a potential January move for Real Valladolid's Patrick Ebert, depending upon Adrian Lopez' situation, reports Football-Espana.

13:00 GMT: Manchester City are reportedly using January to sign new staff to the club. Barcelona President Sandro Rosell has spoken out to RAC1 about how Man City have tried to prize some of Barca's staff away: "Manchester City have indeed launched an offensive to lure a number of people away from Barcelona. We're talking about people at all levels of the Barca structure, not just players."

"Their attempts have been unsuccessful, though, as our employees are happy here. I would like it if the relationship between both clubs was a bit better and more transparent." Full story.

12:46 GMT: Diego Buonanotte's mid-season move from Malaga to Palermo could be off, as the Sicilians admit to having second thoughts, report Football-Espana.

12:29 GMT: Reading manager Brian McDermott has told midfielder Jay Tabb that he can leave the club if the 'right offer' comes in for him: "I spoke to Jay, he is a fantastic person and I need to do right by him. I said to him if an opportunity comes your way that is right and the clubs do a deal, I will not stand in your way."

He continued, "Make no mistake, I rate him very highly. At this moment in time he's not been offered a contract so I'm trying to do right by him, it's a fine balance. We've signed Hope and Daniel, we have five or six midfield players, if he's not in our 18 every week and if he wants to go and play I'll do right by him."

"The last thing I would want to happen – and it may well not – is to come to the summer and Jay is stuck in the queue with a lot of players. I want to do right by him and I will do right by him."

12:10 GMT: Midfielder Michael Johnson has today been released by Manchester City.

12:04 GMT: More on Forren to Liverpool/Southampton, BBC's Ben Smith has tweeted: "Southampton have agreed a £3.5m fee for Norway defender Veggard Forren, who did not appear for his Liverpool trial today."

11:57 GMT: Klass-Jan Huntelaar has spoken to Welt about his future: "I asked myself whether I wanted to stay put or make the move to England. The Premier League is the only top league in Europe where I have not played yet."

"The most important thing for me was that my family feels well, though. And we have everything we need here at Schalke. My dream club has always been Ajax, I might return there towards the end of my career before I retire. I am completely focused on Schalke for now, though."

11:39 GMT: BREAKING It appears that Chelsea youngster Lucas Piazon has joined Malaga on loan. However an official statement is yet to be released. Chelsea's Patrick Bamford tweeted: "Good luck to my boy Lucas Piazon. La Liga watch out Malaga."

11:23 GMT: Portsmouth have confirmed that six players have left the club following the expiry of their contracts. Mustapha Dumbuya, Jon Harley, Brian Howard, Lubomir Michalik, Luke Rodgers and Lee Williamson have all departed. These players are now all free agents. "We thank them for their efforts and wish them all the best," said caretaker boss Guy Whittingham.

11:17 GMT: According to Daily Mail Online, Winston Reid has agreed a new two-year extension to his West Ham contract to see off interest from Barclays Premier League heavyweights, including Newcastle.

11:06 GMT: Juventus have increased their interest in teenage Serie B wide attacker Domenico Berardi. According to Sky Sport Italia, the Old Lady have already opened negotiations with Sassuolo for the 18-year-old.

10:58 GMT: Portuguese newspaper A Bola reports that Manchester United want to bring Angel di Maria to Old Trafford next summer.

10:32 GMT: The Daily Mail are reporting that Newcastle will bid £9 million for Ajax captain Siem de Jong. The 23-year-old is another player who impressed in the Champions League this year, netting twice against Manchester City.

10:18 GMT: DONE DEAL: Swansea City have completed the signing of Belgium international Roland Lamah on an 18-month loan deal from Osasuna, subject to Premier League clearance.

10:04 GMT: Retired footballer Jan Aage Fjortoft has tweeted that TV2 are reporting that Vegard Forren is more likely to sign for Southampton than Liverpool. He went on to say: "Well, Southampton want him and Liverpool don't - more likely." Reports are beginning to flood in that a deal has been struck by Southampton for the player.

09:50 GMT: Martin Jol is scouring the transfer market for targets according to Sky Sports. Fulham have been linked with moves for Tom Huddlestone, Banel Nicolita and Jores Okore.

"We had a very good start to the season. We had a settled team before but I think we are a bit unsettled now," Jol said. "We are the only team in the Premier League who have not found their feet in general.

"If you look at Wigan, they have a settled team. They bought two or three players in the first week of January and we haven't got that. We don't have a lot of money to spend."

09:32 GMT: Celtic boss Neil Lennon is planning to hold contract talks with Victor Wanyama. The midfielder's impressive Champions League displays have caught the attention of Europe's top clubs.

09:20 GMT: TalkSPORT have reported that Newcastle midfielder Hatem Ben Arfa could be tempted by a move to Paris Saint-Germain this summer. The winger is quoted saying: "After I have saved my club, you never know. Signing for PSG would be a childhood dream. If there is a proposal, I will study it with interest. If there is a proposal. The 'if' is important. PSG is a club that lives in my heart. To play would be a nice gift."

08:55 GMT: Not content with hijacking Newcastle's bid for Loic Remy, it is now being reported that they are muscling in on Reading's move for Central Coast Mariners midfielder Tom Rogic. Mariners chairman Peter Turnbull told au.fourfourtwo.com: "We can confirm that QPR have provided a formal letter and another is expected from another Premier League club." Celtic, Fulham, Celta Vigo, Rayo Vallecano and Club Brugge have all been linked.

08:47 GMT: Birmingham City goalkeeper Jack Butland has again been left out of the club's FA Cup squad for the replay against Leeds United. They want to avoid him being cup-tied ahead of a possible move to a Premier League club.

08:31 GMT: Acording to Norwegian newspaper Dagbladet, Stromsgodset goalkeeper Adambathia Larsen Kwarasey is headed for Nottingham Forest.

08:07 GMT: Carlos Tevez has revealed he is ready to consider a new contract at Manchester City - but still yearns for a return home with Boca Juniors. Full story.

07:22 GMT DONE DEAL: Watford have announced the permanent signing of Fernando Forestieri from Udinese on a five-and-a-half year contract. He has been on loan at the club and is an Italy Under-20 international.

05:59 GMT: Manchester United goalkeeper tops the list of targets for Spanish giants Barcelona, according to the Daily Star.

04:55 GMT: A-League club Brisbane Roar have confirmed midfielder Erik Paaralu has agreed to join Chinese Super League outfit Tianjin Teda.

04:13 GMT: Brazilian striker Vagner Love has been released by Flamengo and will return to his former side CSKA Moscow.

03:18 GMT: Chinese club Guizhou Renhe have dropped their pursuit of Chelsea midfielder Frank Lampard after contract talks stalled. The Sun claims the club was ready to spend £20m on Lamps but have given up after failing to receive an answer from the 34-year-old.

02:03 GMT: Norwegian defender Vegard Forren will join Liverpool for a week-long trial on Tuesday with the Reds eager to sign the 24-year-old permanently. Story here.

01:00 GMT: You can follow our live On The Move blog for what promises to be an eventful Tuesday. Let's start with our daily newspaper round-up.

Queens Park Rangers manager Harry Redknapp has provided a touch of magic in his side's fight for survival, snatching French duo Loic Remy and Yann M'Vila. Rumours filtered through late on Monday that Remy had turned down an offer from Newcastle to move to Loftus Road and the Sun claims it is now a done deal, with Rangers securing the Marseille striker for £8 million. The club then continued their spending spree by signing Rennes' midfielder M'Vila and it is believed the duo will be available for QPR's trip to West Ham on Saturday.

West Brom's FA Cup replay against QPR on Tuesday could be an audition for Peter Odemwingie, with the Albion striker again on the R's radar. After Harry Redknapp had a £2m offer for Odemwingie rejected, he is ready to launch an improved bid around the £5m mark, according to the Mirror. An improved wage, an automatic contract extension and a big 'survival bonus' are on offer for the 31-year-old if he can help keep QPR in the top flight.

Rafa Benitez could feel threatened by Jose Mourinho's latest comments praising English football, with the Guardian sending a warning to Chelsea that they should be prepared to snare their former manager. Mourinho claims he will one day return to the Premier League and the Guardian believes the Blues have the potential to sign the Real Madrid boss in the summer.

Out with the old and in with the new appears to be the motto at Manchester City, with the English champions already looking to replace captain Vincent Kompany who faces a three-match suspension. The Mirror reports that City could step up their pursuit of Borussia Dortmund defenders Neven Subotic and Mats Hummels if the FA fails to overturn Kompany's red card for a rough challenge on Arsenal's Jack Wilshere on Saturday. The Belgian could miss two Premier League matches and a fourth round FA Cup tie against Stoke or Crystal Palace.

Arsenal's midfield stocks could be boosted as Arsene Wenger lines up a £3.5m bid for West Ham's Mohamed Diame, according to the Sun. Diame, 25, has been offered a new contract with the Hammers, but he has failed to sign on the dotted line as the club would like to increase his release clause to £7m. The Gunners will reportedly watch Diame in action during West Ham's FA Cup replay against Manchester United and could look at signing the Senegal international immediately.