Is Remy going to be a Ranger?
Newcastle had agreed a fee with Marseille for Loic Remy, until QPR got involved of course. The London side seem to have offered more wages as Joey Barton tweets that Rangers might have stolen him from under Magpie noses. Meanwhile, is Crystal Palace starlet Wilfried Zaha Manchester United bound? Even the player himself now seems confused after a bizarre Twitter mix-up on Sunday night.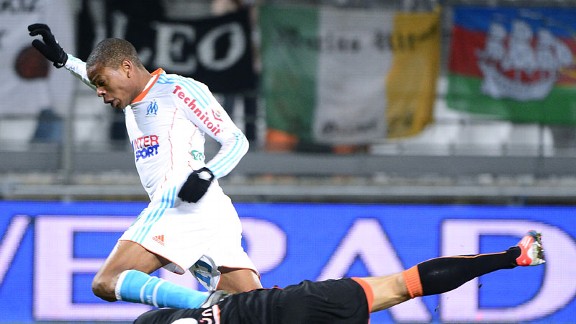 GettyImagesLoic Remy has been a target for a number of Premier League sides
23:59 GMT:That's a wrap for Tuesday's transfer news, stay tuned for Wednesday's paper round-up.

23:43 GMT: Australian midfielder Tomas Rogic looks poised to join Celtic, with the Scottish giants expected to make a £500,000 offer for the 20-year-old. Story here.

23:09 GMT: The Daily Record claims Gordon Strachan is set to be revealed as Scotland's manager before the end of the week. Story here.

22.21 GMT: Ah Twitter, where would we be without you? One which requires some more digging tomorrow, but this could be interesting: according to respected french radio RMC, Atletico Madrid's Falcao has agreed to move to Chelsea next June (via @federicocasotti)

22.12 GMT: Lucas Biglia's agent has claimed that his client wants to leave Anderlecht for either England or Italy. "Given his valuation at the moment, he could be bought by Chinese or Russian clubs," Enzo Montepaone told La Derniere Heure. "But he does not want to go to either of those places. Italy or England would be his preferred destinations."

21.56 GMT: A report from France claims that Toulouse midfielder Etienne Capoue will join Everton as replacement for Marouane Felliani (joining Chelsea apparently) for a fee of between €10m and €12m. Arsenal, it seems, may miss out.

21.14 GMT: Got to love rumours like this one. Sir Alex Ferguson is apparently going to splash out £40 million in January. Portuguese newspaper Record have reported that Manchester United are keen to bring in Benfica pair Ezequiel Garay and Nicolas Gaitan in a deal that would shock everyone this window.

20.32 GMT: Julio Cesar to Toronto??!! Ok, not that one. Brazilian midfielder Julio Cesar, 34, played 27 games for Sporting Kansas City in each of the last two seasons and is now set to move to Canada to continue his career.

19.56 GMT: DONE DEAL: Watford sign Fernando Forestieri from Udinese on a five-and-a-half year contract

19.18 GMT: Update on Remy from our man Kristan Heneage: Marseille sporting director Jose Angio has confirmed Newcastle, QPR and one unnamed club have agreed a fee for Remy. Says the decision now rests with the player. FULL STORY HERE

19.05 GMT: Have QPR beaten Newcastle to the signing of Loic Remy? Joey Barton seems to think so, as he tweeted: "Gift of the gab from Harry Redknapp perhaps? Thought it was done and dusted to Newcastle. Something must of gone amiss. Great news 4 #QPR"

18.40 GMT: Pessimism for Fulham fans. Martin Jol says: "We are the only team in the Premier League who have not found their feet in general. If you look at Wigan, they have a settled team. They bought two or three players in the first week of January and we haven't got that. We don't have a lot of money to spend."

18.11 GMT: Liverpool are set to sign Molde's Vegard Forren, with the defender travelling to England on Tuesday, according to reports from television channel TV2. It could only be on a trial basis though. FULL STORY

17.13 GMT: AC Milan chief executive Adriano Galliani has again ruled out a move for Manchester City striker Mario Balotelli. He said: "If no-one leaves, no-one will arrive. Mario Balotelli? We have five strikers for two/three roles, so we are fine."

16.38 GMT: Federico Macheda is hoping to end his loan hoodoo and impress if he leaves Manchester United on another short-term deal: "I had very bad luck with the loans but I think it helped me a lot. I think it helped me to gain experience in general. If I go out again on loan, I'm sure I will do well."

16.28 GMT: DONE DEAL: Chelsea goalkeeper Sam Walker has joined Colchester United on loan until April 27.

16.07 GMT Massimo Moratti on Wesley Sneijder giving Galatasaray an answer today: "It would be serious of Sneijder to do so, so I think they're right to think that way. A Sneijder replacement? We'll see. As for Schelotto, these things need to be looked at with calm."

15.46 GMT Al-Hilal have confirmed Sunderland's loan deal for Abdou Mangane is complete. The 29-year-old will spend an initial six months on loan at the Stadium of Light with the club holding the option to purchase him in the summer.

15.36 GMT We're expecting Marseille forward Loic Remy to FINALLY complete his move to the Premier League with Newcastle United today.

15.18 GMT Southampton's Gaston Ramirez says he is happy at St Mary's amid speculation he could move to AC Milan. He said: "I have had a very good time during these first five months at Southampton and I feel very happy being in England," said Ramirez in the South American media.

"I am enjoying being in this country. I like it very much that it is calm and the way that we live here."

14.53 GMT Barcelona sporting director Andoni Zubizarreta on Victor Valdes' future: "I said that Victor Valdes did not want to leave, I did not go into further information. For a moment I will speak of the negotiations and leave you with a sentence… the negotiations will not be broadcast." Good to see that's been cleared up then.

14.29 GMT West Ham boss Sam Allardyce says he doesn't want to lose Newcastle United target James Tomkins in January, but concedes that 'you never know what happens in this window'.

14.07 GMT Beppe Marotta on Juventus transfers: "The transfer window will close without any major signings. The January market is not offering important names for Juventus."

13.51 GMT Some light reading for you here as our PSG blogger Jonathan Johnson reflects fondly on Nene and Guillaume Hoarau's time at the Parc des Princes and wishes the departed pair bonne chance in Qatar and China respectively. FULL STORY

13.25 GMT Argentine striker Marcelo Larrondo is reportedly set to cross the great Tuscan divide and join Fiorentina from Siena today.

13.03 GMT Bayern Munich are keen on Eintracht Frankfurt pair Sebastian Rode and Sebastian Jung and have still not given up on bringing Mainz centre-back Jan Kirchhoff to the club before the summer, kicker reports. FULL STORY

12.48 GMT Newcastle United playmaker Hatem Ben Arfa tells Le Parisien: "Signing for PSG is a childhood dream. If there is a proposal, I will study it with interest. If there is a proposal - 'if' is important.

"PSG... its sound lives in my heart. If I could play there, it will be a beautiful gift. PSG is a symbol in football. So, yes, PSG is a part of me. I had all the players' posters when I was little. Parc des Princes is 15 minutes from my house today."

Using our powers of deduction, we reckon he quite likes PSG.

12.25 GMT Former Barcelona and Chelsea striker Eidur Gudjohnsen has completed his move to Club Brugge from city rivals Cercle Brugge.

11.58 GMT FULL STORY HERE on Roland Lamah looking set to sign for Swansea from Osasuna.

11.44 GMT Cristiano Ronaldo speaks out about speculation regarding his future: "I want to see out my contract at Real Madrid. I am very clear about that. After that, well, I do not know what will happen in the future." FULL STORY HERE

11.16 GMT FULL STORY HERE on Hoffenheim reportedly considering a move for Sevilla defender Federico Fazio.

10.52 GMT FULL STORY HERE on Tito Vilanova saying that David Villa still has an important role to play at Barcelona.

10.36 GMT FULL STORY HERE on AC Milan assistant Mauro Tassotti reaffirming the club's interest in Newcastle defender Davide Santon.

10.11 GMT Celta Vigo forward Iago Aspas is a reported ¬10 million target for Chelsea, according to reports in the Spanish press.

09.52 GMT Hannover have announced the signing of Brazilian midfielder Franca from Coritiba and 20-year-old Pawel Wszolek is also expected to arrive from Polonia Warsaw.

09.35 GMT Zenit St Petersburg are the latest club interested in Sevilla centre-back Federico Fazio, with an €8 million bid expected according to Estadio Deportivo, who say a €6 million bid from Hoffenheim was turned down last week.

09.21 GMT Former Atletico Madrid winger Martin Petrov is set to return to La Liga from Bolton - the Bulgaria winger is expected to sign for Espanyol today.

09.08 GMT Osasuna say they have given permission for winger Roland Lamah to travel to Wales to negotiate move to Swansea.

08.59 GMT Besiktas are chasing Braga midfielder Hugo Viana, according to A Bola.

08.41 GMT Tito Vilanova is not expecting Barcelona to sell David Villa, with the Blaugranas boss saying: "Villa will not leave. We are satisfied with it. Just the other day he scored two goals."

08.25 GMT Our A-League expert Rob Brooks has the lowdown on all the transfer rumours swirling around Down Under at present. FULL STORY HERE.

08.08 GMT kicker reports that talks with between Eintracht Frankfurt and Wolfsburg forward Srdan Lakic could lead to a transfer this week.

07.54 GMT Galatasaray boss Fatih Terim is unhappy at Wesley Sneijder delaying a proposed move to Turkey from Inter Milan: "If Sneijder wants to come to Galatasaray he must see us as a first choice. This club is not anyone's plaything. Those who play here do not see Galatasaray as an alternative but as a first choice. Otherwise, one must step aside."

07.39 GMT Edin Dzeko impressed in Manchester City's 2-0 victory over Arsenal on Sunday, and the German press are continuing to link him with a return the Bundesliga with Borussia Dortmund.

07.22 GMT AC Milan assistant Mauro Tassotti confirms his club are interested in Newcastle's Davide Santon: "I know that Santon was a promising youngster and I don't think he has lost those qualities. It would be good for Italian football to have him back in the country."

07.03 GMT: Manchester City are ready to launch a bid for Derby County midfielder Will Hughes, according to the Daily Mirror. Derby are asking for £10 million for Hughes, but City are hopeful an offer of £6 million plus an unwanted player or two is accepted.

06.12 GMT: Back in Australia, and a bidding war has been sparked throughout Britain for Central Coast Mariners starlet Tom Rogic. Widespread reports claim QPR have launched a bid worth AU$700,000 overnight, while Celtic - where Rogic is currently on trial - are preparing to make a counter-offer.

05.08 GMT: The Daily Mail reports that any new players signing for QPR in January will have pay-cut clauses inserted into their contracts as the club seeks to reduce its wage bill.

03.40 GMT: Rumours rumbling in the A-League over Erik Paartalu. The midfielder helped Brisbane Roar to back-to-back titles in the past two seasons, but is linked with a move to the Chinese Super League with the transfer window in Australia opening today.

02.03 GMT: You can keep up to date with all the latest transfer news in our live On The Move blog, and for starters we've got our daily newspaper round-up.

Wilfried Zaha has been caught up in some confusion over his future with a Twitter post on Sunday evening from his account suggesting he is poised to join Manchester United, the Daily Mirror reports. "Looks like i'm on my way to the top of the premier league," the tweet said.

However, as queries from fans began to roll in, Zaha responded by deleting the tweet and claiming he could not remember writing anything of the sort: "I don't know remember tweeting no such thing so I don't know where the tweet came from". Got that? Crystal clear then. The Crystal Palace winger has been linked with a £15 million for some weeks.

Romelu Lukaku has spoken of his desire to convert his loan spell at West Brom into a permanent move. The striker, who netted a brace against Reading at the weekend, says he plans on sorting out his future this summer, saying: "I don't care about what Chelsea are doing at the moment. I'm thinking only of myself and West Brom. I'll hopefully stay here for the next two years."

He's said it before - and he'll say it again before 2014 - but Neymar has denied having a pre-agreement with Barcelona, stating he will not leave Santos until after the World Cup is held in his homeland. The Daily Mail reports this as a boost to Chelsea and Manchester City, who are both interested in luring the talented forward to the Premier League. Neymar is currently valued at around €40 million.