Cesc Fabregas to make Arsenal return?
It's back to the future on Saturday, with Luka Modric again linked with a big-money move to Chelsea. The midfielder was a target for the Blues last year, and it is understood the Real Madrid man may move before the end of the month. Meanwhile, Newcastle face a battle to keep Fabricio Coloccini on their books, while Carlton Cole has been told find another club by West Ham.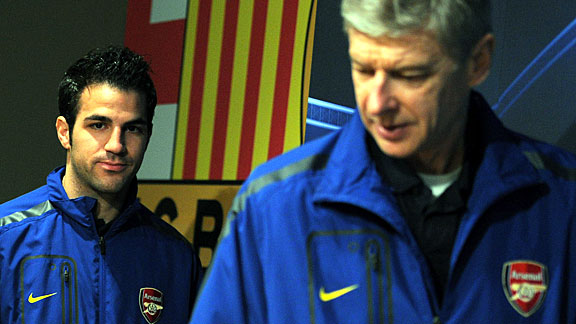 GettyImagesArsene Wenger played a key role in Fabregas' development
23:59 GMT: That's it for another day of transfer news. Keep up to date with On The Move blog, starting with all the latest from Sunday's newspapers.

23:30 GMT: Lucas Biglia, who has long-been linked with Arsenal, has reportedly failed to show up for Anderlecht's training camp in Turkey. Could a January move be in the offing?

23:03 GMT: And, what do you know, here's the full story on Fabregas.

22:45 GMT: Regarding the last post, Wenger is quoted in the Guardian as saying: "I'm not convinced that he won't come back here one day."

22:28 GMT: Ooo, now this is juicy. Arsenal manager Arsene Wenger thinks former captain Cesc Fabregas could return to the Gunners from Barcelona one day. Full story to follow.

22:05 GMT: Chelsea have bid 10 million euros for Celta Vigo attacker Iago Aspas, so says Marca. Aspas is a 25-year-old forward who has scored eight league goals this season.

21:39 GMT: A reminder you can have your say on all the moves and speculation via the comments section at the foot of the blog.

21:10 GMT: Wesley Sneijder has been speaking to Sky Italia: "It's all fine. The decision I have to take is not an easy one. It's been said that I will decide before Monday yet there are still two weeks before the end of the transfer window."

20:43 GMT: Uruguay international Sebastian Fernandez could make a move to England this January with Brighton said to be keen, according to Sky Sports.

20:22 GMT: Ipswich Town have confirmed that Nigel Reo-Coker has left the club after rejecting a new deal.

19:48 GMT: Redknapp has also just been pictured at Rennes' match against Bordeaux, presumably to watch M'Vila.

19:25 GMT: QPR boss Harry Redknapp has confirmed three transfer targets as he looks to add players to his squad in a bid to secure Premier League survival. Full story.

18:51 GMT: Alan Pardew confirmed that Coloccini will hold a meeting with the Newcastle hierarchy next week as they attempt to hold on to their skipper until at least the end of the season. "Of course," Pardew said when asked whether he was hopeful of keeping the defender. "We will speak to him this week and we will resolve that situation."

18:30 GMT: Sunderland boss Martin O'Neill confirmed that Senegal international defender Kader Mangane is heading for Wearside in the hope of clinching a loan deal until the end of the season.

18.00 GMT Santos striker Neymar has once again been quoted as saying he has not signed a deal with Barcelona. The Brazilian youngster is hotly tipped with a move to Spain, but is adamant he'll stay in Brazil until after he World Cup next summer.

17.50 GMT Whatculture.com are reporting that Manchester United will be stepping up their pursuit of Robert Lewandowski. Borussia Dortmund have managed to get numerous players to sign new contracts, but Lewandowski remains with just one year left on his current deal.

17.15 GMT Numerous sources reporting that Barcelona will bid for David De Gea this month. The Manchester United goalkeeper is in high demand in Spain.

16.46 GMT Sky Sports are reporting that Newcastle United are moving closer to signing Loic Remy from Marseille.

16.20 GMT Harry Redknapp has talked of QPR's interest in Jake Livermore and Peter Odemwingie. Goal.com quote Redknapp as saying: "Yeah, we're taking Livermore. We're doing a deal to take Jake on loan. I like Jake, I'm a big fan of Jake's. Good, young player. It will be good experience for him, I think."

"We made an enquiry for Odemwingie, yes," the QPR boss revealed. "I don't know whether [chief executive] Philip Beard has put an offer in, but he was a player that we spoke about and he's someone that I was interested in making an offer for."

16.06 GMT Sir Alex Ferguson has called new Liverpool signing Daniel Sturridge a gamble. Ferguson told United Review: "Certainly the arrival of Sturridge gives Brendan Rodgers more strength and options up front. Sturridge has had a few clubs but I don't blame him for jumping at the chance of joining Liverpool because he just wasn't playing regularly with Chelsea and I always rate a player whose priority is wanting to play.

"Even so, his track record moving between a number of clubs suggests Brendan Rodgers is taking a bit of a gamble, but he clearly knows what he is doing."

15.43 GMT Fiorentina coach Vincenzo Montella at a press conference earlier today said: "I'd love to work with Lampard. The fact he likes Fiorentina is something to be proud of. He is a professional and in good shape. If he accepted the bench every now and again, he'd be useful to us..."

15.20 GMT 31-year-old striker Emanuele Calaiò has been left out of Siena's squad for tomorrow's game with Torino. Their director of sport Stefano Antonelli told Sky Italia he's going to be joining Napoli.

"Calaio is a done deal and I think Emanuele has what it takes to play a great role for Napoli, even alongside Edinson Cavani."

15.00 GMT Sky Sports are reporting that a number of clubs are tracking Charlton defender Cedric Evina. Birmingham, are thought to be the most likely to make a move.

14.42 GMT Conflicting reports from all over the web regarding Wesley Sneijder. Some say a deal is done to take the Dutch playmaker to Galatasaray. Whereas other sources claim no deal will ever take place. More is sure to be revealed soon.

14.29 GMT Chelsea have been linked to numerous midfielders this month. TalkSPORT list likely targets as: Luka Modric, Marouane Fellaini, Benat Etxebarria, Cheick Tiote, Marek Hamsik, and Miralem Pjanic.

14.12 GMT Manchester City youngster John Guidetti is looking for a loan move in England.

The 20-year-old forward has been sidelined with illness this season, but signed a new deal at the Etihad in October, and wants to make a temporary move to get first-team football.

13.59 GMT Gazzetta dello sport are reporting that Juventus will make a move for Lyon striker Lisandro Lopez.

13.37 GMT Anderlecht are closing in on Porto striker Kleber, according to Belgian newspaper Le Soir.

13.20 GMT Valencia are reportedly interested in signing Malaga midfielder Jeremy Toulalan.

13.05 GMT Leon Osman is set to sign a new Everton deal. FULL STORY HERE

12.55 GMT Bolton midfielder Martin Petrov is on the verge of joining Espanyol on a free transfer, according to AS.

12.39 GMT As we predicted yesterday, the transfer of Taison to Shakhtar Donetsk has sparked fresh rumours of Donetsk forward Willian moving out of the club. The Metro are reporting that Spurs are set to capture the Brazilian. The stumbling block is reportedly the fee as the Ukrainian club want £20 million.

12.16 GMT Sunderland boss Martin O'Neill is looking to strengthen his defence by signing former Rennes star Kader Mangane according to Goal.com.

The Sunderland boss hopes to add the former Rennes player to his squad during this window, which could pave the way for Titus Bramble to leave the club in the summer for free.

11.58 GMT Sky Sports are reporting that Reading midfielder Jay Tabb has been told he can leave the club this month.

11.47 GMT: DONE DEAL: Borussia Dortmund have confirmed the sale of defender Chris Lowe to Kaiserslautern for a reported fee of £400,000. However the official statement keeps the fee undisclosed.

11.36 GMT Goal.com are reporting that Barcelona goalkeeper Victor Valdez has still not opened talks with the club about signing a new contract.

11.20 GMT BBC Wales report that Swansea are in talks to sign Roland Lamah from Osasuna. The Belgian, 25, is a potential replacement for Danny Graham who has been linked with a move away from the Liberty Stadium recently.

11.02 GMT talkSPORT claim that West Ham defender James Tomkins could be on the move with Newcastle reportedly in talks about a transfer.

10.46 GMT Martin Jol has again underlined his desire to keep Brede Hangeland at Fulham as the Norwegian defender considers the club's offer of a new contract. Jol said: "We will try to do everything that we are capable of to keep him," said Jol. "There is a contract and the only thing for him to do is sign it."

10.23 GMT Harry Redknapp says Loic Remy has rejected the change to join QPR. Newcastle, West Ham, Arsenal and Napoli have also been linked to the Marseille striker, who was a target for Redknapp when he was manager of Tottenham.

09.56 GMT Aston Villa boss Paul Lambert has ruled out the club's chances of signing Joleon Lescott from Manchester City or Scott Parker from Tottenham because of financial restrictions.

09.08 GMT Liverpool's hopes of signing Tom Ince from Blackpool could be ended by Swansea who have put in a £7 million bid for the 20-year-old attacker, according to talkSPORT.

09.08 GMT Roberto Mancini has urged Manchester City to offer Carlos Tevez a new contract in a bid to stop the striker leaving for free when his current deal expires in 18 months time. More here.

08.03 GMT Reports in the Daily Mail suggest Tottenham are set to go toe-to-toe with Liverpool for Hamburg striker Son Heung-Min. It is said an £8 million asking price will need to be met to lure the 20-year-old.

07.06 GMT West Ham boss Sam Allardyce is expecting a flood of calls from agents, but says any further signings from his club to occur at the end of January, saying: "I can do it at the end of January because I pass everything on to Martin Glover, our head of recruitment, and the chairman gets a whole load thrown at him as well."

05.51 GMT Former QPR and Notts County midfielder Ruben Zadkovich is in demand in his homeland. Currently plying his trade in the A-League with the Newcastle Jets, Zadkovich is reportedly being scouted by the high-flying Western Sydney Wanderers.

04.46 GMT The Wesley Sneijder saga has taken another twist, with his agent now claiming no deal with Galatasaray is imminent. This seems in contrast to reports in recent days suggesting the midfielder would confirm the move this weekend.

03.32 GMT Swansea remain in the hunt for Real Betis midfielder Jose Canas, PA reports, but the Spanish side are hoping to negotiate a £1 million transfer fee.

02.38 GMT Another day, another crop of juicy transfer news. Keep up to date with all of your team's latest talk throughout the day.

Chelsea are preparing themselves to make another play for Luka Modric. The Croatian playmaker was heavily linked with a Stamford Bridge switch last year while he was at Tottenham, however Real Madrid beat the Blues to his signature. At the time it was reported that £40 million would be required to prise Modric from Spurs, but The Sun claims Roman Abramovich will launch a cheeky £22 million offer this week. Modric has arguably not settled well in Madrid, failing to capture the form he displayed during his time at Tottenham.

Newcastle captain Fabricio Coloccini has told the club he wants to return to his homeland Argentina to pursue the next stage of his career, according to the Daily Mail. While it is understood the defender has not formally handed in a transfer request, talks have been held in which Coloccini has expressed his desire to leave the Premier League at the earliest possible time. His former club San Lorenzo remains the most likely destination should Newcastle allow him to exit.

Carlton Cole is on the lookout for a new club after West Ham told him he is surplus to requirements. With Andy Carroll set to return from injury, and Marouane Chamakh brought in from Arsenal on loan, Cole has moved down the pecking order under manager Sam Allardyce. Reading and Norwich are both said to be keen on seizing the opportunity to sign Cole, the Daily Mirror reports.