Gunners get loaded for Villa
One brewing transfer saga came to an end on Friday as Spurs swooped to agree a deal to sign Lewis Holtby in the summer, but there's plenty more to come in this window, and the future of one David Villa is attracting plenty of headlines.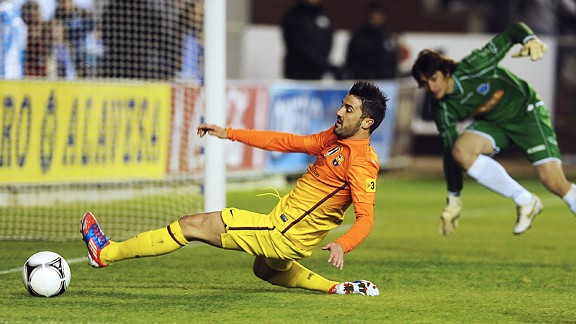 GettyImagesArsenal's bid for David Villa is reportedly closer than ever
05:50 GMT Tottenham are ready to line up an offer for Porto's Joao Moutinho once again. After putting a £24 million bid on the table for the midfielder in August, chairman Daniel Levy is continuing his pursuit of Moutinho, although Spurs are expected to request a cheaper transfer fee.

04:43 GMT According to the Mirror, Manchester City have made a £45 million bid for Napoli striker Edinson Cavani. Napoli chief Aurelio De Laurentiis confirmed the club has already turned down one offer for the Uruguayan, most likely from City: "Cavani is a warrior who embodies all that's best of the Napoli spirit and our supporters," he said. "It is because of this that I turned down an offer of 55 million euros."



03:20 GMT AC Milan forward Robinho will not be leaving the club in January, but could still make a return to Brazil in the summer. "Robinho will stay in Milan until at least July," Milan coach Massimiliano Allegri said. "He has said he plans to return to Brazil."

02:30 GMT Swansea manager Michael Laudrup has urged rival clubs not to pursue their interest in striker Michu, insisting there is "no way" the Spaniard will leave the Liberty Stadium this month. "There is no way he will leave," Laudrup said. "It is absolutely out of the question. One reason is because it is so difficult to get someone in right now, and the second is that he is happy here and doesn't want to leave."

01:48 GMT QPR and Newcastle are both sending representatives to France today in a bid to lure Marseille striker Loic Remy to the Premier League, the Sunday People reports. The fight for his signature will benefit Remy with Rangers likely to offer higher wages than the Toon.

00:40 GMT Stoke boss Tony Pulis has quashed earlier speculation that Michael Owen is looking for a move to Australia: "We've had no one contact us about him. I think Michael is happy where he is. He's a great kid."

23.59 GMT: The Daily Mirror reports that Chelsea are considering a stunning backflip by offering Frank Lampard a contract extension. The Blues are also closing in on a £15 million deal for Malaga midfielder Isco.

22.59 GMT: Serie A side Udinese have snapped up Masahudu Alhassan from Genoa.

22.03 GMT: The Daily Mail says Michael Owen could be set to leave Stoke City after just four appearances and join A-League side Perth Glory. Midfielder Michael Tonge is to join Leeds and Stoke will consider offers for Wilson Palacios.

21.12 GMT: Cruzeiro striker Wellington Paulista has revealed he will leave the club this month. He is reportedly set to join West Ham.

20:38 GMT: Hull City are close to completing the signing of Robbie Brady from Manchester United, who is currently at the club on loan.

20:04 GMT: David Beckham was at Upton Park to watch West Ham v Man United today. Could he be set to play for his "home" club of the Hammers this season?

19:15 GMT: Joleon Lescott has ruled out any possibility of leaving Manchester City during this month's transfer window.

18:40 GMT: Juan Roman Riquelme has insisted he will not return to Boca Juniors despite Carlos Bianchi being reappointed. The 34-year-old left the club in July, saying he did not have enough energy left, and he has now said: "I love this club and Boca will always be my club, but I am a man of my word."

18:00 GMT: Mainz general manager Christian Heidel has said it is possible Jan Kirchhoff, who has agreed a deal to join Bayern Munich in the summer, could make the switch this month. "I cannot imagine a transfer taking place this winter but, of course, I am always open to discussion when Bayern Munich call," he said. "If that eventually leads to Jan transferring sooner, I don't know, and I don't want to pre-empt talks."

17:45 GMT: Harry Redknapp has admitted that Ryan Nelsen could leave QPR in the middle of the club's relegation battle to take up a coaching role in the MLS with Toronto FC. "There is some truth in the rumour I'm afraid," he said. "Ryan Nelsen is very important for us, a good leader but he's been offered a job in America and there's every chance he wants to go. He wants to be a manager and it gives him a chance."

17:18 GMT: AC Milan coach Massimiliano Allegri has played down talk of a move for Mario Balotelli. "He is a Manchester City player," he said. "He just has to concentrate on himself, otherwise he can throw away his career."

16:32 GMT: Didier Drogba's management company has denied reports of a move to Italy. Carlos Arino Bajo, an agent claiming to represent the Shanghai Shenhua striker, talked of a move to AC Milan or Juventus, but Sports PR Company tweeted: "Please note, these quotes are not correct. This guy is not Didier's agent, his sole agent is Thierno Seydi."

16:03 GMT: Giuseppe Rossi has completed his medical with Fiorentina and is expected to complete his transfer on Monday. Story here.

15:36 GMT: Newcastle United boss Alan Pardew said after his team's 2-0 defeat at Brighton in the FA Cup that he was looking into strengthening his squad. He told ITV: "We know we need to get some bigger players who can handle the situation of carrying a Newcastle jersey, whether that's a signing or getting a player back from injury."

15:17 GMT: Mathieu Debuchy has spoken of his relief at joining Newcastle. Story here.

15:03 GMT: Inter Milan's Yuto Nagatomo has signed a contract extension until 2016.

14:48 GMT: AC Milan boss Massimiliano Allegri has said there is no chance Ignazio Abate will be joining Zenit: "Abate is a Milan player and is very happy to remain at Milan. I am not even going to consider his exit." He also said Robinho would be staying put, but the comments predate Robinho's in the last entry, so you'll have to wait and see on that one.

14:17 GMT: Despite reports Robinho's move to Santos has collapsed, the AC Milan player has said "nothing is decided yet" and added: "I'm ready to cut my wages."

13:55 GMT: El Mundo Deportivo believes Atletico Madrid - who will likely need to replace Falcao in the summer - are in the race to sign David Villa.

13:40 GMT: Here is the full story on Djourou's loan move to Hannover.

13:25 GMT: The Journal expects Sunderland striker Fraizer Campbell to return to Hull City, who are hoping to secure promotion this season. Campbell's father, Keith, said: "Fraizer is aware of what Steve Bruce has said about being interested in signing him and he would definitely be interested in coming back to Hull. He is very impressed with the way they play and feels he would fit. He is also a big fan of Steve Bruce."

13:14 GMT: La Gazzetta dello Sport believes Zenit St Petersburg have made a €10 million offer to sign AC Milan's Iganazio Abate.

12:50 GMT: BREAKING Arsenal have announced that Johan Djourou will join Hannover on loan until the end of the season.

12:48 GMT: The Sun believes Queens Park Rangers have offered Manchester City £8 million for Joleon Lescott.

12:29 GMT: Juventus coach Antonio Conte has denied reports the club are looking to sign Didier Drogba. Story here.

12.25 GMT: The Daily Mail thinks Tottenham will listen to offers of around £3 million for midfielder Tom Huddlestone.

12:14 GMT: David Moyes has confirmed that Sylvain Distin is in line for a new contract at Everton. Story here.

11:59 GMT: LA Galaxy striker Robbie Keane has said he will not be returning to the Premier League on loan this winter. Story here.

11:36 GMT: AC Milan midfielder Kevin-Prince Boateng is to decide in the coming days whether he is prepared to continue in Serie A following the racist abuse he faced during a friendly with Pro Patria during the week. Story here.

11:18 GMT: The only thing holding up Croatia international Ivan Perisic's transfer from Dortmund to Wolfsburg is the €8.5 million price tag, according to Sportske Novosti.

10:54 GMT: Sir Alex Ferguson expects Rio Ferdinand to stay on at Manchester United. Story here.

10:42 GMT: And yet more from Guillem Balague, whose Sulia account has been a veritable treasure trove of transfer news this morning. He says Swansea are "very close" to signing Jose Canas from Real Betis for a little over €1 million.

10:33 GMT: Guillem Balague has also shared his thoughts on Sevilla striker Alvaro Negredo, who appears to be available for €20 million. He wrote: "Nobody has put an offer for him even though it is quite clear that Sevilla is selling as they live a desperate financial situation. Only one club showed some interest, but not enough: Chelsea who doesn't need a striker anymore. Sevilla will wait for offers all January"

10:26 GMT: Spanish journalist Guillem Balague has posted on his Sulia account to say he believes Atletico Madrid striker Falcao's most likely destination remains Real Madrid. He adds: "If Real sell Higuain for, say, 25 million euros (not a huge sum for his talent), the cost of 60 million of Falcao's buy out clause will then become much more affordable. But no offer has arrived for Higuain yet."

10:11 GMT: Tuttosport believes, though, that Juventus are seriously considering signingFiorentina's Stevan Jovetic to join the club alongside Fernando Llorente in the summer. Luis Suarez and Alexis Sanchez are also under consideration.

10:04 GMT: La Nazione believes Juventus are monitoring Emmanuel Adebayor's situation at Tottenham.

09:53 GMT: Santos president Muricy Ramalho has warned AC Milan star Robinho he must lower his demands if he wants a return to his former club.

"The transfer fee and wage demands are really very high," he told Globoesporte. "Robinho wants to return and that helps us a little. Considering this desire exists, we hold on to our optimism. Negotiations have not collapsed completely, but they are very complicated. If he wants to join Santos, he has to give something up."

The comments come amid reports in Brazil that Atletico Mineiro are ready to make a bid to sign the Brazil international.

09.42 GMT: Chelsea boss Rafa Benitez has said he was surprised that John Terry suggested Frank Lampard is on his way out of Stamford Bridge.

09.35 GMT: Goal.com believes Liverpool's bid to re-sign Thomas Ince from Blackpool is almost complete.

09:20 GMT: Good morning and welcome. Here's today's transfer round-up from England's newspapers.

Arsene Wenger has been cheekily coy about Arsenal's intentions during the January transfer window, but it seems the Frenchman has a trick up his sleeve that will delight many Arsenal fans. According to the Daily Mirror, the loan move of Marouane Chamakh and impending sales of Andrei Arshavin, Johan Djourou and Sebastien Squillaci are all part of a plan to recruit Barcelona striker David Villa in the coming weeks. Arsenal have previously expressed their interest in Villa, but Barca's reluctance to let the Spaniard go and their asking price has provided a barrier. It now seems the Gunners could soon be in a position to launch a concrete bid for Villa, with the £15 million asking price now within reach.

Headlines and Cristiano Ronaldo go hand-in-hand and the Daily Mirror's transfer rumours today once again include the Real Madrid winger. They claim Paris Saint-Germain are prepared to follow through on their audacious attempt to sign Ronaldo and Jose Mourinho in the summer. PSG president Nasser Al-Khelaifi was upfront with his desire and insists the Ligue 1 leaders will only chase the duo with Real's consent. "I respect Real Madrid and their president," he said in Le Parisien on Friday. "So if I want to have Ronaldo come to Paris, I will first call Real before engaging in any commentaries."

Osvaldo Coloccini, father of Fabricio, could soon be labelled a tactical genius after his comments suggesting the Newcastle defender is hoping to move back to Argentina caused a wave of panic at St James' Park. The Sun says Newcastle manager Alan Pardew holds serious concerns that Fabricio could soon leave the club after his father, manager of San Lorenzo, said the 30-year-old is unhappy with his current circumstances. Coloccini will miss Newcastle's trip to Brighton with a niggling injury but Pardew believes it is a matter of time before the defender requests a transfer. Scare tactics in action, eh?

Despite Roberto Mancini's public claim that Mario Balotelli will not be leaving Manchester City this month, the Daily Mail reports that backroom staff at the Etihad are hurriedly searching for a way to get the 22-year-old off their books. Following the training ground bust-up between Balotelli and Mancini, there were renewed calls for the club to release the striker, who has perhaps become better known for his off-field indiscretions than his football skills. The Mail believe City are refusing to say that Balotelli is up for sale in case it decreases his value, but they are apparently accepting offers for the Italian.