Better the Red Devil you know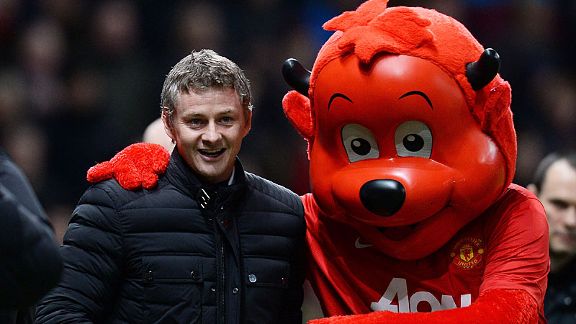 GettyImagesOle Gunnar Solskjaer has not yet moved for Fred The Red.
It turns out that "the baby-faced assassin" is a smilingly pleasant revolutionary. Ole Gunnar Solskjaer has been the manager at Cardiff for only four weeks, but that has proved long enough to make six signings. Magnus Wolff Eikrem, Mats Moller Daehli, Jo Inge Berget, Kenwyne Jones, Wilfried Zaha and Fabio da Silva have been welcomed to Wales.

It is an overhaul, a radical recalibration of the squad in a bid to avoid relegation and reshape Cardiff for the future. And yet, in one respect, it is not as bold as it appears. While Solskjaer signed Jones from Stoke and showed an interest in Wigan defender Ivan Ramis, the manager seems to have a two-pronged recruitment strategy: bring in players who have been at Molde or Manchester United, his former clubs. Indeed, some, such as Daehli and Eikrem, have both on their CVs. This is a reunion.

Perhaps rounding up familiar faces makes sense for a midseason appointment who has had limited time to scout. Four of the arrivals have already played for Solskjaer. They should know his managerial methods and his preferred style of play. For coaches whose ethos differs most from the norm, signing the same players is particularly logical. For those who are especially confrontational, introducing a few dressing-room allies at the earliest opportunity allows them to lay down the law.

And yet by donning the transfer-market equivalent of a comfort blanket, managers risk accusations of showing a desperate lack of imagination or ambition. Football is too big a topic for anyone to be an expert on every league -- even the obsessive Arsene Wenger admitted he knew little of Michu before the Spaniard signed for Swansea, for instance -- but the most successful purchasers of players benefit from casting their net a little wider, rather than simply looking to their old employers.

While there is a separate issue of former Manchester United players and staff raiding Old Trafford only to discover their former employers' reserves do not always stand out at smaller clubs, as Middlesbrough and Sunderland can testify, history provides plenty of warnings to managers who receive a promotion to a bigger club or a grander stage and start off by assuming their former charges can make a similar leap and succeed.

Even the cosmopolitan Roberto Martinez has made that mistake. Only one of his four former Wigan players, James McCarthy, has made an impact at Everton, whereas the additions from more glamorous clubs -- Gareth Barry and Romelu Lukaku in particular -- have flourished.

Nevertheless, Martinez has a habit of looking to an old haunt for reinforcements. When he joined the Latics from Swansea, he took Jordi Gomez and Jason Scotland up a division with him. The Spaniard was eventually a qualified success, but the Trinidadian suffered from an embarrassing inability to score.

Another former Swan, Joe Allen, was supposed to set the tone for Brendan Rodgers' Liverpool; instead, he often sits on the bench. There is a world of difference between being an automatic choice for an overachieving midtable team and standing out at elite club. It is a test for managers: Can they broaden their horizons in the transfer market, forget their fondness for loyal servants, and focus on quality?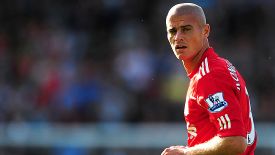 GettyImagesPaul Konchesky has not played in the Premier League since leaving Liverpool after just four months.
The Liverpool manager who proved the most grievous failure in that respect was Roy Hodgson. The limited duo of Paul Konchesky and Christian Poulsen became the embodiment of his reign. It seemed that Hodgson thought he was still coaching Fulham, not the five-time European champions.

So perhaps it may be just as well that United manager David Moyes could not lure Leighton Baines to Old Trafford, if only on the off chance that an altogether superior left-back performed an uncanny impression of Konchesky. Instead, the Londoner's current counterpart, bringing a manager's judgment into question, is Marouane Fellaini.

While Moyes' pursuit of Cesc Fabregas indicated he had higher aspirations, returning to Everton for the Belgian echoes others' errors, supposing a stalwart of his past had the ability to become a cornerstone of a very different team. This has coloured perceptions of Moyes' management and, in similar circumstances, Hodgson never recovered.

Ultimately, it mattered not for Hodgson, the current England manager, that he instigated the signing of Luis Suarez. It amounted to a belated recognition that more gifted individuals were needed, the kind Hodgson could not have contemplated taking to Fulham, but it was completed after he had been dismissed. If Juan Mata is Suarez's United equivalent, the difference is that Moyes has been granted a second transfer window and has been allowed to reappraise his approach.

It is why Solskjaer's summer dealings will be instructive. Like Moyes, Solskjaer began his reign with carte blanche. While one started with a flurry of activity and another with a frustrating delay, the common denominator was an initial faith in the familiar. Now the United manager is looking further afield. Perhaps, in time, the former United striker will come to the conclusion that he has to do the same.