Messi 'not for sale' say Barcelona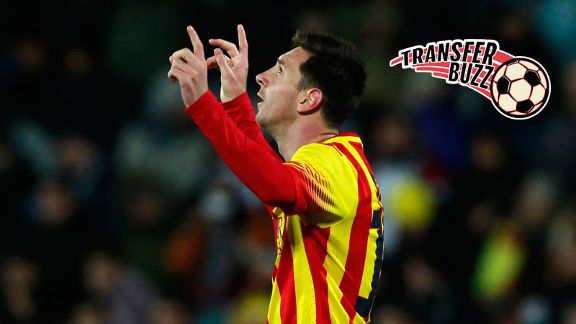 APLionel Messi won't be departing Barcelona any time soon, but he needs a new deal to make sure.
Manchester United may be set to follow up their stunning signing of Juan Mata from Chelsea by moving for Atletico Madrid duo Filipe Luis and Diego Costa as scouts watched the duo on Sunday, according to the Daily Mail. But one striker based in Spain won't be leaving: Barcelona's Lionel Messi.

The Red Devils could also make Wayne Rooney captain if he signs on for a new contract at Old Trafford -- plus he would be consulted on the club's future transfer plans. Meanwhile, United and Chelsea are about to commence a battle on two fronts with rumours swirling both clubs are interested in the same defenders and will Manchester City sign another Arsenal player?

22.59 GMT: Final word on Julian Draxler. Schalke won't let him go this January, but may in the summer acording to BILD. More on that over the next few days we are sure.

22.25 GMT: Sky Sports News sources are claiming that PSG have made another bid for Yohan Cabaye, and it is 'significantly higher' than the 14 million pounds they tried with over the weekend. It appears to have been accepted but we'll await confirmation.

22.06 GMT: Valencia have signed Chile forward Eduardo Vargas on loan from Napoli for the remainder of the season. The 24-year-old will be looking to make his mark at the Mestella after struggling in Italy, where he failed to score in Serie A and managed just three goals in 28 games in two seasons with the Partenopei following a big money move from Universidad de Chile in 2012

21.21 GMT: Barcelona have sold young prospect Antonio Sanabria to Roma, but he looks like he'll be joining Sassuolo on loan.

20.55 GMT: Fabio and Wilfried Zaha are on the verge of joining Cardiff City. "We're delighted for Fabio because he has been a great servant. His brother [Rafael] is doing a great job for us here as well. We wish him well. He had one or two options but, in the end, we felt we couldn't get him enough games," Man Utd boss David Moyes told MUTV.

"I said to the players, if you feel I'm not getting you enough games, come and see me. Fabio felt that so he's got a move to Cardiff. With Wilfried Zaha, I'd said to him during the summer that we wanted to get him games. If he played, then great, but if he couldn't, we'd get him out on loan. We had one or two offers for him but just felt Cardiff, at this moment in time, might be the right club. With Ole going there as well, he knows how the club works here and exactly what we do with the players so hopefully it will be a good move for Wilf."


David Moyes confirms Fabio and @wilfriedzaha are on their way to @CardiffCityFC in an exclusive MUTV interview: http://t.co/Poy15RwGjV

— Manchester United (@ManUtd) January 27, 2014
19.58 GMT: Elche are close to signing Holland born Cape Verde winger Garry Mendes Rodriguez from Bulgarian side Levski Sofia. It could be a loan deal with option to buy at end of season for 24-year-old, who has scored 14 goals in 36 games since joining Levski after coming up through ranks at Feyenoord.

19.34 GMT: Some MLS news for you from the New York Red Bulls.


#RBNY acquires defender Richard Eckersley from @TorontoFC. For more: http://t.co/BpqWrOIUn3

— New York Red Bulls (@NewYorkRedBulls) January 27, 2014
19.02 GMT: Barcelona's turmoil over Neymar has seen new president Josep Maria Bartomeu insist that Lionel Messi is not for sale and says the club intend to start negotiations over a new contract with the Argentina star soon. Speaking to Catalan radio station RAC1, Bartomeu said: "Messi is not for sale. We want to sit down, without any rush, with his father and his agent because we want to ensure he's the best-paid player like he deserves. It won't be anything imminent because the players right now are focused on competition."

18.55 GMT: Following on from news we brought you earlier in the day, ESPN sources close to the Black Cats understand Sunderland have completed the three million pounds signing of Ignacio Scocco. The Argentine forward has been keen to move away from Internacional in a bid to improve his World Cup prospects.

18.18 GMT: Liverpool manager Brendan Rodgers insists he is prepared to go through January without making a signing rather than make a short-term panic buy. "We have to wait and see on that. There's certainly nothing imminent. We always felt if we could do it [sign a player in January], that it was certainly something we wanted to do." Read more

17.52 GMT: REAL MADRID SIGN WILLIAN. Ok, not the one who joined Chelsea, but a 22-year-old Brazilian loanee who will play for the reserve side. Sorry. Read more here.

17.50 GMT: Linked with Steven Taylor this January, Norwich boss Chris Hughton has played down reports linking him with a move for the defender. "It's a name put in because of my association with Newcastle - but no [there is no interest]" he explained to reporters.

17.35 GMT: Fabio Da Silva's move to Cardiff is pretty much certain given that his twin brother Rafael has put a photo of his brother on Instagram in a Bluebirds training kit. Rafael wrote: "I will miss you my brother keep your smile and being professional like you are god bless your journey." Cardiff haven't announced the deal yet, but twin brothers aren't likely to keep secrets from each other -- or their social media followers.17.20 GMT: over in Italy, Napoli coach Benitez still hopes to strengthen squad this winter after fans expressed their anger at the draw with Chievo.

17.10 GMT: Inter director Piero Ausilio visited Madrid at the weekend to discuss a potential summer move for striker Alvaro Morata, according to la Gazzetta dello Sport. The young forward has attracted attention from a host of top clubs including Arsenal this January, and could move on if he does not get enough playing time.

17.00 GMT: LA Galaxy president Chris Klein denied his club is trying to lure Manchester United defender Rio Ferdinand to his club. "No truth to the rumor. Rio is a great player but we do not have an interest and there have been no discussions between LA Galaxy and Rio Ferdinand," Klein said via email on Monday. The centre-back's future is uncertain with his contract at Old Trafford up at the end of the season, and the former England international has been repeatedly linked to MLS clubs this month.READ MORE.

16.47 GMT: Marc-Andre ter Stegen has told Welt that it is nonsense he has already signed for Barcelona. "Should there be any news, we'll announce it," the Borussia Moenchengladbach goalkeeper said. Meanwhile, Pep Guardiola had his say on the situation: "Barcelona will get one of the best keepers in the world. He's fast, good with his foot. You can only congratulate them."

16.41 GMT: Off to Spain now, and Diego Simeone has hailed Atletico Madrid starlet Koke after the midfielder made his 100th appearance for the club. "It is very good for the team. The best thing about Koke is that he has a huge future. He gives solutions in various parts of the field. He is an example for the kids who come from the academy. We were glad he has this record so young." The 22-year-old was a target for Manchester United last summer, and the Primera Liga title chasers seem particularly unwilling to lose him this month.

16.35 GMT: Newcastle United manager Alan Pardew has admitted he does not feel confident about keeping midfielder Yohan Cabaye past the January transfer window. "Am I confident [of retaining Cabaye]? No. I don't think any team not in a Champions League position, or fighting for a Champions League position, would be different." READ MORE.

16.28 GMT: Fabian Johnson continues to be linked with a free transfer in the summer. The U.S. international has not penned a new contract at Hoffenheim, and Borussia Moenchengladbach appear to be leading the race. Hertha BSC have dropped out because Johnson will still be too expensive, kicker reports.

16.20 GMT: More on all things Mata and Manchester United now -- the Spanish star still believes his new side can win the Premier League title this season despite trailing leaders Arsenal by 14 points: "I think this club can do it. It can always do it, because this club is used to fighting to the end with character." READ MORE.

The former Chelsea playmaker is also looking forward to linking up with Wayne Rooney in the Red Devils attack: " He is unbelievable: he is a striker who can score, can assist and can come to the midfield to take the ball and move so I think I will enjoy playing alongside him. I will try to connect with him as best as I can to try and find the gaps between the rival defences because I was doing this the last season."READ MORE.

16.09 GMT: Liverpool have emerged as shock late contenders for Tom Ince's signature, according to the Star. The Anfield side lost out to Chelsea at the last minute for the signature of Mohamed Salah, and Brendan Rodgers still seems to be on the lookout for attacking talent to keep their faint Premier League title hopes alive. Crystal palace and Swansea look to be favourites for Ince, though the Salah deal proved a lot can change in a matter of hours.

16.05 GMT: New Valencia attacker Eduardo Vargas has been speaking after finally completing loan move from Napoli over the weekend: "I have been on pretty long holidays, but this week we will see how I am. I hope to be ready for the game against Barcelona [next Saturday]. I know Valencia, its history and the players they have. I am coming here to bring something and to help out. The ideal would be for this help to be in the shape of goals." The club apparently paid a 600,000 euro loan fee for the player, and will cover his salary until end of the season.

16.00 GMT: Staying on Wearside, Lee Cattermole has told the Sunderland Echo that he will still be a Black Cats player for Wednesday's home tie with Stoke."I will be a Sunderland player on Wednesday. I've heard no different and the manager has come out and said he has heard no different. I am contracted to Sunderland. They make the decisions, not me. I'm contracted here for the rest of the season and another two years. It's out of my hands. Until I know any different, I will keep working. I have a cup final to play in -- if I'm here -- and that would be brilliant."

15.55 GMT: News coming in from Argentina is that Internacional forward Ignacio Scocco will sign a two-and-a-half-year deal with Sunderland -- we'll have more on that deal as it materialises.

15.50 GMT: The Daily Star reports that Manchester City are plotting a raid for yet another Arsenal player as they look to exploit Bacary Sagna's uncertain contract situation. The France international has been offered a new deal by the Gunners with his current one up in the summer, but City could make Sagna their fifth Arsenal signing after Gael Clichy, kolo Toure, Samir Nasri and Emmanuel Adebayor.

15.43 GMT: DONE DEAL! Stevenage have let two players go out on loan -- midfielder James Dunne has joined SPL side St Johnstone, while striker Oumare Tounkara has joined Skrill Premier side Grimsby Town.
TRANSFER: The Club can confirm that James Dunne and Oumare Tounkara have both left the club on loan.

— StevenageFC Official (@StevenageFC) January 27, 2014
15.38 GMT: David Moyes refused to confirm whether Wayne Rooney will be signing a new deal with Manchester United, but hinted that talks are ongoing between the player and the club. "I've left that to Ed and Wayne and his advisors. we'll give you an update at the right time. The right time to speak about Wayne's contract is at the time -- whenever that comes round. If you want to talk about his performances I can do, but I can't talk to you about both of them [contract and performances] together."

15.34 GMT: Sky Sports reports that Middlesbrough are in talks with Wolves over striker Kevin Doyle, with Boro keen on a loan switch for the 30-year-old.

15.28 GMT: Superdeporte claims Valencia coach Juan Antonio Pizzi would like to take advantage of Pablo Daniel Osvaldo's current disciplinary issues at Southampton to bring the Italy international striker in for the remainder of the season.

15.18 GMT: Nicolas Anelka has suggested on Twitter that he could leave West Brom and England in the summer following the investigation into his controversial quenelle goal celebration -- and the striker remains adamant he has done nothing wrong.
Thanks to Lazio & all the others clubs who wanted to sign me this last days. See you this summer if I decide to continue...

— nicolas anelka (@anelkaofficiel) January 27, 2014
But the question is why should I leave my club & England? I'm happy here & I did nothing wrong...

— nicolas anelka (@anelkaofficiel) January 27, 2014
15.12 GMT: Arsenal could be set to complete one of the most important deals on January by convincing Arsene Wenger down to a new deal at the Emirates -- Ivan Gazidis told a news conference earlier today: "Arsene will be extending and at the right time we will make that announcement." That's not a confirmation, but a confident statement that the Gunners boss looks set to extend his stay at the Emirates. READ MORE.

15.06 GMT: DONE DEAL! Swansea have signed David Ngog from Bolton for an undisclosed fee until the end of the season, the Premier League club announced on their official website. The former Liverpool striker's contract was up with the Wanderers in the summer, and he will strengthen the Swans attack as they look to avoid being sucked into a relegation battle.
We are pleased to announce the signing of David Ngog from @OfficialBWFC for an undisclosed fee http://t.co/mQ5AmEHJDA pic.twitter.com/gUgEdSVuuz

— Swansea City FC (@SwansOfficial) January 27, 2014
15.00 GMT: Frank Lampard will always have a soft spot for Juan Mata despite his January move to Manchester United, and the England midfielder hopes his former teammate succeeds at Old Trafford. "Juan Mata's an absolutely fantastic player and, more than that, he's a great lad, so I wish him all the best personally," Lampard told the Chelsea website. READ MORE.

14.50 GMT: Rennes have re-opened talks with Auxerre's Paul-Georges Ntep after upping their wage offer. After agreeing a fee of nearly six million euros for the exciting forward, the Breton club had ended discussions last week, judging the 21-year-old's demands too high. Ntep had previously appeared poised to join QPR.

14.35 GMT: Sunderland defender Modibo Diakite could be on his way out of the club, with his agent confirming there is strong interest from Param, Chievo and Hellas Verona for his services.

14.30 GMT: Here's our full story on Roma coach Rudi Garcia stating that Miralem Pjanic is "not for sale", despite PSG's interest in the midfielder. "Blanc can say what he likes," Pjanic said. "I liked the response of the club [Roma] when they said he wasn't for sale." READ MORE.

14.24: More on Mata now -- David Moyes says he wasn't sure if the Manchester United No. 8's move from Chelsea would actually go through, while the Spaniard says he is now looking forward to linking up with Wayne Rooney.
Moyes on Mata deal: "I'm thrilled. I got wind a month or so ago that it could be a possibility. I never really believed I'd pull it off."

— Manchester United (@ManUtd) January 27, 2014
Mata relishes @WayneRooney link-up. "He's one of the best players in this country's history. I'll try to connect with him as much as I can."

— Manchester United (@ManUtd) January 27, 2014
14.13 GMT: Lothar Matthaeus has told Sky that he believes Hertha BSC attacker Adrian Ramos is set to join Dortmund in the summer. According to kicker, Dortmund are indeed about to step up the race for the Columbian, with Ramos a possible option should Dortmund buy two new attackers to replace Robert Lewandowski.

14.10 GMT: Two Everton stories for you now – firstly, Roberto Martinez wants to tie up a permanent deal for midfielder Gareth Barry, who is currently on loan from Manchester City. "Gareth is a unique footballer and he knows that he can stay at Everton as long as he wants to," states Martinez. READ MORE.

Meanwhile the Toffees boss also wants to wrap up a full transfer for another loanee in the shape of Chelsea striker Romelu Lukaku. "At the end of the season, it's an issue that we're going to try to fight for as much as we can. We always wanted Romelu to feel loved by every Evertonian, to allow him to enjoy his football, and he's done that so far." READ MORE.

14.05 GMT: David Moyes has confirmed he will be looking to make more signings like Juan Mata's for Manchester United in the future -- whether the Red Devils make any new additions this month is still unclear, but it seems as though the Spaniard's arrival is the start of a rebuilding process at Old Trafford.
David Moyes on further signings after Mata: "There'll be more players like Juan in the future. There's no doubt about that." #mufc

— Manchester United (@ManUtd) January 27, 2014
13.55 GMT: In what looks like being a saga that will run until the wire, Newcastle boss Alan Pardew has admitted he is far from confident of keeping Yohan Cabaye past the January transfer window. The Magpies boss also revealed the deal to take the Frenchman to PSG is further down the line than Andy Carroll's money-spinning move to Liverpool in 2011.

13.40 GMT: Manchester united have given Juan Mata the No. 8 shirt at Old trafford, and most Red Devils fans would agree that the Spaniard is a slight upgrade on the previous holder of that shirt -- Anderson.
BREAKING: @JuanMata10 will wear the no.8 shirt for Manchester United. #mufcmata pic.twitter.com/Isblh1HqXO

— Manchester United (@ManUtd) January 27, 2014
13.35 GMT: Richard Cawley of the South London Press reports that Crystal Palace have agreed a loan deal for Blackpool's Tom Ince.
Was hoping it might hold until tomorrow. But it's out. #cpfc agreed loan deal with Blackpool for Tom Ince.

— Richard Cawley (@RichCawleySLP) January 27, 2014
13.25 GMT: ESPN FC correspondent Jonathan Johnson has revealed that Newcastle midfielder Yohan Cabaye could well be making a move to PSG this month -- we'll have more on this as it develops.
PSG's acting sporting director Olivier Letang is currently in Newcastle to complete a deal for Yohan Cabaye. #PSG #NUFC

— Jonathan Johnson (@Jon_LeGossip) January 27, 2014
13.20 GMT: Le Parisien says that Benoit Tremoulinas could return to Bordeaux on loan. The 28-year-old only left the French club last summer to join Dynamo Kiev, but has failed to pin down a regular first-team place in Ukraine.

13.15 GMT: Corriere dello Sport reports that Milan are after Manchester United centre-back Nemanja Vidic, but could turn to Parma's Gabriel Paletta if they can't persuade the Red Devils captain to leave Old Trafford. Philippe Mexes will be the man to make way should either deal go through.

13.11 GMT: Here's our full story on Leighton Baines' new four-year deal with Everton, finally ending speculation over a possible move to Manchester United. READ MORE.

13.06 GMT: Neymar's transfer to Barcelona is turning into a full-blown crisis for the club with the departure of club president Sandro Rosell, but Gerard Pique says the investigation is having little effect on the players: "Very little of this reaches to the pitch. We keep competing the same as in other years. It is something talked about and you notice it on the street, but on the pitch we just keep playing. I do not know how [Rosell's resignation] will affect the club, it is a personal decision [Rosell] has taken, and individuals come before any institution. If he wanted to step away and be with his family that must be supported."

Xavi has also had his say: "It has been an untypical week. I wish Rosell every good fortune -- I appreciate how he supported the dressing-room. We are all in the same boat and must keep moving forward. These are personal decisions and fully respectable. We have to welcome [new president Josep Maria Bartomeu], we are all in the same boat, and will keep going regardless of who the president is."

13.01 GMT: Goal reports that Mirko Vucinic still has his heart set on a move to Inter and has rejected the chance to join Zenit St Petersburg. The Juventus striker's proposed swap move with Nerazzurri midfielder Fredy Guarin fell through, but the forward seemingly remains set on making the switch to the San Siro.

12.55 GMT: Michael Essien has posted a picture on himself on Instagram sporting his new Milan shirt -- if the Ghanaian can get back to full form and fitness in Italy, it'll be a real coup for the Rossoneri.12.51 GMT: Celtic are after Wolves striker Leigh Griffiths, but Wanderers have revealed that boss Kenny Jackett has rejected a bid from the Scottish champions for the player.
Kenny has confirmed that Celtic have made a bid for Leigh Griffiths which has been rejected. Striker remains in squad for Oldham game.

— Wolves (@OfficialWolves) January 27, 2014
12.45 GMT: Goal reports that Wilfried Zaha and Kenwyne Jones have finalised moves to Cardiff, with the Manchester United winger to sign until the end of the season on loan while the Stoke striker will join the Bluebirds permanently.

12.41 GMT: DONE DEAL! Brentford have signed Arsenal youngster Nico Yennaris on a permanent deal until 2016, the League One table-toppers have confirmed on their official website. Bees boss Mark Warburton said: "Nico is a player we have watched for many years as he has come through the Academy at Arsenal. He is a very talented player, technically good and physically sound."
Brentford have signed @Nico_Yennaris from @Arsenal for an undisclosed fee until 2016 - more on official site now pic.twitter.com/t2PYEezsW9

— Brentford FC (@BrentfordFC) January 27, 2014
12.35 GMT: DONE DEAL! Milan have confirmed they have secured Chelsea midfielder Michael Essien until the summer of 2015.
#ACMilan comunica di aver acquisito dal @chelseafc @MichaelEssien, che ha firmato un contratto fino al 30 Giugno 2015! Benvenuto Michael!

— AC Milan (@acmilan) January 27, 2014
Just signed my contract to join one of the best clubs in the world.Im very happy and looking forward to winning with the team#ForzaMilan

— michael essien (@MichaelEssien) January 27, 2014
12.31 GMT: Charlton have signed Standard Liege midfielder Anıl Koc on loan until the end of the season, the club have confirmed on their official website.
TRANSFER NEWS: @FinallyKoc signs Addicks loan deal --> http://t.co/Oi1btabiJe #cafc pic.twitter.com/lSa2w7I7MH

— Charlton Athletic FC (@CAFCofficial) January 27, 2014
12.26 GMT: Barcelona star Xavi has been linked with a move to the MLS at the end of the season, but the Spanish international has quashed rumours of a move abroad and pledged allegiance to Camp Nou. "Not Qatar and not New York, my wish is to finish my contract here. I am enjoying things on the pitch. I signed a new contract just a while ago, and will try to stay at the level needed. My dream and my challenge is to stay more years at Barca."

12.21 GMT: The Ballon d'Or meeting between Juergen Klopp and Zlatan Ibrahimovic continues to rumble on, with the BVB coach telling kicker that the Sweden striker would fit into the club's philosophy. "Great footballers always fit. Also in Dortmund." But as Klopp said before, the financial restrictions will make any potential transfer impossible for the Bundesliga side. "I can only congratulate those urging us to make heavy investments to join Bayern and allegedly run away from the rest of the league for years. Should we do that, Martin Winterkorn [VW boss] coughs once and Wolfsburg are next to us again."

12.12 GMT: Sunderland have thrown a spanner into the works at Sheffield Wednesday by recalling striker Connor Wickham from his loan spell at the Owls. The 20-year-old has scored eight goals in 10 league appearances for the Championship side this season.
BREAKING: Connor Wickham recalled by parent club Sunderland #swfc

— Sheffield Wednesday (@swfc) January 27, 2014
12.06 GMT: Gary Neville stated earlier this month that Juan Mata doesn't fit the "typical philosophy" of Manchester united, but the former Red Devils captain has told Sky Sports that the Spaniard's signing could be a catalyst for the club: "Hopefully Mata will have a big impact on the rest of the players because they seem flat, they've lost their confidence at times; creativity in the final third has been a problem. They just need to do more; they are not achieving what they are capable of. They are fantastic players who were champions six months ago, so it doesn't just go overnight but the confidence has dipped and this could be the moment where it lifts everybody at the club."

11.58 GMT: Chelsea have confirmed that Michael Essien has left the club for Milan, while the Serie A side have taken to Twitter to post a picture of Michael Essien with club CEO Adriano Galliani -- we'll have official confirmation for you right here when that move finally goes through.
Welcome to #ACMilan @MichaelEssien! Here's a picture of Michael at Casa Milan with Adriano Galliani. pic.twitter.com/TDOx1xt4DW

— AC Milan (@acmilan) January 27, 2014
.@MichaelEssien has completed his transfer to @acmilan. http://t.co/3aUhLhIwM1 #CFC

— Chelsea FC (@chelseafc) January 27, 2014
11.52 GMT: Goal reports that Tom Ince is in talks with Crystal Palace, Swansea and Hull over a loan move away from Blackpool. The Championship club released a statement yesterday stating they understand the player's decision, and it now seems almost certain that the young attacker will be playing in the Premier League for the rest of the season.

11.41 GMT: Sky Sports are now also reporting that Manchester United have turned down a bid from PSG for Adnan Januzaj -- they say that the Red Devils rejected an offer for this month back in October, before the attacker signed a contract extension. The interest in the 18-year-old looks real, but David Moyes would be in troubled waters if he lost the starlet to European rivals on his watch.

11.35 GMT: The Mirror reports that Newcastle will not entertain any offers for Yohan Cabaye below 25 million pounds after rejecting a 14 million-pound bid from PSG for the France international.

11.26 GMT: QPR have recalled Max Ehmer from his loan spell at Carlisle, the League One club announced on their official website. "We're obviously disappointed because Max has been fantastic for us," manager Graham Kavanagh said. "He's shown us that he has real quality and he has been a big part of our squad since joining us in November."
Max Ehmer @MaxEhmer has been recalled by @OfficialQPR: http://t.co/3SXImuc7Jr

— Carlisle United FC (@officialcufc) January 27, 2014
Just want to say thanks to @officialcufc for having me last 3 months, fans, staff and players have been great.. All the best for the season

— Max Ehmer (@MaxEhmer) January 27, 2014
11.17 GMT: The Guardian reported late last night that Manchester United have turned down a "significant" offer for Adnan Januzaj from French giants PSG. The Ligue 1 leaders bid for the 18-year-old before he signed a contract extension at Old Trafford in October, and have not given up hope of landing the talented attacker -- though David Moyes has made it clear he will not sell the player who has been key for United despite the club's poor form this season.

11.10 GMT: It's rare that club managers issue a "come and get me" plea for their own players, but Harry Redknapp says that goalkeeper Julio Cesar is still available -- the QPR boss presumably wants the Brazil international off the wage bill at Loftus Road.
Redknapp: "Julio Cesar needs to move and play. He's a top keeper and needs to play for the World Cup. He's still available." #QPRvBOL

— QPR FC (@OfficialQPR) January 27, 2014
11.00 GMT: The future of Ibrahim Afellay beyond the summer is uncertain, but it was a fine evening for the winger last night as he made his first Camp Nou appearance in 20 months after a spate of injuries and loan moves. The Dutch attacker played the last five minutes for Barcelona on the right wing against Malaga, and while he has six months left on contract, former Barca goalkeeper Andoni Zubizarreta says he may stay rather than be sold this month: "Just as Tata Martino said, he's a player we want. He can compete and that's good news." Meanwhile Gerard Pique said: "After so long out, I am sure this has been unforgettable for Afellay. We have him with us now. For sure he can help us."10.52 GMT: Manchester United are being linked with a move for Toni Kroos after Bayern Munich admitted they are struggling to agree terms on a contract extension. Kroos told kicker: "I can't rule out anything. No talks are planned in the near future. I am fully focused on the Rueckrunde [second part of the Bundesliga season] now." READ MORE.

10.42 GMT: Greg O'Keeffe of the Liverpool Echo reports that Everton are not after Valencia midfielder Sergio Canales on loan -- the playmaker is certainly talented, but the former Real Madrid man struggled with injuries during his short career.
Transfer update: #EFC are not trying to bring Valencia midfielder Sergio Canales to Goodison on loan this month despite reports yesterday

— Greg O'Keeffe (@GregOK) January 27, 2014
10.35 GMT: Chelsea striker Samuel Eto'o has said goodbye to Manchester United's latest signing Juan Mata with an Instagram message captioned: "Good bye my bro @juanmatagarcia Good luck on your new journey to Success, I'll miss you & your warm hospitality here @chelseafc. SEF"10.29 GMT: A fine sight for any Hammers fans here as Antonio Nocerino meets club captain Kevin Nolan -- and Sam Allardyce has been describing the midfielder's style. "Antonio is a box-to-box midfielder who's capable in all areas of the pitch. When you come into this league you need intelligence and he has that. It's about what's in between the ears and he's a very experienced player. Antonio is fine to be selected as soon as possible, where as Marco [Borriello] needs a bit of time as he hasn't played a game for six weeks."
PIC: Italy international Antonio Nocerino meets #WHUFC captain Kevin Nolan #COYI pic.twitter.com/a0Yp1Ma05j

— West Ham United FC (@whufc_official) January 27, 2014
10.23 GMT: There's not been two much to celebrate for West Ham fans this season, but Sam Allardyce has been speaking about the double loan swoop for Antonio Nocerino and Marco Borriello this morning. The Hammers boss also confirmed further any January deals are unlikely.
SA: "I don't expect to be too busy now. Those two signings reach our 25-man squad limit so I don't see us doing any more business." #WHUFC

— West Ham United FC (@whufc_official) January 27, 2014
10.13 GMT: MK Dons defender Shaun Williams is set to complete a transfer to Millwall for an undisclosed fee, according to their official website.
BREAKING! @MKDonsFC can confirm Shaun Williams is set to complete a transfer to Millwall for an undisclosed fee. pic.twitter.com/7jtmQeDh6b

— MK Dons FC (@MKDonsFC) January 27, 2014
10.05 GMT: Sebastien Corchia's proposed move from Sochaux to Lille is likely to be finalised today. The two clubs are close to agreeing a fee of around two milllion euros for the 23-year-old.

9.55 GMT: Kicker reports that Borussia Dortmund are no longer ruling out signing a player this week. BVB's sports manager Michael Zorc says there are "one, two options we all consider together." Juergen Klopp is looking for a midfielder to react to a spate of injuries in his squad, and according to a tweet from kicker editor Thomas Hennecke, Kagawa is not one of the options. However, Ruhr Nachrichten quote Kagawa's agent as telling kicker: "Shinji will not leave Manchester United in January," while Zorc tells Ruhr Nachrichten: "I've never ruled out anything."

09.37 GMT: One player who definitely won't be joining Manchester United is Leighton Baines, as the Everton left-back has signed a new contract to stay at the club for four more years. David Moyes has been after his former player since the summer, but the England international looks set to see out his best years at Godison Park.

Toffees boss Roberto Martinez said: "It's a massive boost and exciting for the future. Leighton has just turned 29 and brings the right measure of maturity and football knowledge in a very specialised position on the pitch, bringing an infectious and positive influence to the rest of the squad."
Four more years! #EFC #COYB pic.twitter.com/trfk5P0Y3n

— Everton (@Everton) January 27, 2014
09.30 GMT: Here's more on the Mail's report that David Moyes is looking at an amazing double raid on Primera Liga title chasers Atletico for left-back Filipe Luis and striker Diego Costa. It's no surprise that the Old Trafford boss is after Luis given Patrice Evra's contract is set to expire at the end of the season and Alexander Buttner looks a less-than-capable deputy, but a move for Costa would be the real surprise. United aren't struggling for forwards despite their poor season, though a move for the 25-year-old could raise questions over the futures of Wayne Rooney, Robin van Persie and Javier Hernandez, with none guaranteed to be in manchester beyond the summer.

09.20 GMT: Arsene Wenger denied Arsenal were in for Schalke star Julian Draxler this month but Goal reported last night that the Gunners will be sending a delegation to Germany this week in a bid to wrap up a deal for the 20-year-old forward. However, Sky Sports reports that Schalke manager Horst Heldt confirmed there was no contact between the clubs. "You should ask Mr Wenger, call him. There's no contact with Arsenal or any other club," he told Sky Deutschland. "I cannot exclude the option we will sign Cristiano Ronaldo. I don't need to talk about this."

09.12 GMT: A Bola reports that Manchester United are closing in on Porto midfielder Fernando. Liverpool have also been linked with the 26-year-old during January, so it potentially turn into a battle between the Premier League sides for the Brazilian's signature.
Today's A Bola front page: "Man United closing in on Fernando" pic.twitter.com/Sz3T7PITUZ

— Jan Hagen (@PortuBall) January 27, 2014
09.00 GMT: Newcastle French recruitment policy is set to continue as L'Equipe claims that the Magpies are ready to offer Lyon 13 million euros for Clement Grenier. However, the 23-year-old French international is unlikely to leave OL this month with his club determined to hold onto their best players.

08.31 GMT: Wayne Rooney is set to be kept abreast of Manchester United's transfer plans in a bid to convince him to sign a new contract, reports claim. FULL STORY.

08.17 GMT: The Mame Biram Diouf saga is not over yet. His agent has told kicker: "Three clubs would take him now, but Hannover chief Martin Kind said that he has not given up all hope that the 26-year old might even sign a new contract at Hannover." Former Manchester United striker Diouf had been linked with Stoke and Cardiff but Kind said: "We'll talk to him. I always tell the players it is up to you and not up to your agent."

07.33 GMT: Zenit Saint-Petersburg are interested in signing Mario Mandzukic, but the Bayern attacker, who was excluded from the squad that faced Borussia Moenchengladbach on Friday night, is set to stay at Bayern until the end of the season. Club president Uli Hoeness said at the weekend: "This season, we need Mandzukic. We have important games ahead of us. It would not be wise to go into them without him." German football magazine kicker reports that Chelsea, Juventus, Real Madrid and Borussia Dortmund have thought about bidding for the Croatia striker, who is expected to leave in the summer when Robert Lewandowski arrives on a free transfer. Barcelona, meanwhile, are being credited with an interest in Spain.

GMT 05.50: The World Game is reporting that Western Sydney Wanderers midfielder Aaron Mooy is refusing to guarantee that he won't exit the club at the end of the season.

GMT 05.50: Tottenham goalkeeper Hugo Lloris has refused to deny speculation he could quit the club at the end of the season. READ THE FULL STORY HERE.

GMT 03.50: Everton manager Roberto Martinez has hinted that he hopes to tie up a permanent deal to sign midfielder Gareth Barry from Manchester City. READ THE FULL STORY HERE.

Manchester United have offered Wayne Rooney the incentive of the club captaincy and briefing him on future transfer targets in a bid to retain the England international at Old Trafford, according to reports. Rumours had surfaced Rooney was considering his options at United with much speculation linking the 27-year-old with a move away after the World Cup. But ESPN revealed recently that the club and Rooney had begun tentative talks about a new contract, with the upgraded deal expected to fetch the striker a salary in the region of 300,000 pounds a week. But according to the Daily Mirror, The Guardian and The Sun, a wage increase is not the only carrot the Red Devils are dangling, with Rooney expected to dethrone Nemanja Vidic and Patrice Evra as captain and receive first glimpses of future transfer plans.

Talking of United, the Daily Mail says Atletico Madrid duo Filipe Luis and Diego Costa could be the next targets for United. The Mail also says the Red Devils were interested in Saint-Etienne defender Kurt Zouma but believe they have made their move too late, with Chelsea believed to be preparing a 12 million pound offer for the 19-year-old. Zouma revealed earlier this month that he'd personally spoke to Blues boss Jose Mourinho and it is expected the young French defender will sign a five-year contract in the summer. Meanwhile, the Daily Telegraph is reporting that the two clubs are battling for the service of Southampton's Luke Shaw. ESPN FC had previously reported that United have already made a substantial bid for the 18-year-old but Chelsea are lurking.

Finally, Manchester City are poised to lure Arsenal defender Bacary Sagna to the Etihad, according to the Daily Star. The France international's contract with the Gunners is about to reach its conclusion and a new two-year deal worth around 60,000 pounds a week has yet to be taken up by the 30-year-old. And City, who have a long record of signing Arsenal players, could be ready to make their move. But City are not the only suitors, with a number of clubs on the continent reportedly hoping to tempt the defender with a big offer. Monaco are rumoured to be leading the European race, ready to offer Sagna a whopping 120,000 pound-a-week deal, while Galatasaray, Paris Saint-Germain, Fenerbahce and Real Madrid remain in the hunt.