Paper round-up: Stevie's new deal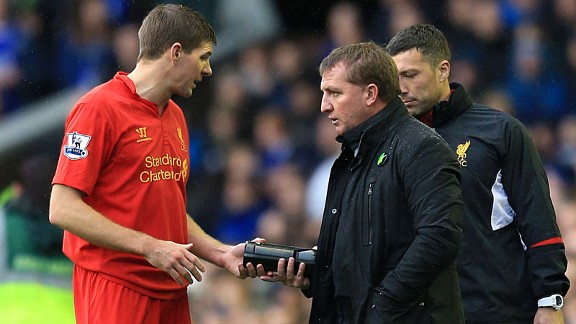 PA PhotosGerrard, 32, is the second-oldest player in Liverpool's first-team squad
'All I want for Christmas is my two front teeth' goes a famous old song from England. Well, Liverpool skipper Steven Gerrard is pretty much fine in the dental department (probably got some good advice from Craig Bellamy) and now has his eyes on a bright and sparkling new deal from his beloved club.

And why not? Gerrard has been the red blood in the Anfield heart for years and, despite the fact he is now getting on a bit, still deserves to be considered one of their top players. His current deal expires in 16 months, say the Daily Mirror, and boss Brendan Rodgers is ready to sign up him for longer. "He is vital to us, and I recognise that. I know he has 16 months left on his contract, but I would want him to go beyond that for this club and this team," he revealed.

Also in the Mirror, it wouldn't be a transfer window (well nearly) without something from Tottenham's transfer supremo Daniel Levy. We're not sure if he's asked AVB for a Christmas wishlist, or whether the Portuguese just got a lump of coal in his sock and a small insulting note saying 'I'm in charge, and I'll find the players', still it appears 17-year-old Derby sensation Will Hughes is attracting attention either way.

Hughes has impressed as Derby push for a place in the top six of the Championship and are believed to want around £10 million for the attacking midfielder with the bleach blonde hair. Fulham are also keen, but Spurs should consider the old mantra of: where there is a will, there is a way. And Levy usually gets his way.

Elsewhere, Spurs are considering a new contract for goalkeeper Brad Friedel to stop him joining the coaching staff at former club Blackburn. Given the American has already passed 40 and is showing now signs of slowing down, could there be a deal on the table to keep him around long enough to break the record for the oldest player in the Premier League? Man City's John Burridge, at 43 years and 162 days, is the man to beat Brad.

The Daily Star bring us more good-will. Southampton are lining up a January raid on south coast rivals Brighton for winger Will Buckley, who was recently quoted saying that the Seagulls' players 'owed' the fans after a recent defeat. Perhaps he owes them a little too much and wants to move on, or perhaps Saints just want to save on petrol and sign someone from the South Coast. We shall see.