Paper round-up: Wenger pressure increases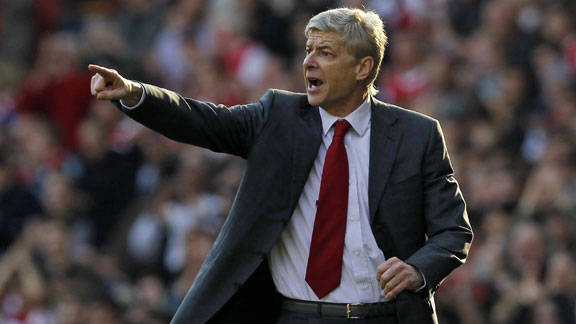 GettyImagesArsene Wenger has been labelled a 'dictator' who is taking the Gunners 'backwards'
Arsenal's legends have been out in force this week, dusting off the photo albums and stepping into the media spotlight for their 30 seconds of fame. The target? None other than Arsene Wenger. Following Arsenal's League Cup exit at the hands of Bradford on Tuesday, the "Wenger out" chants rang loud and clear, but there was no more scathing review of Wenger's character than that provided by former Gunners midfielder Stewart Robson. "In my view, his time was up three of four years ago," he says in the Sun. "He has got a massive ego because he's a dictator when it comes to Arsenal."

The changes at Goodison Park are expected thick and fast in January and it could be an old boy at the top of David Moyes' hit list. A frustrated Joleon Lescott has been pushed to the fringe of Roberto Mancini's line-up at Manchester City and a return to Everton could be on the cards, according to the Mirror. Lescott would replace John Heitinga in Everton's defence, with the Dutchman currently being targeted by Galatasaray. It is believed Moyes will use the extra cash to raid the Ligue 1 stocks, with PSG striker Kevin Gameiro and Toulouse forward Wissam Ben Yedder on the cards.

Oh, to be a footballer with too much money to spend. We all know boot designs have come a long way, with fluoro the new black. But Saint-Etienne's Pierre-Emerick Aubameyang has taken things to a whole new level, boasting a pair of boots worth £2,500 during the warm-up for his side's clash with Lyon on Monday. What made them so valuable? The sparkling boots were designed with Swarovski crystals - 4000 of them to be exact! The Daily Mail says the boots were personalised for the striker and it's not the first time he has favoured the bling on the field after he wore a similar pair while playing for Gabon earlier in the year.