Paper round-up: The Reina from Spain falls mainly ... in Arsenal?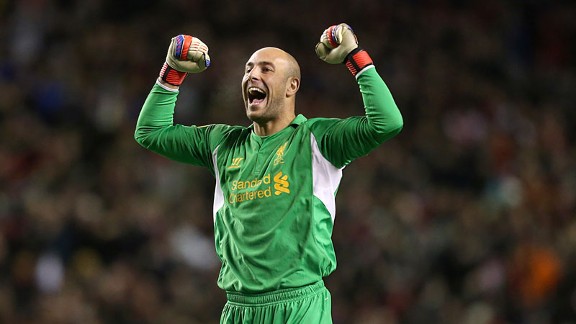 PA PhotosPepe Reina may finally get his move to Arsenal
The Sun and the Daily Mirror report that Arsenal are keen to lure Liverpool goalkeeper Pepe Reina to the Emirates in January. The Gunners attempted to sign the Spaniard in 2010, but the £20 million deal collapsed, keeping Reina at Anfield. It is claimed that Arsene Wenger is keen on making another play for Reina, with Brendan Rodgers willing to let the shot-stopper depart for the right price.

Meanwhile, Rodgers' relationship with starlet Raheem Sterling is also under the spotlight, with the Mirror reporting that the winger is unhappy with the manager's comments midweek. Sterling is reportedly furious that Rodgers claimed he would be "foolish" not to sign a professional deal with Liverpool, despite no formal offer being made to the 17-year-old. Sterling's future is set to be a point of interest over the next week, leading up to his 18th birthday.

Manchester United have already decided upon their first move of the January transfer window, lining up a deal with Borussia Dortmund for Robert Lewandowski. The Poland international has been heavily linked with a move to the Premier League since the summer, and the Daily Mail reports United have now sealed a deal for the striker. Lewandowski's current contract expires at the end of this season, fuelling claims Dortmund will accept a bid of around £12 million.

Over 1000 Arsenal fans are set to don black scarves as they walk to the stadium for the club's clash with Swansea this weekend. The Mirror reveals that the organised march is a protest by Gunners supporters over the manner in which the club is run. A particular point of frustration for the group is over transfer funds with many hoping the movement forces the club into spending big come January.