Desperate times see panic button pushed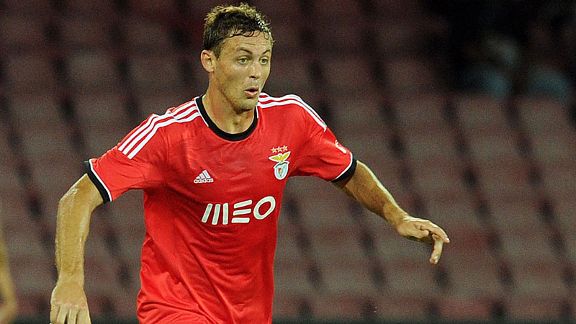 GettyImagesNemanja Matic has re-joined Chelsea for 25 million euros.
Wanted: footballers with an unusual set of skills. The search is on for players who can at least stem a tide, plug a leak or somehow make a sinking vessel seaworthy again. Theirs is a rescue mission. Clubs may make ever more hopeful attempts to find a saviour, but these tend to be efforts to salvage a season or simply to prevent a situation from getting even worse. It is often about damage limitation; for many the best-case scenario is that a newcomer provides a short-term injection of momentum.

That is the January transfer window. The genuine success stories at the elite clubs are few and far between and, even then, they rarely have an immediate impact. Daniel Sturridge and Philippe Coutinho, catalytic arrivals at Liverpool 12 months ago, are the exceptions, but even they were high-class arrivals to what was then a mid-table team. They did not start off by shaping a title race.

Sir Alex Ferguson was famously sceptical of the mid-season market. He made two of his finest ever buys in one January, but Patrice Evra and Nemanja Vidic only came to the fore the following year. Arsene Wenger had a similarly productive month at the start of 2006 but Theo Walcott and Emmanuel Adebayor were futuristic acquisitions then. Only Chelsea, perhaps, can testify to the effect the New Year captures can have and even then it has been a mixed blessing. Gary Cahill was a bastion of defiance in the 2012 Champions League final but Nicolas Anelka, another arrival from Bolton, missed the decisive penalty in the corresponding fixture four years earlier.

More often than not, the elite players are excluded from the frantic trading. Little wonder, then, that the managers of the superpowers spend their time downplaying expectations that a superstar is about to be unveiled. Exotic and exciting names are bandied around -- Radamel Falcao, Juan Mata, Eden Hazard, Diego Costa, Karim Benzema, Mario Mandzukic, Arturo Vidal, Paul Pogba, Claudio Marchisio, Koke, Marco Reus, Julian Draxler, Mohamad Salah, Mirko Vucinic, Jackson Martinez, Erik Lamela, Alvaro Morata -- but the chances are that few will change clubs this month.

Wenger has admitted a shortage of fit strikers could prompt him to buy, but hinted he is looking at the cheaper end of the market. Jose Mourinho is bringing Nemanja Matic back to Chelsea but insisted that he won't sign a forward, implying his preferred targets are unavailable. Manchester City and Tottenham were the biggest spenders of 2013 and in their own ways, Manuel Pellegrini and a rather blunter Tim Sherwood have suggested new players are not the answer unless anyone leaves.

A glum-looking David Moyes has hinted that his thoughts are already turned to the summer. The Manchester United manager transformed Everton's 2011-12 campaign with the January additions of Steven Pienaar, Darron Gibson and Nikica Jelavic, but he is operating in a different league now.

And so, in the opening fortnight of the window, only one club in the top nine could announce a senior signing: Moyes' former employers Everton, who paraded Aiden McGeady on the Goodison Park pitch on Saturday. Even that was merely accelerating a deal planned for the summer, although manager Roberto Martinez is another with a past penchant for January trading and three of the men he took on loan last January helped Wigan win the FA Cup. Sadly for the Latics, they could not achieve the principal objective of keeping them in the Premier League.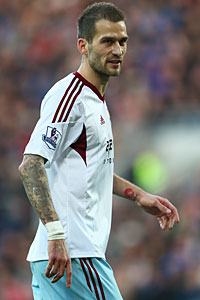 GettyImagesWest Ham brought in Roger Johnson to bolster their defence in a bid to avoid relegation.
Nevertheless, the battle at the bottom points to a packed second half of January. If every relegation scrap appears closely contested at some stage every year, it has rarely been tighter. Only six points separate the bottom 11 clubs. A marginal gain could make a major difference for any, hence the hunt for even mediocre players who might effect a fractional improvement.

Hence deals that reek of desperation. West Ham brought in the relegation specialist Roger Johnson, Aston Villa a striker, in Grant Holt, without a Championship goal in five months. The theory is that even a couple of good games -- and Johnson already has a clean sheet to his name -- could justify their recruitment. Yet, far from being a failsafe theory, it is an admission they erred. Both moves highlight imperfect planning in unsatisfactory seasons.

And a look back at last January's loans shows a litany of forgettable failures. How many even remember the brief careers of Simon Dawkins, Stanislav Manolev, Kei Kamara, Kader Mangane and Wellington Paulista at Aston Villa, Fulham, Norwich, Sunderland and West Ham respectively? Nor, indeed did some buys fare much better. Supposedly permanent acquisitions like Danny Graham and Brek Shea have already been farmed out to other clubs. Luciano Becchio languishes unwanted at Norwich while Vegard Forren joined and then left Southampton without making a single appearance.

Meanwhile, last January's joint busiest traders QPR, who made brought in six players, were relegated along with Reading and Wigan (who had four new faces apiece). Not that it is likely to prove a morality tale that deters other imperilled clubs from embarking on their own version of supermarket sweep. While Wigan went on to triumph at Wembley, Nacho Monreal helped Arsenal to finish fourth and John Stones offers plenty of promise at Everton, perhaps only two clubs -- Liverpool and Newcastle -- have really derived lasting benefits from their January business 12 months ago.

Yet if there are lessons to be learned from history, the principal message from the past is simple: clubs in the lower half of the Premier League will carry on frantically searching for signings every January while their superiors often opt out and watch the last dance of the desperate with disdain.