Paper round-up: Time up for Theo?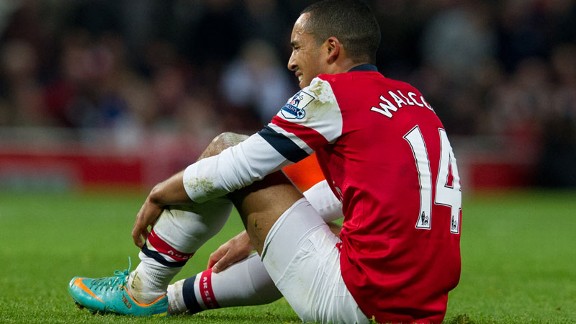 PA PhotosWalcott's future at Arsenal is still yet to be resolved
It could just be coincidence or a move of caution, but the Sun believes that Theo Walcott's omission from the 2013 Arsenal calendar is a sign that the 23-year-old is closer than ever to an exit from the Emirates. Gunners officials may argue that the fact that Walcott is yet to commit his future at the club forced them to leave him out, but speculation has ramped up that the winger could depart in the January transfer window. Liverpool and Manchester City continue to lead the race for Walcott. Oh, and Bacary Sagna also failed to feature in the calendar.

The Daily Mirror has placed a question mark over Joleon Lescott's future at Manchester City after he was left out of City's squad at Stamford Bridge on Sunday. Kolo Toure was favoured on the bench over Lescott and it is believed Roberto Mancini is continuing his freeze out of the England defender after a lacklustre performance in City's 3-1 loss to Ajax last month. Matija Nastasic has cemented his spot in the starting line-up, with a strong run of form making it even more difficult for Lescott to win his position back.

The Telegraph has resumed rumours that the Europa League could be scrapped in favour of an expansion to the Champions League, with UEFA president Michel Platini once again suggesting it is a realistic move in the future. It would essentially mean an amalgamation of the two competitions, with the Champions League moving from 32 to 64 teams and allowing clubs to generate greater revenue than they currently do in the second-tier competition.

To a tragic story in the Daily Mail, with former Crystal Palace striker Leon McKenzie revealing that he contemplated suicide after the pressures of football became too much to handle. In an extract from his new book, McKenzie said: "I wanted out. No ifs, no buts, no maybes, I wanted out and I wanted out today." The news comes in the week of the anniversary of Gary Speed's death.