Arsenal set their sights on Draxler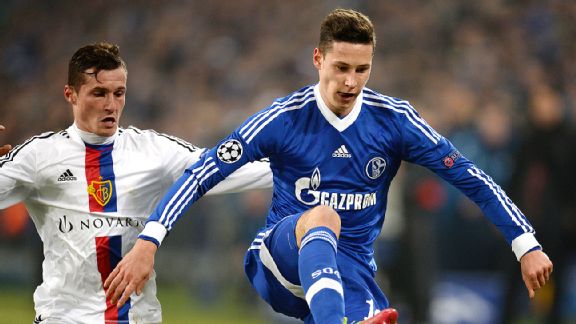 Patrik Stollarz/AFP/Getty ImagesCould Julian Draxler be the man to lead the Gunners forward?
Is Julian Draxler destined to be the new Robin van Persie? The Mirror is reporting that Arsene Wenger sees that kind of centre-forward potential for the young Schalke attacking midfielder -- and is preparing a 35 million pound bid.

22.34 GMT: That's your lot for tonight, but we'll be back soon with tomorrow's big stories.

22.33 GMT: Juan Agudelo confirmed via Twitter he has completed his move to Stoke City, but he failed to attain a work permit in November and must now wait until March before reapplying. FC Twente and Standard Liege have been linked with loan deals in the meantime, while reports in Denmark suggest Esbjerg are interested. Speaking to Bold.dk, the forward's agent was unwilling to comment on the speculation, saying only that his client's future remained a decision for Stoke to make.

22.23 GMT: Granada are likely to beat Betis to loan signing of young Liverpool centre-half Tiago Ilori, it is claimed.

21.48 GMT: Borussia Dortmund midfielder Ilkay Gundogan has said he is yet to make a decision about his future amid links with Real Madrid and Manchester United. STORY HERE.

21.24 GMT: Here is the full story on Steven Defour, who could join Anderlecht or Aston Villa.

21.04 GMT: Inter Milan president Erick Thohir has laid out his plans to reduce the average age of the squad, even if it means severing ties with the "heroes of the treble" of 2010. STORY HERE.

20.53 GMT: Here is the full story on the Portland Timbers' new signings.

20.44 GMT: Carlton Cole earlier penned an 18=month deal to stay at West Ham, and he's feeling pretty positive that he is fit and ready to make an impact.


CC: "I'm really happy. I've worked hard to get to the position I'm in right now. The manager asked me to come back in the summer and I've...

— West Ham United FC (@whufc_official) January 15, 2014
CC: "...worked hard to get to match fitness and I've scored a few goals whilst doing that."

— West Ham United FC (@whufc_official) January 15, 2014
20.31 GMT: Hull City are set to complete the signing of West Brom striker Shane Long in the next couple of days. STORY HERE.

20.06 GMT: Nathaniel Chalobah has returned to Chelsea following a loan spell at Nottingham Forest.


Back at Chelsea now. Thanks to Billy Davies, the staff and the fans at Nottingham Forest for the support, and the players for welcoming me.

— Nathaniel Chalobah (@chalobah) January 15, 2014
19.56 GMT: Espanyol striker Thievy does not want to move to Rennes, even though current club like the French side's three million euro offer.

19.35 GMT: Levante have agreed "in principle" a deal to take young striker Samuele Longo on loan from Inter Milan after a decent loan at Espanyol last year.

19.21 GMT: Southampton executive chairman Nicola Cortese has left the club, raising doubts over the future of boss Mauricio Pochettino. STORY HERE.

19.06 GMT: NUsport reports that Chelsea defender Nathan Ake is wanted by a number of Dutch sides, and will probably be sent out on loan this month after failing to break into Jose Mourinho's first-team squad.

18.45 GMT: The Portland Timbers have completed a double signing today, announcing deals for striker Gaston Fernandez and central defender Norberto Paparatto. Fernandez joins he club after four years with Estudiantes, while 30-year-old Paparatto moves from Tigre.

18.28 GMT: And here is the full story on Nikica Jelavic moving to Hull -- including Roberto Martinez's plans to replace him.

18.08 GMT: Here is the full story on Marc Bartra's new contract at Barcelona.

17.55 GMT: Here's Hull's first official interview with Nikica jelavic -- enjoy, Tigers fans.

17.48 GMT:The forward has signed a three-and-a-half-year deal, and could make his debut at Norwich on Saturday.
The 28-year-old Croatian international has signed a three-and-a-half year deal with the Tigers #UTT pic.twitter.com/uejvys5sIi

— Hull City Official (@hullcityteam) January 15, 2014
17.45 GMT: DONE DEAL! Nikica Jelavic has joined Hull City from Everton for an undisclosed fee, the Tigers have announced on their official website. "As soon as the manager called me, I realised straight away that he was really interested in signing me and that it is a great opportunity for me to come here. It is a good club, and we have a good squad. We talked a little bit, but it didn't take long to realise that it was right for me. It's a newly-promoted club, but I can see straight away that there is a lot of ambition here within the club and I hope that we can build on the great start to the season and become a really strong Premier League team over the coming years."
Hull City have completed the signing of striker Nikica Jelavic from Everton for an undisclosed fee #UTT pic.twitter.com/B4kuiHLJdG

— Hull City Official (@hullcityteam) January 15, 2014
17.36 GMT: More Ravel Morrison news now -- and Sky Sports News Radio reports that one of the player's agents says that no contact has been made between the midfielder and Fulham. More on this as it unfolds.

17.25 GMT: While the Matic signing is certainly a big deal, it'll be intriguing to see just where the midfielder fits into Jose Mourinho's plans: Phil lythell assesses what the move means for Chelsea's tactical set-up, and for the futures of a numbers of players currently at Stamford Bridge.
17.17 GMT: Here's our full story on Matic's move from Benfica to the Blues. Roman Abramovich has never been afraid to splash out in the January transfer window -- remember Fernando Torres? -- and the Serbian has done well enough in Portugal to earn a big-money return to England. READ MORE.

17.10 GMT: Jose Mourinho has been speaking to the club's website about the signing of Nemanja Matic: "I am very pleased that Nemanja is returning to Chelsea. He has grown as a player in Portugal and has become a fantastic all-round midfielder. I am sure he will become a very important member of the squad and help us to achieve our ambitions." Below is a little video from the club's Instagram account at the midfielder's unveiling.17.07 GMT: DONE DEAL! Leicester City have signed Kevin Phillips on a deal until the end of the season.
#lcfc sign striker Kevin Phillips on a contract until the end of the 2013/14 season. More follows... http://t.co/wYLplWoACU #superkev

— Leicester City (@OfficialFOXES) January 15, 2014
17.02 GMT: DEAL DONE! It's the news we've been waiting for all day -- Chelsea have officially signed Nemanja Matic from Benfica! The club announced on their official website that the Serbian has signed for 25 million euros (20.79m pounds) a five-and-a-half-year contract at Stamford Bridge, and the 25-year-old is understandably delighted with the move: "I am very happy for this opportunity to be back at this club. I feel very good because of that and just want to say I will give my best to help the team and make the Chelsea fans happy."
We're delighted to announce the signing of Nemanja Matic from Benfica... http://t.co/xujNAzO3oF #CFC pic.twitter.com/YYQmEYqZeR

— Chelsea FC (@chelseafc) January 15, 2014
16.58 GMT: Here's our full story on the Sun's claims that John Terry, Frank Lampard and Ashley Cole could all be signing new deals at Stamford Bridge. STORY HERE.

16.47 GMT: Nacer Chadli's agent say the winger may be on his way out of Tottenham in order to get first-team football to try and get into Belgium's World Cup squad. The 24-year-old has made just seven league starts this season, and his representative Daniel Evrard told the Evening Standard: "For him to play at the World Cup it's important, so why not a loan? We haven't spoken to Tottenham yet but I know there are clubs interested in him."

16.40 GMT: Barcelona have announced Marc Bartra's new contract on instagram as well, and it seems the player -- and his team mates -- are quite happy he is staying with the Primera Liga champions.16.35 GMT: Potentially big news from Germany as Bild reports that while Dortmund have offered Ilkay Gundogan a new contract, both Manchester United and Real Madrid have also made offers to the playmaker. The paper stops short of saying those offers constitute outright bids for the BVB man, but if those rumours are true he will be well aware of the interest in his signature, and will have a choice to make in the coming months. BVB may be tempted to cash in seeing as his contract runs out in 2015, and will want to avoid losing another star player on a free seeing as Robert Lewandowski is off to Bayern for nothing this summer.

16.25 GMT: Sky Sports sources are reporting that Nemanja Matic has arrived at Chelsea's training ground to complete paperwork ahead of his transfer back to Stamford Bridge from Benfica. More on this as and when it happens -- but we could have the Premier League's first big January signing unveiled today if all goes to plan.

16.16 GMT: Here's our full story on Ramon Calderon stating his belief that Cristiano Ronaldo will finish his career in England. "I do not think he [Ronaldo] will finish his career at Real. I feel that one day he will return to Englan," said Calderon, who signed the two-time Ballon d'Or winner for 80 million pounds in 2009. READ MORE.

16.08 GMT: talkSPORT reports that West Ham and Stoke are going to battle to secure former Sunderland forward Asamoah Gyan on a loan deal. The 28-year-old joined Al Ain from the Black Cats Sunderland in 2012, but is keen to return to the Premier League to prepare to represent Ghana this summer in Brazil. Landing the player could be quite a coup for either Sam Allardyce or Mark Hughes considering the striker nabbed 11 goals in 33 appearances during the 2011-11 season in England.

15.57 GMT: DONE DEAL! The future of Barcelona starlet Marc Bartra is secure, with the 23-year-old centre-back agreeing a new deal with the club until 2017 -- and on his birthday, no less. The player took to Twitter just now to express his delight, which translates as: "What a special day! The best birthday, renewal for 4 years with the club of my life!"
Qué dia tan especial! El mejor regalo de cumpleaños, la renovación por 4 años con el club de mi vida! Sempre Barça ❤ pic.twitter.com/yOxjUYXqyl

— Marc Bartra (@MarcBartra91) January 15, 2014
BREAKING: @FCBarcelona have reached a deal with @MarcBartra91 to extend his contract until June 30, 2017

— FC Barcelona (@FCBarcelona) January 15, 2014
15.52 GMT: DONE DEAL! St Mirren have signed winger Gregg Wylde on a one-and-a-half-year deal, the club have confirmed on their official website. The 22-year-old was released by Aberdeen this morning, and will undoubtedly be pleased to have wrapped up a new side so quickly.
January 15, 2014
#StMirren have signed winger Gregg Wylde this afternoon on a deal till summer of 2015. http://t.co/gYJ97e10h6

— St Mirren Official (@saintmirrenfc) January 15, 2014
15.45 GMT: Here's our full story on Carlton Cole penning a new 18-month deal with West Ham. READ MORE.

Below is one of Cole's (many) highlights in a Hammers shirt: it may not necessarily be one of the best goals ever, but it's certainly a classy team effort -- and Sam Allardyce will be hoping for more like it to keep the team up this season.

15.35 GMT: It's no surprise that Cardiff are eager for Ole Gunnar Solskjaer to use his Manchester United contacts to secure a few January deals for the Bluebirds, with club chairman Mehmet Dalman stating the new manager would be encouraged to recruit those who have been in and around Old Trafford before."Why wouldn't anyone want to tap into that influence?" he told the Sun. "Intellectual capital is rare. Technical talent is rare. These guys work at the top of their game."

15.28 GMT: Rayo Vallecano are about to take Ruben Rochina on loan from Blackburn according to Marca, but we'll have to see how those rumours play out in the coming days. The 22-year-old forward enjoyed a decent loan spell at Zaragoza last year, and may be keen on a return to Spain.

15.17 GMT: News from Italy now, and Nicolas Burdisso has announced he will be leaving Roma this month in a bid to boost his chances of featuring at the World Cup in the summer. The 32-year-old defender has been linked with a move to either Genoa or their city rivals Sampdoria as he seeks more regular first-team football, although he has not ruled out a move abroad either. "I've decided to leave Roma," Burdisso told Italy's Sky Sport 24. "I need to leave to play for [a place at] the World Cup. I was playing for my national team up to last year. I don't want to talk about where I could go. I could even move to a different league." The Argentine's contract is up in the summer, so a loan or a contract termination could be likely options.

15.05 GMT: Uncertain times could lie ahead for Southampton if reports that executive chairman Nicola Cortese has handed in his resignation are to be believed -- current manager Mauricio Pochettino has said in the past that he would step down if Cortese ever left, so it'll be interesting to see how this situation develops.

14.55 GMT: Here's our full story on Juergen Klopp's belief that Zlatan Ibrahimovic's tongue-in-cheek offer to join Borussia Dortmund on a free transfer is a great compliment to his club. READ MORE.

14.45 GMT: Estadio Deportivo reports that Newcastle could make a move for Sevilla defender Juan Cala, whose contract talks with the club have stalled. The 24-year-old is out of contract this summer, and as such the player could be available now in a cut-price deal, or available to sign a pre-contract agreement for a move at the end of the season.

14.35 GMT: Mario Mandzukic's future is seemingly up in the air with Robert Lewandowski set to provide him with serious competition in the summer, but Bayern Munich has told Sport Bild that the treble winners want to keep the striker -- and even extend his current deal. "We will keep Mandzukic and try to extend his contract. I don't think he'd be averse to that," he told transfermarkt.de.

14.25 GMT: In news that could alert Tottenham and Aston Villa fans, Steven Defour's agent has told DH that the midfielder wants a transfer from Porto in order to guarantee a place in Belgium's World Cup squad this summer. "Steven will tell his club he wants to leave because he wants to play in the World Cup," the 25-year-old's representative Paul Stefani said. He also confirmed that he is aware of possible interest from Spurs and Villa, but Anderlecht have come in with firm interest.

14.20 GMT: One for Leyton orient fans now -- striker Robbie Simpson has signed a new deal with the O's until the end of the season.
NEWS: Robbie Simpson has signed a new deal with the O's http://t.co/heRnG1U07j #LOFC pic.twitter.com/v467d20Asr

— Leyton Orient (@leytonorientfc) January 15, 2014
14.13 GMT: Here's our full story on Schalke's sporting director Horst Heldt telling reporters that the club are yet to receive an official offer for reported Arsenal target Julian Draxler. READ MORE.

14.06 GMT: Turkish media outlet Fotomac claims Besiktas are pursuing Bafetimbi Gomis, who is out of contract at Lyon in June. Newcastle were interested in the striker last summer, and interest in his signature could be fierce come the end of the season.

14.00 GMT: Liverpool have been in fine form this season but Brendan Rodgers isn't resting on his laurels according to Sky Sport 24, who reports that the Reds are favourites for the signature of Udinese's 23-year-old defensive midfielder Emmanuel Badu. Chievo are apparently interested in the player as well though.

13.53 GMT: Celtic defender Virgil Van Djik has refused to rule out a move during the January transfer window after being linked with Manchester United and Arsenal. Speaking to Voetbal International, Van Djik said: "It's great to be linked with absolute top clubs. It's a cliche, but in football everything is possible, of course. But I know very well what I have here at Celtic, and that suits me just fine." Another classic diplomatic January response there --but see below why the classy centre-back is getting people so interested.

13.46 GMT: Sheffield United may have lost at the weekend but there's better news for Blades fans now, as manager Nigel Clough has confirmed he wants reinforcements in defence, midfield and attack to strengthen the struggling League One side.
NC, talking to the media today "Ideally we'd like to bring in a defender, midfielder & striker" #twitterblades #sufc pic.twitter.com/Sq0LXyk9tl

— Sheffield United (@SUFC_tweets) January 15, 2014
13.40 GMT: Sevilla president Jose Castro confirmed the club are trying to agree a new deal with Liverpool, Manchester United and PSG target Ivan Rakitic. The midfielder has just 18 months left on deal, but Castro refused to rule out a transfer: "We are negotiating with Ivan because he likes it here in Sevilla, and he has progressed as a player. But it is true that he has his interests. We are going to try and finalise a new contract, so he stays here for many more years. But time will tell what happens with Rakitic. If there are offers, they will be studied." Castro also confirmed the club are looking to offload other players in January: "We have no plans to bring in anyone. Actually, there will be some people leaving either being sold or on loan. Although, while the market is open, there is always the possibility anything could happen."

13.32 GMT: El Confidencial reports that Alvaro Morata is now a target for Inter and Fiorentina. The Real Madrid striker has been the subject on intense speculation this month with a loan move to Arsenal widely touted, but the interest of the Italian duo could force Arsene Wenger to act swiftly.

13.25 GMT: Down to the Championship now where Bournemouth manager Eddie Howe Grabban is intent on keeping his top scorer Lewis Grabban at the club in january. "We haven't had any approaches for Lewis as we speak," he told BBC Radio Solent. "We are aware of the speculation, so we will wait and see. But from my perspective, I want to keep my best players."
Howe: No approach for Grabban. Eddie Howe is looking to keep hold of top scorer Lewis Grabban: http://t.co/tlnVqgdoHU #afcb

— AFC Bournemouth (@afcbournemouth) January 15, 2014
13.17 GMT: Dortmund midfielder Ilkay Gundogan says that everything is open in terms of his future, but he will make a decision about his future soon. "Nothing is decided," he told Sport Bild. On the subject of rumours of a move to either Real Madrid and Manchester United, he stated: "That's hyped by media. I don't see perceive it like that. I am not concerned with it."

13.03 GMT: There are increasing rumours that Napoli playmaker Marek Hamsik is a target for Manchester United, and David Moyes is apparently planning on personally running the rule over the Slovakian in person at an upcoming game. Whether Rafa Benitez would fancy losing a key player to United and former city rival Moyes is up for debate, but we'll have more on Marek as and when it develops.

12.57 GMT: According to Sport Bild, Wolfsburg's Ja-Cheol Koo, 24, is set for a transfer to Mainz once Kevin de Bruyne's deal to Wolfsburg has been finalised. The South Korea captain will have less playing time with de Bruyne in the side, and Die Wolfe are willing to let the Koo leave for around 3 million euros.

12.48 GMT: Tottenham have a plethora of goalkeepers available, but Tim Sherwood is keen to overhaul the ranks and sign young Nottingham Forest talent Karl Darlow, according to the Mirror. The Spurs manager is apparently willing to loan the shot-stopper back to the Championship side rather than bench him at White Hart Lane, with the futures of Heurelho Gomes and Brad Freidel uncertain beyond this summer.

12.42 GMT: Veteran striker Kevin Phillips is set to sign for Leicester before the weekend, according to Sky Sports sources. The 40-year-old will be available for free after agreeing a mutual contract termination with Crystal Palace.

12.38 GMT: Good news for Nottingham Forest fans now -- club owner Fawaz Al-Hasawi has revealed that he has agreed a deal with Hull to keep Jack Hobbs at the City Ground. There has been interest elsewhere for the youngster, so we'll have more on that when any such deal is official.
I am delighted to announce that I have just agreed a deal with Hull City's chairman for Jack Hobbs. #NFFC

— @FAWAZ_ALHASAWI (@fawaz_alhasawi1) January 14, 2014
12.32 GMT: Christoph Kramer is more than content to stay at Borussia Moenchengladbach: "I don't need Leverkusen to be happy," the midfielder told Bild. The 22-year-old joined Gladbach on loan at the start of the season until 2015, and after that Kramer has to return to Leverkusen -- although his latest comments suggest his future could well lie elsewhere.

12.26 GMT: DONE DEAL! Carlton Cole has signed an 18-month deal with West Ham, the club have confirmed on their official website.
STORY: West Ham United are delighted to confirm that @CarltonCole1 has signed a new 18-month contract. http://t.co/SplVNa5d5d #WHUFC #COYI

— West Ham United FC (@whufc_official) January 15, 2014
12.20 GMT: Duncan Castles of the Times tweets that Leighton Baines could be set to reject Manchester United's advances and sign a long-term deal with Everton -- how big a blow would that be for David Moyes?
Can confirm that Leighton Baines has changed his mind about Manchester United and is about to sign long-term contract at Everton. #EFC #MUFC

— Duncan Castles (@DuncanCastles) January 15, 2014
12.12 GMT: A little light-hearted January business now from Juergen Klopp (who else?), who says that Zlatan Ibrahimovic's joke offer to play for Dortmund is "certainly not to be taken for granted... but the appreciation for our work, which was in there, is 100 percent sincere. And I think that's cool." The BVB coach related it to other potential deals, saying: "If word got around in football, then indeed we have a good relationship between the coaching staff and the team. I also think that on the whole there are players who'd say 'I think they are that wicked that I want to be a part of it.'"

12.05 GMT: More rumours on Nani's future now, and the Mirror reports that the winger could be set for a return to Portugal with Sporting Lisbon keen on a loan deal for the Manchester United misfit. Much will depend on what David Moyes decides to do with Wilfried Zaha, and a temporary move seems unlikely unless there's a long-term view to recouping some of the money the club paid the Portuguese side for the attacker seven years ago.

11.57 GMT: Off to Germany again, where Eintracht Frankfurt have been linked to Hajduk Split youngster Mario Pasalic. The 18-year old midfielder has scored six in 16 league games in Croatia. Frankfurt sporting director Bruno Huebner has alerted Bild to the club's interest, but rejects a report in Croatian press that they are already discussing a transfer fee in the region of 2.5 million euros.

11.52 GMT: Nemanja Matic could complete his move to Chelsea today, with the Benfica playmaker expected to be undergoing a medical in London this morning. That would be the biggest move of the January window so far, and a real statement of intent from Jose Mourinho for the title run-in. We'll have the latest as it develops from Stamford Bridge.

11.47 GMT: DONE DEAL! Celtic have completed the signing of Stromsgodset midfielder Stefan Johansen, the club announced on their official website. The Norwegian international has signed a three-and-a-half-year deal.
Celtic are delighted to announce the signing of highly-rated Norwegian internationalist Stefan Johansen on a three-and-a-half year deal.(PC)

— Celtic Football Club (@celticfc) January 15, 2014
11.42 GMT: The Mirror reports that Manchester City have revived their interest in Porto defender Eliaquim Mangala, although his current club are reluctant to let the 22-year-old France international leave this month for less than his estimated 40 million pound buyout clause. The centre-back is certainly talented, but will Manuel pellegrini splash that kind of cash in January? Watch this space.

11.35 GMT: Bad news for Manchester United fans according to Sky Sports, which reports that Athletic Bilbao do not expect Manchester United target Ander herrera to leave this month: "We know people are looking but the situation has not changed. "Ander has us that he does not want to leave the club in this moment." Herrera's buyout clause of 36 million euros is due to increase to 40 million in the summer -- and to guide you through the tricky world of Spanish buyout clauses and all they entail, take a gander at Graham Hunter's enlightening blog on the subject.READ MORE.

11.25 GMT: Parma coach Roberto Donadoni is adamant that Antonio Cassano will not be leaving i Crociati despite the club being knocked out of the Coppa Italia by Lazio last night. "Antonio will not move from Parma," he told Rai Sport. "It is not our intention to sell him."

11.18 GMT: A few more stories from Sunderland for you now -- Black Cats teenager Duncan Watmore is in high demand, with a queue of lower league clubs lining up to take the forward on loan. Loan star Ki Sung-Yueng looks set to stay at Sunderland until the end of the season despite Swansea chairman Huw Jenkins casting doubt on the situation, while Nottingham Forest are eager to agree a permanent deal for midfielder David Vaughan following a successful loan spell in the Championship -- the Welshman is out of contract with the Black Cats this summer.

11.12 GMT: Sidney Sam tells Bild that he wants to "say goodbye with the cup." The 25,-year-old has agreed to join Schalke in the summer, but does not fear to be whistled at in the stadium. "Should there be whistling against me, I will try and answer with goals." An apt response, that.

11.02 GMT: A curious rumour from Italy for you now as Gazzetta dello Sport reports that Manchester United are interested in Sunderland goalkeeper Vito Mannone. The former Arsenal shot-stopper has impressed this season for the Black Cats despite their precarious league position and with Anders Lindegaard being linked with a move abroad, David Moyes may be tempted by a young, promising back-up to David de Gea. Whether the Italian would be happy as second-choice is another matter though.

10.55 GMT: Chelsea's forgotten man Marko Marin has hardly played while on loan at Sevilla due to a hamstring tear, but has told Bild he is nearing a return and feels like he could make a permanent move to the Spanish club: "I feel very good at Sevilla, with the club, the fans, it all fits. I love the fans in Spain. The club wants me to stay, but I do not know yet. I would like to stay, I felt fine in England, but here I feel really good. But in the end, Chelsea decides."

10.50 GMT: Manchester United attacker Shinji Kagawa has struggled to nail down a place in David Moyes' starting XI this season, but acknowledges he must adapt to the Premier League in order to make an impact. The Japanese playmaker impressed on Saturday against Swansea playing in his preferred position behind the striker, but it remains to be seen whether he'll remain there once Wayne Rooney and Robin van persie are fit.
Shinji Kagawa vows to improve. "I realise the Premier League is very tough and I know I have to be stronger." More: http://t.co/OE7g3tdMQc

— Manchester United (@ManUtd) January 15, 2014
10.45 GMT: Footmercato.net reports that Bordeaux have signed 17-year-old Tunisian forward Hazem Haj Hassen, seeing off competition from Saint-Etienne, PSG, Monaco and Nantes. With that level of interest, he must be some player.

10.40 GMT: Here's more on Fulham boss Rene Meulensteen now -- Sky Sports sources are reporting that West Ham have made a complaint to the Premier League over comments made by the Cottagers manager about Ravel Morrison. More on that as it develops.

10.36 GMT: Fulham have launched a 2 million-pound bid for Leicester defender Liam Moore, according to Sky Sports sources. The departure of Bryan Ruiz on loan to PSV this morning has freed up space in the squad, and the promising 20-year-old centre-back is apparently a target for Rene Meulensteen as he looks to increase his defensive options.

10.30 GMT: More from Germany -- and we're off to Hamburg now. Marcell Jansen is as good as gone according to Bild, as they pick up on kicker's report of the player's 5 million euro buy-out clause. The Germany international has a contract until 2015, but could make the move in the summer, with Bayer Leverkusen and his former club Borussia Moenchengladbach reportedly interested. "I won't talk about contract details. My focus is on the start of the second half of the season," the left-back says. Meanwhile, Hamburg and young midfielder Hakan Calhanoglu have put contract talks on hold as the club focuses on reinforcing their attack. "It's true, that's our priority right now," sporting director Kreuzer tells Bild -- though the club still want to extend the 19-year-old Turkey international's deal.

10.21 GMT: Sky Sports reporter Dirk g. Schlarmann has just tweeted quotes from Schalke general manager Horst Heldt on Julian Draxler's current situation which translate to "There are currently no offers from any club." The forward is being linked to Arsenal, but it may take a huge bid -- or at least an actual bid -- to prise him away from the Bundesliga.
#Schalke - zu den Gerüchten um #Draxler: Heldt zu #SSNHD "es gibt aktuell keine Angebote von keinem Verein!" #S04 #DraxlerzuArsenal

— Dirk g. Schlarmann (@Sky_Dirk) January 15, 2014
10.15 GMT: Italian site TMW is reporting Monaco are keen on 19-year-old forward Rodrigo Aguirre, who plays for Liverpool Montevideo. Sassuolo and Torino are also interested in the teenager who scored 13 times in 44 Uruguayan top-flight appearances.

10.02 GMT: Carlton Cole has agreed a new 18-month deal with West Ham, according to Sky Sports sources. The striker's contract with the Hammers ran out yesterday, but a new deal would be a relief for both Sam Allardyce and the player as the side look to avoid relegation from the Premier League. More on that as and when we get it.

09.55 GMT: DONE DEAL! Fulham forward Bryan Ruiz has joined PSV Eindhoven on loan until the rest of the season, the Premier League club have confirmed on their official website. The Costa Rica captain has struggled for form with the Cottagers this season, and will hope to recapture it with Phillip Coco's Eredivisie outfit.
Welkom - Welcome - Bienvenido Bryan Ruiz @PSV! #psv #ruiz pic.twitter.com/T5qLwlYQ01

— PSV (@PSV) January 15, 2014
The Club can confirm that Bryan Ruiz has joined Dutch outfit @PSV on a loan deal until the end of the season. http://t.co/hSNolktsXb #ffc

— Fulham Football Club (@FulhamFC) January 15, 2014
09.50 GMT: More on Peter Lim now, who was at Valencia's loss to Atletico at the Calderon last night. The businessman was sitting alongside Jorge Mendes and behind Valencia president Amadeo Salvo in director's box, and it is well worth mentioning that 14:00 today is the deadline set by Bankia for offers to take over the club. Lim didn't speak to anyone, but Salvo told Canal Plus: "Lim has already presented his offer in writing, and furthermore I believe it is the only presented yet."

New Valencia coach Juan Antonio Pizzi wasn't keen to get drawn on subject afterwards, but did say he wasn't relying on a saviour to come in from outside: "I have no authority or knowledge to talk about sale. Reinforcements are welcome, but with the players we have we can change and improve. We cannot depend on decisions of one individual or not."

09.38 GMT: Juventus stars Arturo Vidal and Paul Pogba have been linked away from Turin in recent days, but two defensive stars are intent on staying with the Old Lady. Gigi Buffon says he intends to play on four more years at Juve, while Giorgio Chiellini has set himself a target of 500 Juve appearances after breaking the 300 mark -- and the centre-back also says he wants to win a treble this season. Good news for Bianconeri fans.

09.25 GMT: News from Hannover now -- their 30-year-old Danish midfielder Leon Andreasen is set to prolong his contract until 2016, Bild reports. Meanwhile sporting director Dirk Dufner has put Belgium international Sebastien Pocognoli up for transfer this month. The 26-year-old left back could leave "if a club is willing to offer a decent transfer fee," Dufner says. "He says that he wants to stay. But he also wants to play the World Cup. He has to know he has competition here."

09.12 GMT: David Moyes is busy scouting the best of what Europe has to offer -- or rather, the best that Manchester United can attract -- but one player on his way out of Old Trafford could be Nani. The Mail reports that the Portuguese winger could be departing for Valencia if Peter Lim is successful in his takeover of the Spanish club. Moyes handed Nani a new long-term contract a couple of months ago, but could be swayed by a big offer out of the Mestalla. He may be injured, but let's remind ourselves of what the attacker can actually do...

09.00 GMT: According to Depeche.fr, Toulouse are close to completing a 2.7-million euro move for Legia Warsaw midfielder Dominik Furman. The 21-year-old -- who has also been linked with Arsenal and West Brom -- will sign a four-and-a-half year contract after undergoing a medical.

08.36 GMT: Juventus goalkeeper Gianluigi Buffon cannot understand how Manchester United let Paul Pogba join them on a free transfer in 2012. Full story to follow.

08.05 GMT: The Sun is claiming that Chelsea's John Terry, Frank Lampard and Ashley Cole could all be rewarded with new contracts. Their current terms are due to expire in the summer.

07.28 GMT: Here's the latest from our man in Germany, Stephan Uersfeld, who says Bild is reporting Lewis Holtby's mooted move from Tottenham to Schalke, and the recent signing of Sidney Sam, is a sign Draxler is indeed heading for an exit.

07.00 GMT: Good morning one and all, and jolly transfer Wednesday to you. As noted below the review of all things deal-related in print, Leighton Baines' future is the subject of conjecture. Indeed, Everton are closing in on a deal to secure Baines' long-term future as they bid to fend off interest from Manchester United. The England left-back, 29, is increasingly likely to sign a lengthy extension to his current contract, which is set to expire in June 2015. Everton -- who are also keen to extend midfielder Ross Barkley's contract beyond 2016 -- have been in talks with Baines for several months, and are optimistic they can agree a deal, sources have told ESPN.

Wednesday's newspaper round-up

Twenty-year-old Draxler has been a rising star for club and country for some time, garnering interest from Arsenal and other leading European clubs last summer. Now, the pursuit is believed to be back on, even if the Gunners must wait until the end of the season to land their man.

Draxler possesses the kind of intelligence and versatility that is coveted at the Emirates. Capable of operating anywhere in midfield or on the wing, the young German would tick many boxes for a team that could use his nous.

---

Might David Moyes' pursuit of Baines soon be coming to an end? With Fabio Coentrao rumours heating up once more following a failed attempt to loan him from Real Madrid last summer, the Express reports that Baines is set to sign a new long-term deal at Goodison Park.

Baines is one of the best left-backs in the Premier League and with just under 18 months remaining on his current contract, the time is now for negotiations. It also might mean that Manchester United must look elsewhere for Patrice Evra's eventual replacement.

---

With Luis Suarez and Daniel Sturridge in fine form for Liverpool, the Daily Mail takes a look at the January window for Brendan Rodgers and the Reds. The newspaper reports that Rodgers is set for talks with Reds owner John W. Henry and managing director Ian Ayre within the next few days to discuss a possible transfer budget.

Don't get too excited, though, as early indications are that Basel and Egypt winger, Mohamed Salah, might be their only signing during the current window. Salah has been linked with an Anfield move since before the Christmas holidays.

While he'd be a superb addition to an attack-minded squad, Rodgers faces competition from Atletico Madrid and Bayer Leverkusen for the 21-year-old, who's reportedly valued at 16 million pounds. Furthermore, Liverpool could benefit from defensive depth, something Salah wouldn't necessarily provide.

---

Back to United for a moment: the British press has caught wind of Moyes' low-key trip to France for Paris St-Germain's 3-1 Coupe de la Ligue victory over Bordeaux. Though it took late goals from Adrien Rabiot and Blaise Matuidi to seal PSG's victory, the result won't have been much interest to Moyes.

Instead, speculation is swirling as to who he was paying attention to. Some possible options: centre-back Marquinhos and forward Jeremy Menez, both of whom have been subject to interest from the Old Trafford club in the past. Yet the target could be Ezequiel Lavezzi, who increasingly seems surplus to requirements in the French capital. Watch this space....

---

If Crystal Palace are to stay in the English top flight, they need support and it appears, according to the Daily Mail, that Tony Pulis has made his mind up as to what's needed at Selhurst Park. His targets: towering Osasuna centre-back Raoul Loe, valued at four million pounds, and Jeremy Morel.

Two viable defensive reinforcements for one of the least imposing teams in the league. Several teams have been tracking the 6-foot-5 Loe while Marseille's 29-year-old left-back is reportedly available on loan.

---

Finally, a done deal. Grant Holt has completed his switch from Wigan to Aston Villa, where he joins his former Norwich boss, Paul Lambert, with a view to keeping the Midlands club afloat in the Premier League. We wish him well.