Paper round-up: Leak or ploy from PSG?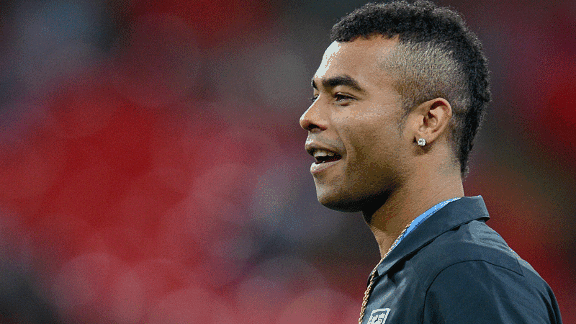 GettyImagesIs Ashley Cole headed to France?
Nothing is sacred in the world of social media nowadays and Paris Saint-Germain are the latest club to fall victim to the madness of Twitter. According to the Daily Mail, PSG's official Twitter account "accidentally" tweeted: "English left back Ashley Cole will become a Red and Blue player this summer". The post was immediately removed, but a number of quick-fingered followers jotted it down and grabbed digital proof of the blunder. It's no secret that Cole has been linked with a move to Ligue 1, but this has added some sort of validity to the rumours. Of course, there is always a sense of scepticism when news like this is released and it is possible that PSG are attempting to strengthen the links with a deliberate ploy. Time will tell.

Over in the Mirror, there are reports that Klaas-Jan Huntelaar could turn from villain to hero at the Emirates with suggestions that the Dutch striker could join Arsenal in the January transfer window. Gunners defenders had a handful of Huntelaar during their two Champions League fixtures and they would welcome the dangerous attacker who finished as last season's Bundesliga top scorer with 29 goals. Ex-Liverpool striker Erik Meyer shares the same agent as Huntelaar and said: "According to the ­information I have, ­Huntelaar will be gone in the winter. Arsenal are the favourites."

He hasn't yet spent a game on the sidelines at Loftus Road, but Harry Redknapp has already thrown down the gauntlet to his players following their 3-1 loss at Old Trafford on Saturday. The Guardian says the former Tottenham manager was far from impressed with QPR's performance, despite going a goal ahead, and he has put the pressure on them to take responsibility for the club's position. With Mark Hughes having paid the price for QPR's poor record, Redknapp says the players must now step up and show some heart: "The players at QPR have not performed to their potential," he said. "The players have to be at it, the buck stops with them."

That attitude isn't the only thing that will get QPR fans on Redknapp's side. The Mirror reports that he is chasing David Beckham. It adds to the novelty list of clubs interested in the veteran midfielder's signature, although they would be one of the most unlikely suitors for Becks. QPR owner Tony Fernandes, who tried to sign Beckham last year, would back Redknapp for the move, but they would need to do a lot more than splash some cash.