The January transfer window is just around the corner, and ESPN FC examines the players who could potentially be the best buys of the winter.

GOALKEEPER

Iker Casillas -- Real Madrid

At first, everyone thought it was a power play by Jose Mourinho, but Iker Casillas' status as a sub continued after Mourinho was replaced as Madrid coach by Carlo Ancelotti. Spain No. 1 Casillas hasn't started a league game since January, and although he is Ancelotti's designated Champions League goalkeeper, the prospect of no consistent football before the World Cup is a concerning one. Not that Casillas seems too worried, saying recently: "Today my decision is to continue in Madrid. I want to win La Decima, more cups and leagues." However, the prospect of a loan to somewhere he'd play more regularly might be too much to turn down.

DEFENDERS

Toby Alderweireld -– Atletico Madrid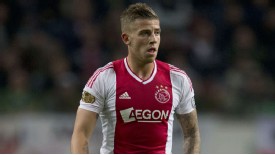 AssociatedToby Alderweireld joined Atletico Madrid last summer but could he be on the move again?
There was much talk of Toby Alderweireld leaving Ajax for the Premier League in the summer, but he instead chose Atletico Madrid. However, it hasn't gone exactly to plan, with the big Belgian starting just three league games for Diego Simeone's side, so given his country's status as a dark horse/just plain old "horse" for the World Cup, he might be interested in moving somewhere he could actually get some games for a few months.

Fabio Coentrao -– Real Madrid

Another Real Madrid man not exactly troubling the first team that much, Fabio Coentrao has suffered from a niggling thigh injury in the last month or so, but even before that, his place was largely on the bench, despite signing a new contract in November, so a loan ahead of the World Cup could be an option. The obvious potential destination would be Chelsea, given Jose Mourinho has already bought him once, and Ashley Cole no longer appears to be a first-choice selection. But Mourinho recently denied he would be signing Coentrao -- or any Portuguese players, for that matter -- in January. The next on the list would be Spurs, who only have Danny Rose as a left-back option, although Tim Sherwood has suggested the transfer window will be a quiet one at White Hart Lane.

Nicolas N'Koulou -– Marseille

Nicolas N'Koulou, an adaptable defender who can play in the middle and at full-back, almost left Marseille last summer, with talk of interest from England, but a move didn't materialise. That, according to some observers, is one explanation for his relatively poor form this campaign. But while that knowledge might put some off, it equally could mean Marseille's asking price drops, and a Premier League side could get a bargain.

Andrea Ranocchia -– Inter Milan

Andrea Ranocchia would be, to say the least, something of a gamble. Prone to an error and perhaps not overburdened with pace, the big Italian is nonetheless a regular member of Cesare Prandelli's national squad. However, that might change if he continues to warm the bench at Inter, and the word around the campfire is that Inter would be more than happy to get rid of the defender in January. A swap with Chelsea involving David Luiz has been mooted, and while those sort of transfers barely ever happen, Jose Mourinho is apparently keen on the 6-foot-5 centre-back.

MIDFIELDERS

Maxime Gonalons -– Lyon

One of the most sought-after young talents in Europe, Lyon captain Maxime Gonalons has been the subject of interest from Napoli of late, with the French press suggesting that Rafa Benitez has made an offer in the region of 12 million pounds. At that price, a few English clubs might be keen to get involved in the bidding, with Lyon president Jean-Michel Aulas always keen to get a decent price for his players, particularly since his side are languishing in midtable and unlikely to do anything of note this season.

Esteban Cambiasso -– Inter

Something of an Inter stalwart, the prospect of Esteban Cambiasso leaving the Nerazzurri might seem rather odd, but his contract expires next summer and his is one of the last remaining "big" deals at the San Siro. Club and player apparently have contract talks planned, but with Inter (and indeed many Italian clubs) seemingly keen to cut their wage bills, Cambiasso will most likely be offered much reduced terms, so if someone fancies an experienced and authoritative midfielder, they might be able to take him off Inter's hands.

Tim Cahill –- New York Red Bulls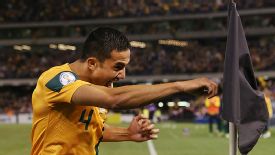 GettyImagesTim Cahill is looking to stay fit ahead of Australia's World Cup campaign.
MLS players coming to England on loan to keep their fitness up before a World Cup is as fashionable as skinny jeans (are skinny jeans still fashionable?) these days. Clint Dempsey has led the way by returning to Fulham for a couple of months, so with Brazil likely to be the last tournament of Tim Cahill's career, the 33-year-old might follow Deuce to the Premier League. And it looks like he will have some offers, too. He said in November: "In the last loan period, three or four clubs came in and one was really close to signing me. It was from the Premier League and it went all the way up to the wire. It was to stay fit. I'm definitely going to get a lot of shouts again now and there will always be people knocking at the door. But I have to assess where my body's going to be for the next World Cup for Australia and also my fitness leading into Brazil."

FORWARDS

Mirko Vucinic –- Juventus

Very much surplus to requirements at Juventus these days, Mirko Vucinic still has a dash of class to add to any forward line. Restricted to just one start since September (and that in a game when Antonio Conte was rotating his regulars), Vucinic has been pushed to a reserve role by the fine form of Fernando Llorente and Carlos Tevez. Juve don't have an especially deep pool in the forward areas, but Vucinic is thought to be pushing for a move in January, perhaps on loan, with Spurs frequently mentioned in dispatches.

Kostas Mitroglou -– Olympiakos

These days, 7 million pounds for a striker is very much in the "bargain" bracket, and with that the price mentioned in the gossip rags, it's no wonder Kostas Mitroglou is being discussed as a potential target for a few clubs. The big centre-forward has been scoring for fun in the Greek Super League for Olympiakos, bagging a preposterous 14 goals in 10 league games, chucking another few in the Champions League for good luck as well. Arsenal and Spurs have been mentioned as potential suitors.

Ezequiel Lavezzi -– PSG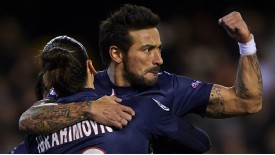 GettyImagesBehind the likes of Zlatan Ibrahimovic and Edinson Cavani, Ezequiel Lavezzi (pic) could be on the move in January.
A victim of when a team comes into a lot of money and starts stockpiling players, Ezequiel Lavezzi has frequently found himself on the bench at PSG, and word is that he wants out. He wasn't especially certain about his future when asked by La Parisien recently, saying: "A player never knows exactly all these things. But what I can tell you is that I will do everything to change my situation in Paris because I did not give my best shot and I do not want this to continue." Inter have been talked about as a potential destination, but should a couple of Premier League clubs wish to dip their bread, they will be in with a chance.