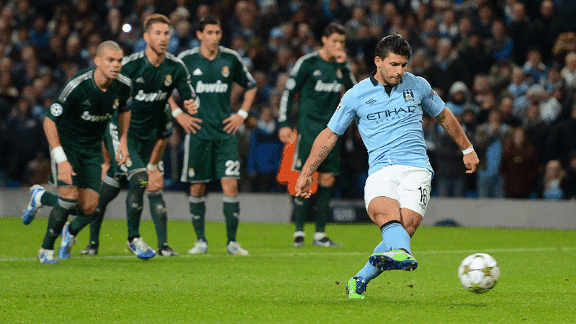 GettyImagesSergio Aguero could join Cristiano Ronaldo and Gareth Bale in the Real Madrid forward line next season.
Liverpool fans will breathe a sigh of relief at the news that Real Madrid are keen on Manchester City striker Sergio Aguero, according to the Daily Star. The Spanish champions were reportedly keen on Luis Suarez in the summer, but are expected to instead move for the Argentinean in a deal worth around 45 million pounds. The Star says Aguero became the preferred option after a meeting between Real president Florentino Perez, Carlo Ancelotti and Zinedine Zidane. There is one small hurdle -- Aguero is contracted to City until 2017. But Real could have a lifeline in that there may be a release clause in the 25-year-old's current deal.

In a transfer rumour far more exciting, yet incredibly absurd, Lionel Messi "could" move to Manchester City next summer. Yep, you read that right. The Daily Mail says the Barcelona forward may want a change of scenery after next year's World Cup. The kicker? Messi is apparently "stressed at the pressure" he faces in Spain. That would no doubt intensify if he did move to the Premier League, although it would be an opportunity to reinvigorate his commercial appeal. Keep your eyes peeled and fingers crossed if you're a City fan, but don't hold your breath.

City seem to be the flavour of the day across football's back pages, as do Real Madrid. The Mirror reports Spanish defender Sergio Ramos will become one of Manuel Pellegrini's key targets at the end of the season. The 27-year-old has drifted apart from his club given his increased pay demands and City may be able to meet the six million pounds-plus that he wants to see each week. Ramos' buy-out clause of around 41 million pounds may exceed City's wishes and Paris Saint-Germain have also entered the frame, with the French champions prepared to raise the stakes with a seven million pound-a-year offer.

Elsewhere in Manchester, United are expected to offer striker Javier Hernandez a new deal in the hope that the Mexican will turn away a move next season, the Sun says. Chicharito is expected to look for a new club as he struggles to establish himself in the first team due to the presence of Robin van Persie and Wayne Rooney. Tottenham and Arsenal have both shown interest in Hernandez.