Moyes faces United clean-out quandary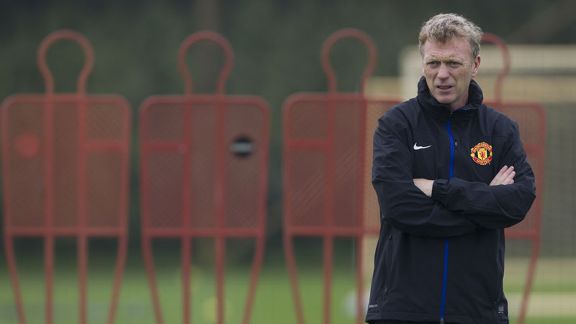 AssociatedUnited have made their worst start to a campaign since 1989 under Moyes.
David Moyes next big test at Manchester United could well come off the pitch, as the new manager faces a dilemma over the future of Rio Ferdinand, Patrice Evra, Ryan Giggs, Nemanja Vidic and Michael Carrick.

The Daily Mail reports that the contracts of all five of these players -- along with fringe defender Fabio -- expire at the end of the season, and each face an uncertain future. Moyes will be required to make some big decisions over the bulk of his squad in the coming weeks, with Fabio expected to move on, while Ferdinand, Evra, Giggs, Vidic and Carrick all on notice after the Premier League champions' sloppy start to the new campaign.

Emmanuel Adebayor may be thrown a lifeline from his Tottenham troubles, with the Daily Star reporting Turkish club Besiktas are interested in securing his services come January. With the transfer window set to re-open, Besiktas -- who enquired about Adebayor in August -- are prepared to launch a fresh bid for the unwanted striker.

Finally, Liverpool are set to rivals Spurs for FC Basel starlet Mohamed Salah, according to the Daily Mail. Reds boss Brendan Rodgers is understood to be a keen admirer of the winger, particularly after watching him feature against Chelsea in the Champions League earlier this season. Salah's Swiss employers are seeking around £15 million for him, and a bidding war between Liverpool and Tottenham could see that price met.