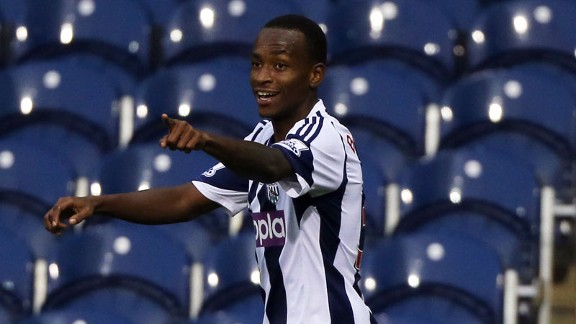 PA PhotosSaido Berahino is surely destined for a big Premier League club.
Manchester City have set their sights on January signings when the transfer window re-opens, with West Bromwich Albion star Saido Berahino emerging as one of Manuel Pellegrini's prime targets.

The England Under-21 forward has caught the eye this season, and is expected to play another starring role when the Baggies take on Stoke. The starlet, though, is reportedly only earning £850-a-week and City are set to pounce by offering him a contract simply too good to refuse, reports The Sun newspaper.

Berahino has scored five goals this season -- including a winner at Old Trafford against City's fierce rivals Manchester United -- and added to his reputation with a brace for the England Under-21 side against Lithuania on Tuesday. With these sparkling performances in mind, West Brom have opened negotiations with the 20-year-old over an improved deal, but City have the inside track in terms of wage funds available. Pellegrini is said to have ordered his scouts to full assess Berahino this weekend.

The Daily Mirror reports Newcastle are keen on PSV forward Ola Toivonen. With his contract set to expire in the summer, the Eredivisie outfit are set to cash in while they can, offering Toivonen for a remarkable £2.5 million in January. Newcastle, who failed to make the most fo the summer transfer window may now strengthen their squad, but they will need to fend off the overtures of Norwich Fulham and Serie A side Fiorentina, who have all shown previous interest in the 27-year-old.