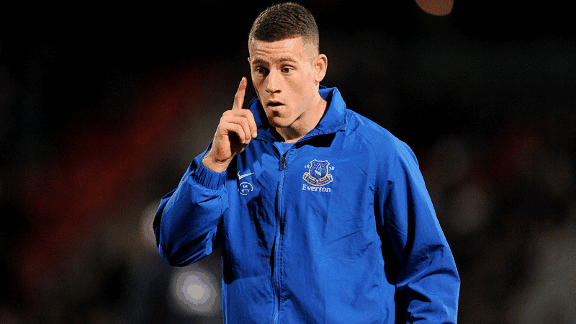 GettyImagesA Chelsea scout will reportedly be sent to Goodison Park to watch Ross Barkley on Saturday.
Chelsea will be taking an additional staff member to their travelling party for this weekend's clash against Everton, with the Daily Mail reporting a scout will be sent to Goodison Park to watch 19-year-old Ross Barkley. The Toffees youngster has attracted significant attention this year and is expected to be the subject of much interest following his England debut in last week's 4-0 win over Moldova. Everton are braced for a number of offers in the January transfer window, but it is believed Barkley would only be sold for a figure in excess of £20 million. Roberto Martinez's side managed to fend off the approaches of a number of clubs in the summer, but Chelsea are committed to luring the talented youngster to Stamford Bridge.

Arsenal's interest in Paul Pogba could soon subside, with the midfielder set to be offered a 100% pay rise to stay at Juventus, the Mirror reports. Arsene Wenger was reportedly keen to sign the former Manchester United player in the summer, but the 20-year-old has no plans to get out of his contract with the Italian champions, which expires in 2016. And the Turin-based club have increased their chances of keeping the Frenchman by offering to double his current £800,000-a-year contract for the remainder of his deal. That is likely to be enough to keep Pogba's suitors at bay and it seems his future in Italy is secure.