Transfer news LIVE: Shirty business to lure Bale to Madrid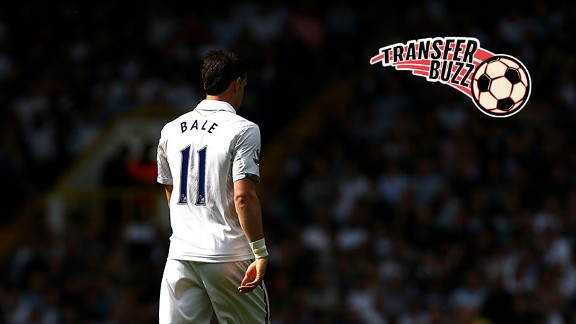 GettyImagesReal Madrid are rumoured to be holding the number 11 shirt for Gareth Bale.
Real Madrid are holding the number 11 shirt for Gareth Bale, Manchester United are expected to up their bid for Leighton Baines and Marouane Fellaini, Spurs close in on Willian but not Erik Lamela, and Liverpool have signed Aly Cissokho.

23:50 BST: That's it for another day of transfer news. On The Move will be back up and running in just a few hours.

21:50 BST: Whispers suggest that Victor Moses' days at Chelsea could be numbered under Jose Mourinho with West Brom ready to offer the Nigeria international a season-long loan.

21:30 BST: Manchester United have been linked with a host of players already this summer, and now they have added Anzhi striker Samuel Eto'o to that list according to a report in the Metro.

21:10 BST: Newcastle manager Alan Pardew, director of football Joe Kinnear and head scout Graham Carr have been spotted at Nice airport. Perhaps lining up some incoming transfers to add to the club's already large French contingent.

20:40 BST: Leeds United have agreed to sign Manchester United defender Scott Wootton, 21, on a three-year contract.

Leeds manager Brian McDermott said: "I'm delighted to have agreed the signing of Scott Wootton on a three-year deal. He's a player who has played in the Champions League and someone we feel will develop with us in the coming years.

"I want to say thanks for the owners in doing the deal and bringing another young player to help us go forward."

20:20 BST: Spurs spending suggests Bale deal is close, that is the opinion of our Real Madrid blogger Nicholas Rigg. Read more here.

20:00 BST: Arsene Wenger has defended himself in the wake of accusations about Arsenal's pursuit of Newcastle midfielder Yohan Cabaye. He said: "There is nothing to explain [about Cabaye]. First of all, you don't know what we have done, you don't know if we did bid and you have come to a conclusion without knowing everything that has happened.

"It is quite amazing that all of the people don't know and yet they always have opinions about things they don't know. I won't explain to you what happened. It is not down to me to explain to you everything I do. It is impossible.

"If we do a transfer we will announce it. We always inform you. As for the rest, you have to leave us to do our own things."

19:45 BST: Gaetan Bong has signed for Olympiakos from Valenciennes and has spoken of his excitement at the challenge of playing Champions League football.

"I'm very happy to be here. Olympiakos is a great club. It's an excellent choice for me.", he told the club's official website. "It's a great opportunity for me as I'll be able to compete in the UEFA Champions League. I think it's a big goal for the club, so it will be a big goal for me as well to have excellent games in that tournament."

19:15 BST: Samuele Longo, 21, has left Inter Milan to spend the season on-loan at Hellas Verona after spending last season in La Liga with Espanyol. A statement on Verona's website said: "Hellas Verona announce the signing of Samuele Longo on a temporary basis from Inter.

"The forward, born in 1992, will play in the Rossoblu jersey with the number 7, and at 18:00 on Tuesday, August 20 will have the first training session with his new teammates."

18:35 BST: Some quotes from Aly Cissokho on his unveiling at Liverpool:

"It's going to be a great experience to be able to rub shoulders with the club's top-quality players. I have experience in the game, but coming here there will still be lots of things to learn and discover as I work with everyone every day.

"I can learn from my new manager, get to know the new style of play here, familiarise myself with different opposition teams and learn the language. It's going to be a great experience for me, and of course playing for the club for the first time is something I'm excited about."

18:15 BST: Juventus full-back Reto Ziegler has agreed a season-long loan with newly promoted Serie A side Sassuolo while Swiss striker Zoran Josipovic will spend the season at Serie B club Novara on loan.

17:45 BST: Liverpool have confirmed the signing of Aly Cissokho from Valencia on a season-long loan deal. Cissokho, 25, has one international cap for France.

17:30 BST: Could Napoli be about to dip back into the transfer market for another Spaniard?


Napoli are interested in Barcelona right back Martin Montoya (22), which could lead to the player not renewing his 2014 contract [ilmattino]

— barcastuff (@barcastuff) August 20, 2013
17:10 BST: Liverpool look set to miss out on Willian to Tottenham, but reports suggest they could be in the market to take Will Hughes from Derby.

16:45 BST: Southampton winger Jason Puncheon could be set for a loan move to newly promoted Premier League side Crystal Palace, according to the Croydon Advertiser. Puncheon played under Holloway at Blackpool.

16:34 BST: Manchester United will return with bids for Everton duo Leighton Baines and Marouane Fellaini this week, and Old Trafford sources have told ESPN that they are willing to increase the total offer to £35 million. They are also still interested in Luka Modric. FULL STORY HERE.

16:26 BST: InsideFutbol.com reports that Johan Elmander's switch from Galatasaray to Norwich City could be completed as early as tomorrow with the striker already on his way to England.

16:20 BST: The Metro reports that West Ham and Reading are considering moves for Southampton striker Rickie Lambert following the arrival of club record signing Pablo Osvaldo at the club.

16:10 BST: Sky Sports report that Tottenham midfielder Paulinho hopes that Gareth Bale will remain at White Hart Lane, although he says he is unsure of the Wales international's future.

15:55 BST: According to SportsDirect News, Crystal Palace boss Ian Holloway has ruled out a move for former West Ham striker Carlton Cole.

15:45 BST: News on Chelsea's pursuit of Wayne Rooney.

Jose Mourinho says that "nothing has changed" in #CFC's pursuit of Wayne Rooney, but the club have a "plan B and C" - http://t.co/lqIhRDDHOQ

— ESPN FC (@ESPNFC) August 20, 2013
15:37 BST: Here's a little clip from Sky Sports News which states that Yohan Cabaye is interested in a move to Arsenal. Paris Saint-Germain are the other team linked.

15:31 BST: ThisIsStaffordshire.co.uk reports that Stoke City will consider a late bid for Tottenham striker Jermain Defoe if they run out of foreign options to bolster their goal-shy attack before the transfer window closes.

15:23 BST: Sky Sports report that Tottenham midfielder Gylfi Sigurdsson says he is settled at Spurs and that he hopes to continue his impressive form from the second half of last season.

15:14 BST: Football-Italia report that former Spurs midfielder Reto Ziegler will be playing for newly promoted Serie A side Sassuolo after a deal was done with Juventus.

14:59 BST: Some reports in Bulgaria this morning stated that Spurs are set to sign Todor Nedelev from Botev Plovdiv. The youngster was linked with a move to Schalke yesterday, which seems a more likely destination at this stage. With Spurs going after Erik Lamela and Willian.

14:44 BST: Inter Milan are looking to complete the signing of Saphir Sliti Taider from Bologna. The 21-year-old Algeria international has been at Bologna since 2011, when he joined from Grenoble.

14:28 BST: Paris Saint-Germain midfielder Thiago Motta has warned any midfield arrivals at the French club that they'll face stiff competition for places. Yohan Cabaye is of course linked to a move to Paris.

14:12 BST: Not for the first time this summer it appears Greek winger Charis Mavrias is set to become a Sunderland player. The Black Cats had previously pulled out of a deal to sign the player, but following Paolo Di Canio's admission his side needs more bodies, it seems the club have opted to push ahead with a deal worth an initial £2.5million.

13:58 BST: SportsDirect News report that West Brom boss Steve Clarke could be ready to make a move for Chelsea winger Victor Moses. With the 22-year-old Nigeria international finding himself way down the pecking order at Stamford Bridge after the signing of Andre Schurrle, and the return of Kevin de Bruyne from his loan spell at Werder Bremen.

13:40 BST: Goal.com claim to have details on Spurs' deals for Willian and Lamela. They claim a £60million double swoop is on the cards, with Lamela getting £65,000 a week in wages on a five-year deal.

13:33 BST: Spurs have started quite a Twitter storm today. "Willian" and "Tottenham" have been trending for most of the day.

As elsewhere, Tottenham in pole position to sign Willian from Anzhi in deal worth around £30m. More @BBCSport soon #bbcsportsday #thfc #lfc

— David Ornstein (@bbcsport_david) August 20, 2013
13:26 BST: Here's the full story on Real Madrid lining up Granada left-back Guilherme Siqueira, in order to replace the departing Fabio Coentrao, thwarting the efforts of Liverpool and Everton to sign the Brazilian defender.

13:17 BST: AS report that Fiorentina attacker Adem Ljajic has signed a pre-contract with AC Milan. Meaning Spurs, Atletico Madrid, and Liverpool have misse dout on the Serbian international. Watch his talents below, best viewed with no sound.

13:00 BST: BBC's Ben Smith thinks Spurs' reported deals are close.

Spurs now look set to complete moves for Wilian and Erik Lamela. Anyone would think they were about to come into some money.

— Ben Smith (@BenSmithBBC) August 20, 2013
12:52 BST: STV Sport report that Benfica will look to sign Celtic goalkeeper Fraser Forster, for a fee of around £6million. The England 'keeper has also been linked to Sunderland.

12:38 BST: According to talkSPORT, Stoke are interested in signing former Liverpool midfielder Momo Sissoko. The Mali international, who spent three years at Anfield before leaving to join Juventus in 2008, currently plays for Paris Saint-Germain.

12:20 BST: AS are still reporting that Guilherme Siquiera will move to Madrid, to replace Fabio Coentrao. Siqueira has been left out of the Granada squad so far, and Madrid play at Granada next week, which should give the clubs a chance to talk over the move. Liverpool and Everton have also been linked to the left-back.

12:03 BST: Di Marzio yet again has more information. He says Gareth Bale is close to a €93million move to Real Madrid, with Faio Coentrao joining Spurs. What a day this is turning into. Okay, Di Marzio has since tweeted to say the Bale deal is actually £93million, not Euros.

Gareth #Bale very close to @realmadrid: deal with @SpursOfficial for 93€. And #Coentrao probably will join spurs. #footballtransfers

— Gianluca Di Marzio (@dimarzio) August 20, 2013
12:00 BST: Now to Spurs' north London rivals. Arsenal are reportedly interested in Valencia goalkeeper Vicente Guaita, according to Superdeporte. Valencia would probably be happy to sell as they have two good goalkeepers, including Diego Alves who started last weekend. A local paper says an Arsenal rep will be in Valencia today to discuss the deal, but no more details or word of fee.

11:50 BST: DONE DEAL! Sunderland youngster Billy Knott has joined League Two side Wycombe Wanderers on a short-term loan deal.

11:43 BST: Two big names have dominated this morning. Willian and Lamela. Check out some reports on all the news. The Daily Mail, SportsDirect News, talkSPORT, The Daily Mirror, and The Daily Star.

11:37 BST: So much information coming through regarding Willian. Di Marzio now says Spurs bid €35million for the attacker last night, with Willian now in London for a medical.

Update on @willianborges88: @SpursOfficial offered in the night 35€ to #Anzhi and is close to sign brazilian (now in London).

— Gianluca Di Marzio (@dimarzio) August 20, 2013
11:36 BST: A move for Geoffrey Kondogbia could still be on with mega-rich Monaco looking more likely than Arsenal according to reports in France. The Ligue 1 club have already had a €13.5million bid turned down according to reports.

Sevilla are still saying he wont go for less than €20million: "Sevilla is not negotiating and the only option is his clause. If Monaco arrive and pay that it is because Kondogbia has given his okay, but that has not happened. What he wants is to play."

Further reports filtering through now say a deal could be very close for Kondogbia and Monaco. But Sevilla are desperate to keep him for one more season and sell for a higher price next summer.

11:18 BST: Reports from Spain say that Valencia have signed Dorlan Pabon, by paying the Colombian striker's €7million buy-out clause, but there's not been an official confirmation from the club as of yet.

The 25-year-old has apparently already done his medical at his previous club Monterrey, and is due in Valencia tomorrow or Thursday. Monterrey president Luis Miguel Salvador "We have to look at things so that what has to be done is done. The payment must be with us in the coming days and once that is done, as is stipulated, the player is free to join somebody else. There is nothing we can do about it."

Valencia coach Miroslav Djukic said this last weekend: "Pabon is the type of player we are looking for."

11:02 BST: So many tweets, so little time. The Post journalist Francesco Costa doesn't think Lamela will leave Roma unless the bid is astronomical from Spurs.
It seems more likely that Spurs sporting director Franco Baldini is using the help of his old club Roma, to show Anzhi they have more options than Willian. Helps with negotiating fees, that another option is available for Spurs. Or perhaps Spurs really will sign both players.

(io Lamela non lo venderei, salvo cifre enormi, ma il fuoriclasse impossibile da sostituire era Marcos, non lui)

— Francesco Costa (@francescocosta) August 20, 2013
10:57 BST: Also, Sky Italia journalist Gianluca Di Marzio says Roma officials are in London regarding the Lamela to Spurs deal. Earlier reports said the player's representatives would be in London today, but now it seems they will be joined by Roma's key men as well.

Quindi anche la @OfficialASRoma è a Londra con entourage di #Lamela. E non in vacanza, suppongo. Attendiamo sviluppi...#calciomercato

— Gianluca Di Marzio (@dimarzio) August 20, 2013
10:54 BST: Marco Verratti has signed a new contract at PSG. The young Italian will be staying in France until 2018.

#Verratti signe la prolongation avec le #Psg "@donatodicampli: Accordo firmato ... al Psg fino al 2018 pic.twitter.com/dn8yfjqC33"

— Simone Rovera (@SimoneRovera) August 20, 2013
10:51 BST: Barcelona are close to finalising a deal for Denis Suarez, the U20 Man City attacker, for a fee in the region of €1.5million. The youngster would join the Barca B team in the Segunda Division. This deal has been on the cards for some time now, but continually stalls, however it now seems Suarez will get his move.

10:38 BST: SportsDirect News with one of the more unlikely stories of the day. They report that Arsenal are preparing an offer for Real Madrid goalkeeper Iker Casillas in a bid to strengthen their injury-hit and struggling back-line.

10:21 BST: Football-Italia reports that Torino are on the verge of finally signing a new goalkeeper with Gianluca Pegolo very close to the Granata.

10:12 BST: Southampton's new record signing Pablo Osvaldo said this yesterday:
"I couldn't stand the atmosphere I was living in, the Roma fans treated me really badly and I don't know why. Southampton really wanted me, I'm delighted to work under Pocchettino again."

10:00 BST: From last night, John Cross of The Daily Mirror wrote about Arsenal's pursuit of Cabaye. But he also mentioned that they may try to nab Micah Richards away from Manchester City.

09:40 BST: Here's the cover of AS for you as well. Interesting stuff. You can see the other front pages from Spain on Footall-Espana.

Diario As's cover: "Raúl: Bale is amazing but his price is too high." pic.twitter.com/Enmq1Tvx0R

— Real Madrid Info (@RmadridInfo) August 20, 2013
09:35 BST: Today's front pages from Italy.

Today's front-page headlines from La Gazzetta dello Sport, the Corriere dello Sport and Tuttosport. http://t.co/ilxqmKqz0X

— footballitalia (@footballitalia) August 20, 2013
09:29 BST: The Daily Star reports that Reading are leading the race to sign Werder Bremen's Nigerian striker Joseph Akpala. The 26-year-old joined Werder in 2012 from Club Brugge.

09:12 BST: Antoine Griezmann says Lyon is "my club" as he prepares to face them in a Champions League play-off for Real Sociedad. The French youngster has been linked to clubs across Europe after impressing in La Liga last season.

08:51 BST: More info on Willian for you. Should Spurs sign the Brazilian or get the youngster Lamela...surely not both.

Well, it seems to be Spurs. They're favourites to get Willian from what I've heard. Should be decided in the next couple of days.

— Artur Petrosyan (@arturpetrosyan) August 20, 2013
08:48 BST: More Spurs news. According to ForzaItalianFootball.com, Erik Lamela's representatives are set to meet with Tottenham today as the Londoners look to secure a move for the Roma forward.

08:31 BST: Latest on Willian's future. Tribuna.com have an article about it (you'll need to translate it unless you speak Russian).

Tottenham have reached principal agreement with Anzhi for Willian, med exam and personal contract still to be arranged (per @ANobelito).

— RussianFootballNews (@RusFootballNews) August 20, 2013
08:20 BST: In case you missed it yesterday, Arsenal had a bid of £10million rejected for Newcastle midfielder Yohan Cabaye. Here is today's news on the deal via Matt Spiro.

#PSG will step up pursuit of #NUFC midfielder Yohan Cabaye after Arsenal interest emerged, but #AFC favourites to get him, say L'Equipe

— Matt Spiro (@mattspiro) August 20, 2013
08:15 BST: New Spurs signing Etienne Capoue tells football365.fr that his new club allowed him to make the next step, not Cardiff, the other Premier League that had a bid accepted for the midfielder. He also praised teammate Hugo Lloris as the best goalkeeper in the world.

03:48 BST: DONE DEAL! A-League club Perth Glory have signed former Socceroo Ljubo Milicevic on a one-year deal. The 32-year-old – who has played Champions League football with Swiss side FC Thun – returns to the Glory after playing for the club in the old National Soccer League. Milicevic has previously played for A-League clubs Melbourne Victory and Newcastle Jets but has recently been playing with Victorian Premier League side the Melbourne Knights.

Real Madrid are moving closer to capturing Tottenham attacker Gareth Bale with the Daily Star reporting the Spanish club are keeping the number 11 shirt free for the Wales international. Speculation linking Bale with a move to La Liga refuses to lift from White Hart Lane with the 24-year-old's absence from the starting-XI continuing rumours of his exit from the Premier League. And now it has been revealed the number 11 shirt, Bale's squad number at Spurs, is being left vacant for his arrival at Madrid. Portuguese defender Ricardo Carvalho was the last to wear the shirt at the Bernabeu, but he has since moved onto French club Monaco.

Manchester United will not give up on their pursuit of Everton pair Leighton Baines and Marouane Fellaini despite the Toffees claiming the Red Devils initial bid for the duo was "derisory and insulting". According to The Telegraph and the Daily Mail, United will quickly come back with an improved offer in a late attempt to strengthen the reigning Premier League champions. The Telegraph is reporting United boss David Moyes will raise the offer for his former players to £35 million, while the Daily Mail believes Moyes could enrage Everton with any further bids and, along the way, may destroy his image at Goodison Park.

And finally, Liverpool are set to announce the imminent loan signing of Aly Cissokho according to The Sun. Reds manager Brendan Rodgers has long been rumoured to be interested in the Valencia defender, with current left-sided defender, Jose Enrique, under no competition at Anfield. But with France international Cissokho expected to finalise terms after completing his medical with a view to a permanent £5 million deal, Rodgers finally has the squad needed to battle for Premier League honours.