Transfer news LIVE: United chase not running out of Fabre-gas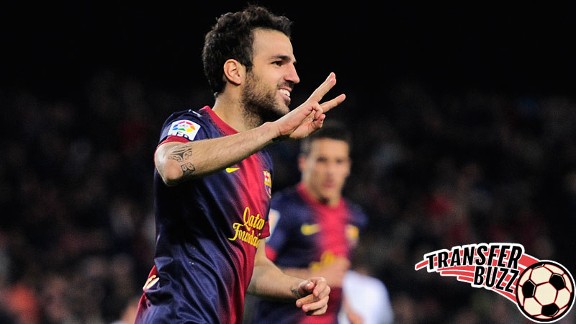 AssociatedManchester United are not giving up the chase for Barcelona's Cesc Fabregas.
Manchester United are still chasing Cesc Fabregas, Arsenal are still chasing Luis Suarez and Tottenham are still spending money.

23:59 BST: That's a wrap for Thursday's transfer goss, stay tuned for a new edition of On The Move.

23:55 BST: Liverpool's hopes of signing Anzhi midfielder Willian have improved, with the Brazilian telling ESPN Brasil: "Now I'm waiting for a new bid to arrive in the next days from a few clubs, like Liverpool. If it's really Liverpool, then it is surely a great club. I'm hopeful and very calm, just waiting for the best."

21:17 BST DONE DEAL: Esteban Granero has joined Real Sociedad on a season-long loan move from Queens Park Rangers, the Championship club have confirmed.

20.40 BST: Nemanja Vidic has given David Moyes and the Manchester United hierarchy his backing as they deny Wayne Rooney a move and he believes they will bring the transfer saga to a satisfactory conclusion.

20:04 BST: Another update on Aston Villa striker Darren Bent, and he is on the verge of joining Fulham on loan with current boss Paul Lambert insisting the forward will leave his club on good terms.

"He's just away down to Fulham," said the Villa boss. "I think it's well-documented now that he's down there having a medical and that's the last I've heard."

19:01 BST: Crystal Palace manager Ian Holloway has admitted the club are having to force the issue of signing new players as he does not have the luxury of a deep squad - and that they are likely to miss out on signing Darren Bent from Aston Villa.

17:50 BST DONE DEAL: Cardiff City midfielder Joe Ralls has been snapped up by Championship new boys Yeovil Town.

16:30 BST: Esteban Granero's agent has spoken with AS about a season long loan move from Queens Park Rangers to Real Sociedad. "There are still differences, but on our part we are giving a lot. If it continues like this, there should not be any problems for everything to be sorted out. Esteban is very excited about the project at la Real." La Real vice-president Txuri-urdin also went on record about the possible deal, "In the coming days there could be news about a midfielder, very well known in La Liga, who is playing abroad at the moment."

16:12 BST: Wolfsburg general manager Klaus Allofs has denied claims the Luiz Gustavo transfer is a done deal but told kicker: "The odds are in our favour." FULL STORY HERE.

15:57 BST: In an interview with sport10.at, Marko Arnautovic claims he has not talked to other clubs. The Werder Bremen attacker had been linked closely with Napoli. The often controversial forward has been described as another "Mario Baoltelli" in terms of personality, which has left a number of clubs unwilling to sign him.

15:39 BST: Hamburg right-back Dennis Diekmeier, 23, has turned down a contract offer and wants to see out his 2014 contract, then leave the club on a free. Bild reports, Diekmeier had been offered €1.5million and when the paperwork was nearly done and only a signature needed the salary was cut to €1.2million with bonuses.

15:10 BST: Sky Sports report that Scotland defender Alan Hutton has conceded that his future lies away from Aston Villa but has yet to hear of any offers.

14:55 BST: Ateltico Madrid manager Diego Simeone answered a question about transfer target Adem Ljajic at a press conference yesterday: "I do not talk about people who are not with us. I am only concerned with Sevilla [first game]. He is a good player. All the players which big teams are interested in are good players. Until the market closes we are open to exits and arrivals. That is football. We are used to it."

14:40 BST: Staying in Germany, Bayer Leverkusen are still looking for a potential replacement for Stefan Kiessling. 19-year-old forward Arkadiuzs Milik, who joined the club in the winter, has not developed like expected and coach Sami Hyypia fears that an injury to Kiessling could be very dangerous for the club. "If he gets injured we have a problem," Hyypia said. Kiessling was the Bundesliga's top scorer last season with 25 goals.

14:28 BST: Borussia Dortmund midfielder Ilkay Gundogan's contract talks have stalled, Ruhr Nachrichten reports. The highly-rated 22-year-old was set to sign a new deal, but numerous clubs across Europe will be rubbing their hands at the prospect of signing him from the Champions League finalists.

13:52 BST: DONE DEAL! Crystal Palace have announced the signing of goalkeeper Neil Alexander on a free transfer.

13:35 BST: Daniel Levy will make his final pitch to persuade Gareth Bale to stay at Tottenham in the next 24 hours by telling him big names are coming in. Those names could include Willian, Erik Lamela and Christian Eriksen, according to The Daily Express.

13:18 BST: A bit more from Martin Jol for you. He also said he wants John Arne Riise to stay.

Our Manager also stated that he hopes to see Mahamadou Diarra back in a Fulham shirt #ffc #coyw

— Fulham Football Club (@FulhamFC) August 15, 2013
13:15 BST: Perhaps a deal for Darren Bent is further away than previously expected.

Jol confirms Darren Bent is on his list, but declined to comment on speculation #ffc #coyw

— Fulham Football Club (@FulhamFC) August 15, 2013
13:05 BST: DONE DEAL! Derby County striker Theo Robinson has joined Doncaster Rovers for an undisclosed fee.

13:00 BST: 21-year-old Alexander Merkel says he may have to leave Udinese because he doesn't feel the coach wants him. His agent has had offers from Russia and Germany, but he tried to fight for a place, although he doesn't think he has succeeded. He only joined the club in January this year from Genoa.

12:45 BST: Sky Sports are reporting that Tottenham and Liverpool have been dealt a blow in their pursuit of Christian Eriksen with his agent saying the Ajax player will only move to a Champions League club.

12:14 BST: Manchester United are being continually linked with a £40million move for Real Madrid star Mesut Ozil. It seems very unlikely at this point, but the abundance of midfield talent at Madrid could see one of their midfielders leave. Sami Khedira has also been linked away, according to Radio Montecarlo, Sami Khedira's agent contacted Paris Saint-Germain to tell them that their client is willing to leave Real Madrid. The two Germany internationals both joined Real Madrid in 2010.

11:50 BST: Sevilla are close to signing Vicente Iborra from Levante to replace Gary Medel in midfield. The clubs have reportedly agreed a €6 million as the deal looks likely to be completed today.

11:40 BST: Andre Villas-Boas says Tottenham are not finished with their business in the transfer market, reports talkSPORT. Here are the all-important quotes from the Portuguese:

"We have been very active in the transfer window, not just players coming in, but players going out. The ultimate objective is to make the team stronger than the year before. We couldn't manage to get in the top four spot we wanted [last season]. Our ambition stays the same and for that to happen we have been very, very active in the transfer window. We are trimming down the squad to make it strong. We haven't finished our business. We will continue to be active and hopefully have the team ready in the next few weeks."

On Gareth Bale: "This is a player of great importance for Spurs and a player we are not willing to negotiate for. We recognise the interest from other clubs but we can't do anything at this stage."

11:28 BST: David Moyes has said Manchester United are making efforts to sign several players and is confident they will be able to add to their squad before the end of the transfer window. FULL STORY HERE.

11:15 BST: According to The Daily Star, Arsenal are ready to make an improved bid of £49million for Liverpool striker Luis Suarez. However, SportsDirect News are reporting that Arsenal will actually break the British transfer record with a bid of £51million.

10:59 BST: The Telegraph reports that Darren Bent is expected at Fulham for a medical after Martin Jol made a late bid to hijack the England international's move to Crystal Palace. It look like the announcement of this signing could be imminent, so expect something by the end of the day, or perhaps early tomorrow. According to the report, the deal will be for a season long loan.

10:40 BST: Talking to BBC Sport, Everton manager Roberto Martinez says he does not expect to lose any of his key players in the transfer window, as he has received no bids for them.

10:28 BST: Spurs manager Andre Villas-Boas has confirmed that Gareth Bale will miss the first couple of games of the new season through injury. He's missed a lot of pre-season, and of course is consistently linked away from the club. But he expects Bale to return. However, as he will be missing some of the opening fixtures, you may want to take him out of your ESPN FC Fantasy team for now.

10:12 BST: Gazzetta dello Sport are reporting that Roma officials have informed Spurs technical director, formerly of Roma, Franco Baldini that they wish to keep Erik Lamela and have tried to persuade him to buy Pablo Osvaldo instead. Of course more news has emerged today that Southampton may try to bring Osvaldo to England.

10:00 BST: So much news this morning. Let's hope it continues through the day.

CONFIRMED: @FCAugsburg have signed former @borussia striker Raul #Bobadilla: http://t.co/ZfMrfoccqE

— GOAL! Bundesliga (@Bundesliga_GOAL) August 15, 2013
09:58 BST: Now for the latest on Gareth Bale. According to AS, Spurs will accept €110million for Bale, with one of young attackers Jese Rodriguez and Alvaro Morata in the deal.

Fabio Coentrao is still being talked about, but the two clubs differ in valuations. Real Madrid say he's worth €25million, Spurs on the other hand say Coentrao is worth less than €20million. It's probably worth bearing in mind that Madrid paid €30million for the Portugal international two summers ago.

Meanwhile, Marca say this is the "Final Sprint" regarding Bale. They reckon he plans to chat with Daniel Levy on his return to London from international duty to try and force the deal through.

09:49 BST: Fellaini to stay then?

Roberto Martinez confirms buy-out clause in Marouane Fellaini's contract has expired #SSN

— Sky Sports News (@SkySportsNews) August 15, 2013
09:41 BST: Check out the front pages from Spain and Italy this morning, courtesy of Football-Italia and Football-Espana. They feature news on Gareth Bale, Alessandro Matri, Lorenzo Insigne, and Gonzalo Higuain.

09:32 BST: Pablo Osvaldo would be a huge signing for Southampton.

CdSport claim Southampton have offered Roma €18m for Osvaldo. Now up to the player. Reunion with Pochettino? We'll have to see

— James Horncastle (@JamesHorncastle) August 15, 2013
09:25 BST: Manchester City are likely to reject any offers for Edin Dzeko despite reports Arsenal are keen on the Bosnia striker. FULL STORY HERE.

09:10 BST: The Daily Mirror reports that Spurs are also after Blackpool's Tom Ince, who is priced at around £8million. There are numerous other players they are also linked with., but this report is based on Queens Park Rangers signing Andros Townsend from the north London club, meaning Spurs will want another back-up winger.

09:00 BST: The Valentin Stocker transfer from FC Basel to Schalke is approaching finalisation. Blick.ch reports that Basel have already eyed Grasshopper's Izet Harovic, 22, as a Stocker replacement.The deal expected to go through after the Champions League qualifiers.

08:48 BST: It's all happening this morning.

As first revealed by @StuartJamesGNM, it seems Darren Bent is heading to Fulham this morning for a medical #ffc #avfc

— John Percy (@John__Percy) August 15, 2013
08:40 BST: There it is! Capoue is a Spurs player.

We are delighted to announce that we have reached agreement with Toulouse for the transfer of Etienne Capoue. #THFC pic.twitter.com/ZTmPU3QZRY

— Tottenham Hotspur (@SpursOfficial) August 15, 2013
08:33 BST: Expecting the announcment of Etienne Capoue's transfer.

We have some news for you in the next 10 minutes. Find out here first... #THFC

— Tottenham Hotspur (@SpursOfficial) August 15, 2013
08:24 BST: Reports everywhere in Germany say Arsenal target Luiz Gustavo should complete a move to Wolfsburg today. The transfer was reportedly done "at Martin Winterkorn's special request," he is the Volkswagen boss and on the Bayern Munich board. The fee is believed to be between €15million and €20million. Reports suggested that Arsene Wenger was not prepared to pay the transfer fee for Gustavo, which is sure to infuriate Arsenal fans.

06:23 BST: PSG centre back mamadou Sakho wants to join Barcelona, but the French champions are reluctant to let him go, Spanish newspaper Sport reports.

05.50 BST: According to the Daily Mail, Manchester City have told Arsenal that their striker Edin Dzeko is not for sale.

Barcelona say Cesc Fabregas is not for the sale, the player himself has said he only dreams of playing for the Spanish champions but Manchester United are refusing to give up the chase. According to the Daily Mail and The Telegraph, United are planning one final bid for the Spain international, believing that this time, they can indeed lure Fabregas back to the Premier League. The Daily Mail is reporting that United will propose one last bid in excess of £32 million should Fabregas start the new La Liga season on the bench, while according to The Telegraph, United are not convinced the former Arsenal captain is completely happy back at Barcelona and is harbouring doubts about his chances of playing regular first-team football with the Catalan giants. All eyes are fixed on the Nou Camp. Meanwhile, the Mirror is reporting that United are hoping to add Samuel Eto'o to their roster for the upcoming season. Chelsea had been favourites to snare the former Inter Milan and Barca striker, but United officials believe they can lure him to Old Trafford instead.

Another drawn-out saga that shows no signs of ending any time soon, is that of Luis Suarez, with the Uruguay international's recent comments not ending the speculation that Arsenal will prise him away from Liverpool. According to the Mirror, Gunners boss Arsene Wenger hasn't given up hope of signing the 26-year-old, despite Wednesday's reign of confusion over a number of reports saying he would stay with the Reds. On international duty, Suarez was said to be willing to re-sign with the Anfield club before quickly claiming he never made those remarks. However, there is no confusion in Wenger's mind as to where Suarez wants to play, the Frenchman still hoping he can add the prolific Suarez to the club's armoury.

Finally, Tottenham's summer of spending is showing no sign of slowing down with The Telegraph claiming the north London club are interested in bringing Roma striker Erik Lamela to the Premier League. Tottenham have brought in Roberto Soldado, Paulinho, Nacer Chadli and are close to announcing the capture of Etienne Capoue, but with Real Madrid still hunting Gareth Bale, Spurs are desperate to add another attacking option. Enter Lamela. The young Argentina international has been hit since moving to Italy from River Plate in 2011 and is seen as one of the club's main strike weapons for the upcoming Serie A season. But Tottenham believe a £20 million bid should be enough to tempt the Romans to part with the 21-year-old.