Rumoured Relations: Marco Borriello and Madalina Ghena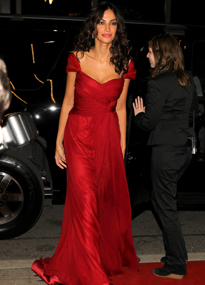 GettyImagesActress Madalina Ghenea
Word on the street is AS Roma striker Marco Borriello, who you may recall once blamed his girlfriend's STD cream on his failure to pass a drugs screening, has been dating Madalina Ghena on the down low for the past few weeks.

Prior to (supposedly) coupling up, Miss Ghena was seen PDA-ing around Europe with Gerard Butler (yes, that Gerard Butler) while Mr. Borriello spent his summer cavorting in Ibiza with Victoria Secret model Izabel Goulart.

In other words, if there was a Serie A version of Gossip Girl, this would be it.