WAG Watch: Abbey Crouch huffing and puffing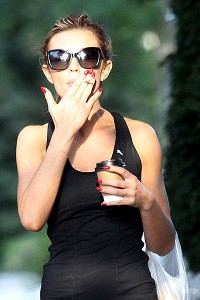 Courtesy WENNAbbey Crouch grabs a smoke on her way back from the gym.
Abbey Crouch was recently papped smoking a cigarette in gym clothes. She's busy 'training' for her upcoming appearance on Strictly Come Dancing, the UK's response to the American reality comp, Dancing with the Stars.

Peter's missus also recently found her missing cat, something she was soooo happy about (as for Maggie the kitty? Not so much).

So which is the bigger story here?

I think we all know the answer to that question.