The dilemma at the heart of Norwich City's ambitious expansion plans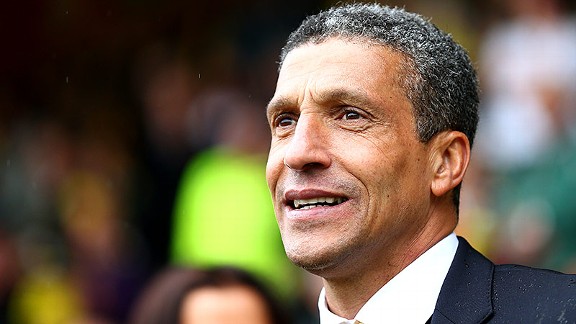 Clive Mason/Getty ImagesNorwich City manager Chris Hughton has stocked up on European talent this summer.
Chris Hughton's tactical nous and ability to meld a group written off as also-rans defined Norwich's Premier League survival last season. City's ambitious summer spend is now set to test his diplomacy skills.

The Canaries show no visible signs of easing up on the recruitment drive after Blackburn's Swedish international Martin Olsson and experienced keeper Carlo Nash joined Ricky van Wolfswinkel and Nathan Redmond at Carrow Road for the new campaign.

- Norwich sign Martin Olsson

Dutch-based talents Leroy Fer and Toby Alderweireld have both spent time in the fine city in recent days discussing potential moves after City met their respective employers' valuations. Juventus' Fabio Quagliarella is a name that has been catapulted into the mix from left field in the wake of Ola Toivonen's decision to reject the club's advances.

Grant Holt, along with 11 other professionals, have left in the opposite direction. Hughton appears intent on swapping homegrown for high class continental talent. The coming hours will dictate how successful City's latest push for additions has proved, but you can rest assured Hughton and the Canaries' hierarchy will have a long list of potential alternatives if they are frustrated in their on-going courtships.

Norwich's trading is a signal of intent. Safety will again act as base camp, but the extent of their ambition is limited only by the levels of expenditure a now solvent club is willing to broker in transfer fees and personal terms. Wherever that spirit level finally settles, Hughton is experienced enough to realise an enduring survival struggle would be a poor return for a squad where the number of internationals appears to rise exponentially with each victorious tilt at sustaining top flight longevity.

But here is the troublesome conundrum at the heart of City's evolutionary policy. More options and deeper quality within the ranks carries an attendant danger of greater levels of frustration as Hughton attempts to keep all his front rank players firmly onside. Norwich's manager will again try to fashion all the pieces into a cohesive unit capable of continuing the upward curve. That inevitably consigns swathes of his squad to the shadows until injury or suspension intervenes.

Hughton alluded to this issue at the start of the summer. Even with all his vast experience as a coach and now manager, one of the most difficult aspects of his job is retaining that group ethic, that the team remains the focus when talented young men find themselves in support roles; particularly when they have been used to starting games. That is not a slight on Norwich's collective, that is human nature and the reality top class footballers are also top class commodities with coteries of interests.

The Premier League is truly a squad game these days but no amount of finance can insulate Hughton from such potential downsides of exciting and expensive multi-million forays into the market. Rivals competing in Europe on a cyclical basis are conditioned to accept squad rotation as a requisite policy to cope with the sheer volume of games. Norwich's re-modelled dressing room may increasingly have to accept that is the price for expansion.