Holt's Norwich legacy will be deep and lasting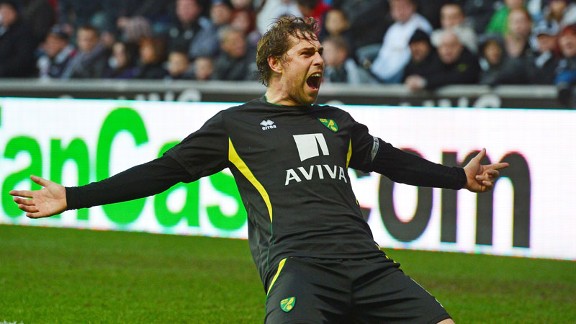 GettyImagesHolt's heroics in Norwich colours will help his legacy last
Grant Holt was much more than a goalscorer supreme for Norwich City, he was an emblematic talisman of the Canaries' revival.

The bittersweet sub-plot to City's seismic club record purchase earlier this summer of young Dutch striker Ricky van Wolfswinkel was to render Holt's pending exit inevitable.

There is room for only one spearhead in Chris Hughton's Premier League battle plan, and the highly-rated 24-year-old is very much the future. Holt's name will forever be etched in the club's glorious recent past. His exploits and those of a core of players largely written off by others around the circuit have unleashed a monster.

City's sights have been raised exponentially with each fresh conquest. Success is now measured in top flight longevity and transfer dealings in the millions. An upcoming pre-season tour of America's West Coast is all part of the drive to globalise their appeal - to tap into the plentiful resources and bask in the macro-economic benefits from membership of the richest club league on the planet.

Holt's career was fashioned in non league outposts, in the harsher terrain of the northern circuit where Barrow and Workington offered a less refined finishing school. The ex-tyre fitter's time at the very top has seemingly passed with Monday's confirmation of a three-year deal to join Championship club Wigan. Holt may still plunder goals in numerous quantities in the less challenging environment of English football's second tier, but should the Latics make a swift Premier League return it is doubtful he could again rival his 15-goal haul in the Canaries' debut season back among the elite.

A messy contract stand-off last summer tarnished his status with the terrace population. A fourth consecutive player-of-the-year award was never likely to materialise after Hughton's re-brand which dramatically reduced Holt's goalscoring potential in pursuit of the greater good.

Yet the 32-year-old's final year in green and yellow should not dim the majestic achievements that helped propel City from the depths of League One. Holt's predatory instincts, his brave leadership, his pervasive influence inside the Norwich dressing room and his bullish approach to dragging City into the Premier League and keeping them there ensure the fullness of time will shed a warm afterglow on his legacy.

Holt's derby heroics, and at times his single-handed bludgeoning of bitter Suffolk rivals Ipswich Town, will forever reserve him a special plateau in Canary mythology. The critics who mocked him as a bustling, unsophisticated battering ram miss the point. He exhibited all those traits and so much more. Holt's game contained enough refinement to cause problems for the very best. John Terry and Rio Ferdinand were memorably both mauled in bruising encounters during City's first fearless tilt at the Premier League.

Holt's personal story fitted the fairytale narrative of Norwich's rise. City's loyal support should need no reminder of the immense debt they owe to a character who was never that far removed from themselves. Holt's allure and mass appeal was in his accessibility. That connection and those strong bonds to those who idolised him remained despite his intention to quit 12 months ago. A new contract duly arrived, but time had moved on for both parties.

Norwich as a club now harbours loftier ambitions than simple top flight survival. Men like van Wolfswinkel and Nathan Redmond are being tasked with carrying the baton forward. Holt's chapter is over. There is a vacancy for a new hero to emerge.