Chris Hughton has a conundrum to solve to sink Liverpool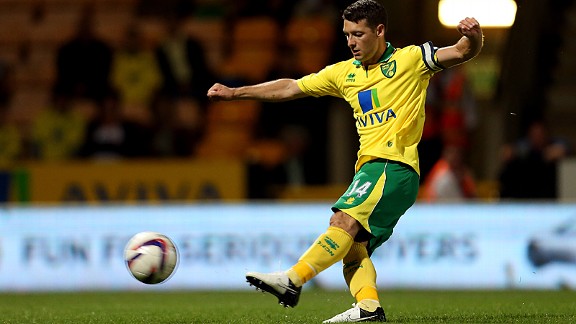 PA PhotosWes Hoolahan could hold the key to success for Norwich against Liverpool


Here's the deal, Chris. I see you're playing Liverpool in late September, the sixth game of your Premier League campaign. I know you're still in preseason and a ball hasn't been kicked in anger, but what if I say to you here and now the Canaries will be one place higher in the table than the visiting Reds at Carrow Road that weekend?

One suspects Norwich's manager could not have snatched the pen out of my hand quick enough.

Yet the fact both clubs are still winless and hovering towards the lower reaches says more about Brendan Rodgers' ongoing struggle to translate a stylish philosophy into tangible league results. After all, the two camps have wildly different expectations: Norwich's aim is survival, while Liverpool's fabled pedigree demands they succeed and flourish amongst the aristocracy of the top five or six.

After spending some time in Hughton's company on Thursday, you can rest assured the people who matter at Norwich City will not be lulled into a false sense of security this weekend. The bald statistics suggest Norwich cannot score goals and Liverpool have a propensity to leak them. A goalless match made in heaven.

Hughton is a huge admirer of Rodgers' stylish beliefs. The City boss is convinced it is only a matter of when - not if - the five-time champions of Europe climb the table. Rodgers may have had to fast-track young talent from the Reds academy to compensate for a rather strange bout of transfer activity that saw Andy Carroll depart and Clint Dempsey divert to Tottenham, but he still has a quality core.

Hughton was also right to point out that every Premier League manager knows how Rodgers will want to set his side up - not a charge of predictability against him, but rather a reaffirmation of the Northern Irishman's faith in the power of passing rhythms.

Therefore, what Norwich do without the ball will be as vital as with it. Liverpool would expect to dominate possession, execute the pass and move and rotate Norwich out of position with the aim of finding Luis Suarez in the mood to reprise his finishing masterclass at Carrow Road last season - back then, the Uruguayan striker made the headlines for all the right reasons following a sublime hat trick.

Norwich's midfield unit will need to display heightened levels of cohesive concentration and retain their shape and discipline as Liverpool look to break them laterally. City midfielder Robert Snodgrass was right when he cautioned on Thursday that the onus remains on the home team to force the pace. Be submissive against the Reds and Norwich face a long afternoon chasing shadows.

Herein lays Hughton's thorniest dilemma. Norwich go into the game with just two goals in five Premier League matches and having lost Tottenham loanee Harry Kane to a foot injury after he was stretchered off in the midweek Capital One Cup win over Doncaster.

The bold option is to stick with two out-and-out front men but without regular service, you risk feeding Grant Holt and Simeon Jackson on meagre rations. Hughton opted for a lone front man in Steve Morison at Newcastle last weekend, supporting him with Wes Hoolahan in a linkage role. City's Irish spark showed flashes of his virtuoso best on his first Premier League start of the new season. Cohabiting in close proximity with the likes of Hatem Ben Arfa and Yohan Cabaye, the less heralded Dubliner never looked out of place or his depth.

Norwich's chances of putting even more daylight between themselves and the Reds may hinge on Hoolahan's ability to reprise his starring role. We know how Liverpool will approach the task. The imponderable ahead of match day is Norwich's antidote.