Van Wolfswinkel ready to shine on big stage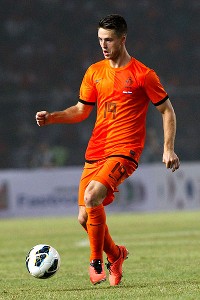 AP Photo/Tatan SyuflanaRicky van Wolfswinkel played for the Netherlands in a friendly against Indonesia last month.
Ricky van Wolfswinkel had the swagger of a young footballer who knows his own value.

Norwich City have pitched that figure in the region of 8.5 million pounds. A club-record transfer fee to dwarf the sums lavished previously on strikers such as Dean Ashton and Rob Earnshaw -- both decent domestic operators in their own era. Earnshaw was a solid performer. Ashton was in the top rank of bustling English centre forwards until injury cruelly intervened before he got anywhere near his peak.

But van Wolfswinkel's pedigree and potency mark him out as a cut above in the Canaries' recent history. The composed Dutchman himself said the fee was less a millstone and more a motivation when he was officially unveiled on Monday at Carrow Road.

City actually secured his services back in April when Sporting Lisbon's financial woes and presidential instability paved the way for an audacious coup from Norwich's top brass. But July 1 was always the watershed moment; the tangible first glimpse of the 24-year-old in a Canaries' yellow shirt posing with the obligatory scarf pitch-side at Carrow Road, which is undergoing some serious structural surgery to equip City for another season in the Premier League.

The Jarrold Stand is a mass of scaffolding at present, with work now underway to sate the demands of an insatiable global media and their thirst for ever-expanding swathes inside English top-flight stadiums to relay messages to the masses.

One expects this precociously-gifted Vitesse Arnhem youth product to attract plenty of headlines in his debut English season. Van Wolfswinkel exuded confidence and the air of a man who will relish the intensity of the Premier League after his perhaps less physical exertions on the Iberian Peninsula.

Paying a transfer fee so stratospherically inflated in comparison to any previously lavished by the Canaries brings with it attendant expectation and a searing focus from supporters and the media. A glare magnified by his exposed position on the pitch and the inevitable weighting that will be attached to his personal return of goals.

Van Wolfswinkel already actually understands his role in this team. Just as in Lisbon, he will be the main man again, the one expected to carry the goalscoring burden. That is a lot of pressure to load on a player fresh to the English game. But each passing minute of a polished press conference felt like a contraction in the degree of gamble attached to Norwich's most eye-catching piece of transfer business.

The 24-year-old is not a wide-eyed innocent. He left Holland in his early 20s to hone his talent in Portugal, where he embarked on a prolific two-season spell. The responsibility he shouldered in a modest Lisbon outfit has equipped the striker with a maturity that hints the transition will be a smoother one that many other foreign imports.

Van Wolfswinkel has already recounted the story of how he would rush home from watching his father play to watch the Premier League every Saturday afternoon. Contemporaries such as Robin van Persie, Michel Vorm and Tim Krul have all provided him with the inside track on what lies in store.

Van Wolfswinkel himself made a scouting trip to Norwich back in March to meet Chris Hughton and his staff prior to agreeing terms. This is a man with a clearly defined sense of his own career destiny. England and Norwich feels right. RVW is ready for his chance to shine on what he himself labelled the biggest stage in club football. Lisbon's loss is likely to be Norwich's gain.