Norwich remember John Bond on an uplifting occasion for football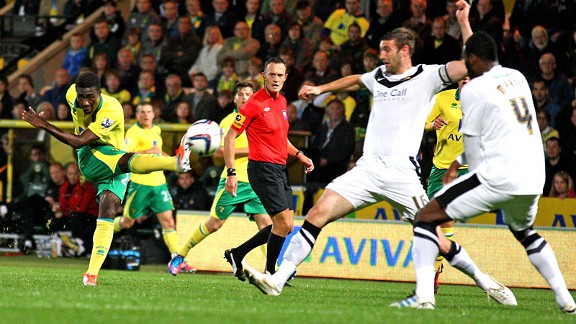 PA PhotosNorwich's Alexander Tettey scores his sides opening goal


Respect has to be earned. It is not just a label slapped on a campaign by the football authorities. However well-intentioned that may be.

English football shows a depressing lack of respect with every touchline managerial spat or pre-match hand shake saga, every instance of ritual abuse to the officials or the sick modern-day phenomenon of bile directed towards those within the game from faceless social media sources.

Which is why the impeccable silence observed by all those present on Wednesday night to honour John Bond's memory at Norwich City's Capital One Cup tie against Doncaster Rovers at Carrow Road was so uplifting.

It is depressing how far we have slipped as a society that the bare minimum memorial to a decent football man who devoted his life to the English game - and in particular will forever be remembered for his seven year sojourn in Norfolk - is worth chronicling.

Canaries' boss Chris Hughton referred to the solemn sense of occasion prior to kick-off and saluted the actions of not just Norwich fans but the small band of Rovers support. Only the camera shutters of the photographers pierced the silence.

Perhaps it was a strange way to reflect on the passing of the flamboyant Bond. A larger-than-life character who managed to transcend the football and media worlds long before the English game became fashionable.

Bond established Norwich as a genuine long-stay member of the old First Division and guided them to the League Cup final at Wembley in 1975. It was entirely fitting City's latest vintage should progress in the same competition on a night when everyone had also gathered to remember a manager whose Norwich legacy was framed by a fairytale League Cup run.

Bond built sides rich in attacking intent. Famously after a 5-4 defeat at Coventry in 1977 he was reported to have remarked he would rather lose such a thrilling contest than win a drab game 1-0.

Norwich's margin of victory over League One Doncaster on Wednesday night may have been slender, but there were signs the club's Premier League struggles in front of goal may about to change as they peppered Gary Woods' goal from start to finish.

Alex Tettey's first half match-winner was a wonderful piece of precision finishing from long range. Jacob Butterfield played his first 90 minutes since a summer move from Barnsley hindered by a long standing knee injury. The former England U21 international was nominally deployed on the right of midfield but cut in with dizzying regularity to offer support to Grant Holt and Harry Kane.

The one sour note on an uplifting night was the sight of Tottenham loanee Kane leaving the field on a stretcher. Initial reports suggest a possible broken metatarsal. A major blow for the teenager and Hughton's depleted striking stocks. Should Kane be absent for any concerted length of time Norwich's Premier League fate until the New Year will rest on the broad shoulders of Holt, Steve Morison and Simeon Jackson. Chris Martin did feature in a wide left midfield role but the Beccles-bred academy prospect is likely to have only a minimal chance to shine on the biggest stage.

But those issues can wait for now. Hughton has a Capital One Cup reunion to plan for against his old club Spurs. The City boss' contribution during a 17-year career as player and coach at Tottenham was duly noted when Norwich recently returned to White Hart Lane. Hughton deserved that show of respect. So too did John Bond.