Failure not an option for Hoolahan ahead of his Irish exam
Wes Hoolahan has earned his Irish audition. But the Norwich City midfielder appears to have a major task ahead to convince Giovanni Trapattoni he deserves a starring role.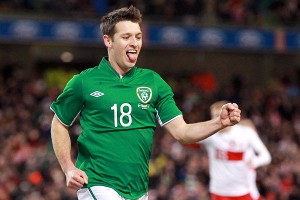 PETER MUHLY/AFP/Getty ImagesIs Norwich City's Wes Hoolahan getting a fair shake from Ireland coach Giovanni Trapattoni?
The 31-year-old will make the first start of his fledgling Republic of Ireland international career four years after his first cap in Sunday's Dublin friendly against Georgia.

Hoolahan's place has been confirmed in the lineup after a frustrating time on the bench in the 1-1 draw against England at Wembley in midweek merely underlined he is not part of the Italian's trusted inner circle.

One can only imagine what Hoolahan must have thought as a clutch of attacking midfielders and forward players were introduced as the second half elapsed. The former Shels' playmaker had to watch as players from Derby County and Nottingham Forest in the Championship were deemed better equipped to carry out Trapattoni's masterplan.

Hoolahan is one of the few genuine Premier League performers at the Italian's disposal. The Dubliner also finished the domestic campaign with a flourish as he played a pivotal role in Norwich's survival.

None of that seems to carry significant sway with Irish management, who have made frequent trips to Carrow Road since the Canaries returned to the top league two seasons ago. Trapattoni again reiterated in the aftermath of Hoolahan's latest snub he is acutely aware of the midfielder's unique talent, but harnessing that creative spark within the regimented team ethic continues to present an intractable problem.

Unless Hoolahan serves up a virtuoso cameo against the Georgians the suspicion remains he will be back on the bench when the meaningful World Cup qualifying test against the Faroe Islands comes around next Friday.

That is patently unfair on Hoolahan, who must feel he has to fight against the tide with the only man who matters within the Irish setup. Robbie Keane found himself deployed in that link role at Wembley between a retreating midfield and lone front-runner Shane Long. Keane is many things and has been a magnificent servant to his country, but the Irish captain has opted to ply his trade in the less searching surroundings of Major League Soccer.

Hoolahan has routinely dictated the course of Premier League games these past two years. Norwich's final-day win last month at deposed champions Manchester City had his stamp right through it. The Canaries' first and second goals at the Etihad owed much to Hoolahan's vision and passing ability.

The Republic's roster is simply not blessed with the type of player required to blossom on the international stage, when the emphasis is on technical proficiency.

Hoolahan is now at the very peak of his powers. Trapattoni's commitment to youth against England was admirable, but if the Republic manager wants to guide his adopted country to next summer's World Cup in Brazil, it would be advisable to find more than a bit part role for Norwich's talisman.