Norwich City's stability is an envious quality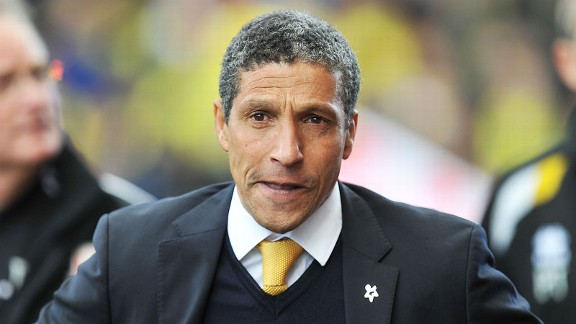 PA PhotosChris Hughton essentially overachieved at Norwich this season, given the resources at his disposal
Stability might not be sexy in modern football, but Norwich City should be thankful they have the dependable Chris Hughton in charge.

The imminent departure of Roberto Martinez from Wigan will push Hughton another notch up the managerial escalator a week or two shy of his first anniversary at the Carrow Road helm. This past season's re-shuffles in the dugout have eclipsed all that went before in what was already viewed as the most precarious of football professions.

Chelsea's model seems to be the very antithesis to the steady, measured progress favoured by the Canaries. Who can argue with another European trophy tucked away on the sideboard at Stamford Bridge and a fresh Champions League qualification? But for rivals who have to cut their cloth far more modestly, Hughton and Norwich appear a perfect fit.

A fraught but ultimately successful campaign of Premier League survival was a testament to Hughton's managerial prowess. The manner of Paul Lambert's rise and then messy divorce last summer, allied to that dreaded second season conundrum which appears to be entrenched in top flight mythology, served to present his successor with a devilishly difficult task. Given Hughton had operated in the soap opera that is Newcastle United and then in a financial straightjacket at Birmingham it perhaps appeared less daunting a proposition than it looked from the outside.

City's early season struggles and porous defensive lapses increased the degree of difficulty but a finish to the season that brought priceless wins over West Brom and Manchester City at the Etihad, no less, to propel the club into mid-table security was a vindication of the board's recruitment strategy.

The future now has a green and yellow hue to it. Norwich's balance sheet will show the club is free of external debt; an achievement equally as impressive as Hughton's squad managed on the pitch these past nine months given administration was a worryingly real prospect barely three seasons ago. Ricky van Wolfswinkel will arrive in July after Norwich smashed their previous club-record transfer fee, and taking the temperature from those who matter inside the Carrow Road corridors of power, there will be more where the highly-rated Dutchman came from.

Rising optimism springs as much from the raw materials Hughton has already melded into a fighting force as fresh faces. City have a squad of young men who, in most cases, have now experienced two successful seasons of Premier League progress; success filtered through the ambitions of an aspirational club like Norwich.

Hughton routinely over this past season sought to place Norwich's achievements and place in the Premier League's pecking order in proper context. When the manager talks about bigger clubs with deeper resources he is not sounding a defeatist tone. Hughton is both a realist and a pragmatist. On every available indicator, City had no right to expect to finish above rivals such as Newcastle and Aston Villa.

Norwich's policy of stealth under the astute guidance of Hughton may not set the pulses racing at large, but in Norfolk incremental steps are the currency of choice.