Club-record signing van Wolfswinkel already looks like real deal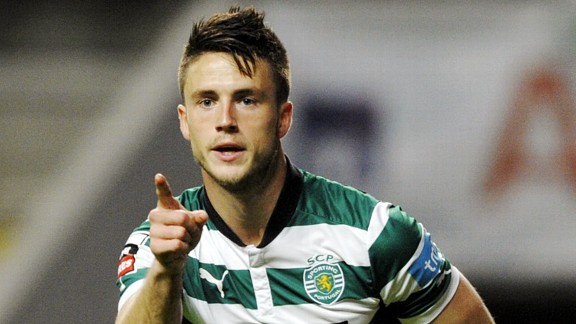 Getty ImagesRicky van Wolfswinkel's Dutch call-up adds to the excitement as he prepares to join Norwich City.
Any lingering doubts regarding the striker Norwich City have identified to fire them to the next stage of their Premier League evolution should have vanished with the latest Dutch national squad announcement.

Ricky van Wolfswinkel's route from Lisbon to Norfolk this summer will take him via Indonesia and then China after a call-up into Louis Van Gaal's 21-man squad for two Far East friendlies.

The 24-year-old has one solitary senior cap to his name -- a friendly against Ukraine in 2010 -- but it was the stellar list of names and the exalted company he now finds himself in that underline just what is heading to England.

Manchester United's Robin van Persie, Bayern Munich's Arjen Robben and Galatasaray's Wesley Sneijder are all in the same provisional touring party. For Norwich to have recruited a player thought good enough to flourish amongst such high-class luminaries only fuels the level of excitement ahead of van Wolfswinkel's official move to Carrow Road on July 1.

The Dutchman signed off for Sporting Lisbon with a brace in his last match at the weekend to seal a 4-1 win at Beira Mar. There is unquestionably a touch of the theatrical showman about this striking prodigy who in his youth was reportedly on Manchester United's radar as his prolific gifts propelled him through the ranks in Dutch club football. Two days after news first broke in April the Canaries had agreed a deal that obliterated their previous club-record transfer, van Wolfswinkel plundered a hat trick to sink Braga in the Portuguese Liga.

Watch him play from afar and there appears almost an arrogance to how he mesmerises opponents with a speed of thought matched by pace and predatory instincts. The statistics merely confirm the impression -- 38 goals in 50 appearances during a two-year spell on the Iberian peninsula. The great imponderable now is how van Wolfswinkel adapts to the rather more aggressively athletic Premier League when he has flowered in a club environment that favours technical proficiency.

City boss Chris Hughton revealed at the time of the Dutchman's high-profile capture that van Wolfswinkel had spent a few days in Norfolk to familiarise himself with his prospective new surroundings. Hughton was surprised by van Wolfswinkel's knowledge base. Here was a professional who had done his homework on Norwich City.

That anecdote alone tells you there will be few surprises left when he arrives for pre-season training. The 24-year-old's ruthlessness in the penalty box, one suspects, is matched by an ambition to get to the very top. Norwich may well be another stepping stone on his personal journey, but all the signs are the Canaries have plundered the continent for the real deal. They can expect to reap a rich harvest.