Norwich City have earned the right to leave the suffering to others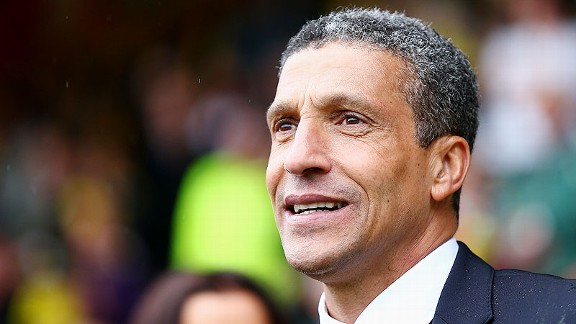 Clive Mason/Getty ImagesChris Hughton faces Liverpool, Arsenal, Man Utd and Chelsea in the run in
Norwich may well be mere bystanders this weekend to the real intriguing subplot at Manchester City that threatens to underpin a Premier League exercise in fixture list fulfilment.

- Norwich wrap up full-time Garrido deal

The divisions and the damaging fault lines that from afar appear to run deep through the blue half of this fine city erupted to the surface with Roberto Mancini's messy exit in the wake of a dire FA Cup final defeat to Wigan.

The professional swatting aside of Reading on the same evening Mancini's fate was publicly sealed served only to embolden the theorists who suggest those that matter inside the City dressing room may not shed too many tears at the Italian's fall from grace.

The mood of the terrace population is another matter entirely. Mancini was a cult figure; the man who broke Manchester's monopoly. And it is how those loyal fans choose to mark Mancini's passing in the first home game since those tumultuous events that could provide the most interesting backdrop to what is now no longer a fraught assignment for Chris Hughton's squad.

The emphatic nature of last weekend's 4-0 league win over West Brom not only preserved their top flight status for a third consecutive season, it released waves of relief around a club which appeared incapable of extricating itself from a late relegation skirmish.

Norwich's club-record Premier League unbeaten run prior to Christmas left them closer to an ambitious bid for Europe than it did casting nervous glances at a distant survival struggle.

Humbling cup defeats to lowly Luton and their former saviour Paul Lambert's Aston Villa on home soil did nothing to assuage fears of stalled league progress. The scale of the celebrations after finally brushing aside the Baggies spoke volumes for the pressure and the stress Hughton and his personnel have had to endure in recent times.

Hughton spoke in graphic terms about the sleepless nights and the consequences of failing to preserve the Canaries' hard-won Premier League cache. For perhaps the first and last time this season, Norwich's manager and his players can relax and leave the angst and anger to others in their midst.

The visitors will still aim to finish with a flourish, but given the scale of the hammerings Manchester City have inflicted since returning to the big time in 2011, most will expect that trend to continue. Yet, equally, few should begrudge Norwich an afternoon spent watching others suffer, should the Blues' faithful look to express their anger towards a distant hierarchy and their decision to cull a manager who brought them a first league title in 44 years at the expense of their greatest rival. Hughton and his players will have precious little time to savour their achievement before the planning starts in earnest to attempt an encore next season.