Sir Alex Ferguson will forever be indebted to Norwich City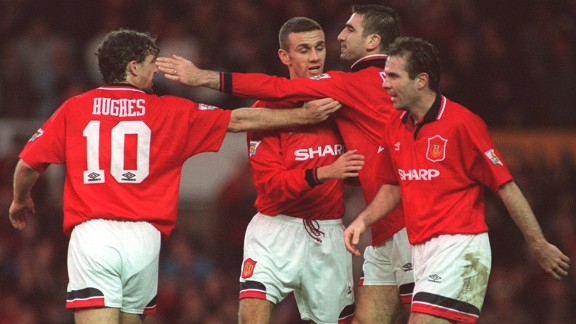 GettyImagesMan Utd enjoyed a crucial win against Norwich in 1993
Norwich City's role in the remarkable true life story of Sir Alex Ferguson's legend may well be overlooked in the coming days.

The outgoing Manchester United great's imminent departure is truly the end of an era. The deluge of tributes that follow will testify to his legacy. Debates may rage regarding his place in the pantheon of British managerial titans; coloured it must be said by the usual tribal loyalties and demarcations that divide the biggest domestic football institutions.

- Marcotti: What next for United?
- Brewin: Sudden end to legacy
- Payne: Fergie and Busby
- Jolly: Fergie a relentless winner
- The search for Sir Alex's heir
- Potential successors gallery
- Ferguson's famous quotes

But Ferguson's showreel of highlights is infinitely impressive. The games, the goals, the trophies should stand as a bastion of excellence to his genius. Yet one game above all others helped make the legend. Without it, there may not have been 13 Premier League titles, two European Cups and countless other conquests. Much is made of Ferguson's early struggles to establish his grip on power at Old Trafford and seeming inability to loosen Liverpool's stranglehold on the English game. That breakthrough FA Cup triumph in 1990 is always proffered as the pugnacious Scot's 'big bang' moment. But Ferguson himself knew the path to challenging Liverpool's hegemony lay in league title success.

The dawning of the Premier League era in 1992 marked a defining break with the past. Ferguson's fate hinged on ending a drought dating back to 1967 and the zenith of Sir Matt Busby's reign framed through the stellar crop of George Best, Denis Law and Bobby Charlton. The Canaries boasted no such rich pedigree, but under the astute guidance of Mike Walker they had mounted a serious title challenge to United in a thrilling three-way race that also sucked in Ron Atkinson's Aston Villa. So much so that United's visit to Carrow Road on April 5, 1993, should forever be remembered as the night United came of age.

The manner of their next heart-stopping win at home to Sheffield Wednesday, Steve Bruce's stoppage time salvo in front of the Stretford End, Ferguson and his assistant Brian Kidd's unadulterated celebrations, all that would never have been possible without the 3-1 win earned in Norfolk five days earlier, when the evergreen Ryan Giggs, Andrei Kanchelskis and who else but the man for the big occasion, Eric Cantona, eased Ferguson's side to a priceless league win.

United had trailed Norwich by two points at kick off and Villa by four, but they marched to glory in the wake of a pivotal victory. Suitably emboldened, they won all six of their remaining league fixtures to cruise to that maiden title success of Ferguson's tenure by a 10-point margin from runners-up Villa, with Norwich two points further adrift.

The Canaries never recovered their Spring momentum. The psychological damage proved too great. A seismic power shift in the British and perhaps even the world game was the by-product. Statistics will show Norwich had more success than any other Premier League rival against United over the breadth of Ferguson's glorious tenure. But the one that got away on a warm April evening back in 1993 triggered a chain of events and a unique managerial dynasty the like of which we will never see again.