Chris Hughton is right to put Norwich City's survival struggle in perspective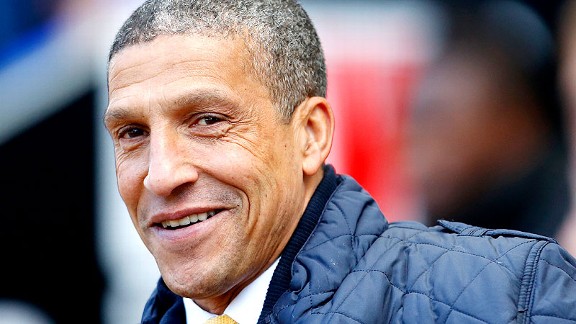 Paul Thomas/Getty ImagesChris Hughton will be facing the man who preceded him at Norwich when Paul Lambert's Aston Villa visit on Saturday.
Chris Hughton has his detractors at Norwich City, but the man himself remains remarkably positive in his approach to securing the Canaries' Premier League survival.

Hughton, in certain quarters, has been portrayed as a negative stylist -- a man happy to stick rather than twist; wedded to the same rigid formulas and personnel and slow to affect games with his substitutions. City failed to muster a strike on target in last weekend's Premier League defeat at Stoke. It has happened before, at Wigan in late March. The statistics offer damning evidence: 14 league draws this campaign is matched only by Everton. That tantalising differential if Norwich had tilted two or three of those draws into wins is the difference between a late-season skirmish with the relegation battle and mid-table comfort.

Hughton at no point has sought to delude players or pundits alike. City's goal output has been a source of season-long angst. Hence the club-record purchase of Ricky van Wolfswinkel ahead of the prolific Dutchman's summer arrival in Norfolk from Sporting Lisbon. Hughton understands the frustration, accepts the negative critique of his attempts at consolidation through a policy of stealth. But when you sit and listen to his reasoning at such an advanced stage of the season, it is difficult to offer a counter-argument.

Hughton inherited a squad of players from Paul Lambert who had defied expectations to survive in their first season back since 2005 at such a rarefied level. A collection of individuals, who by their own honest admission, had been dragged up from the wrong side of the tracks. Players who knew the hardships of non-league football, or the pain of being cut adrift from Premier League academies in their youth and forced to build careers in the muck and nettles of the Football League's lowest branches.

Hughton set about crafting further quality into his playing pool after succeeding Lambert last summer with the astute acquisitions of men like Sebastien Bassong and Michael Turner -- two centre-backs around whom Hughton has successfully constructed a defensive resolve which has underpinned their safety bid.

But City's playing budget and resources remain one of the very lowest in the Premier League. Just to compete is an achievement by itself. If his chosen method is a blue collar approach forged on toil and sweat and dashes of quality, it is hard to castigate a manager for making the most of precious resources.

Hughton was also correct to point out this week that bar a fleeting early part of the campaign, Norwich have not resided in the bottom three. During a club-record unbeaten Premier League run before Christmas they were nearer to Europe than the Championship in relative terms. City's progress since has been sporadic and fitful. It is almost as if such prolonged uplifts and stellar league wins against the likes of Arsenal and Manchester United raise expectations to unrealistic levels.

Norwich remain a club on the cusp of consolidation. Growth is a longer term aim, but for City's future still to remain unresolved three games from home is merely confirmation of their status in the pecking order. It is not a failure on Hughton's part.