Kindred spirits on collision course as Norwich visit Stoke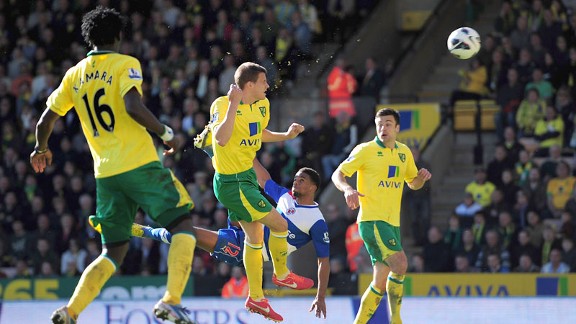 Jamie McDonald/Getty ImagesNorwich's aerial ability carried them to a win over Reading last weekend.
The purists may wish to avert their gaze but Norwich's Premier League trip to Stoke Saturday proves how eclectic the top tier of English football is.

Not every club can have a Robin van Persie peeling away onto a Wayne Rooney lift to crash home a wondrously dexterous long range volley. Or a Jack Wilshere to carve balletic tracks through back-pedalling midfields. Or, dare one utter it in this of all weeks -- a fearsome predator in Luis Suarez.

Norwich and Stoke have none of that sublime raw material but both appear set to remain part of this exclusive cartel next season.

They arguably need one more win from their remaining four league fixtures to extricate themselves from the drama of a potential desperate survival fight. Wigan occupy that final relegation place below the waterline that has all but submerged QPR and Reading approaching the latest round of fixtures.

The Latics have six points to make up on Stoke, seven on the Canaries. A game in hand is cold comfort when they face both Tottenham and Arsenal over the run-in, sides locked in a duel for Champions League qualification as much as local bragging rights.

Yet neither side at the Britannia Stadium is likely to attract much praise for retaining their top-flight status. Pragmatism binds both in their approach. Norwich have developed a potency on set pieces and crosses from wide areas which engenders grudging respect.

Reading chief Nigel Adkins was the latest to make great play of the Canaries' ability in the air after watching his side flounder at Carrow Road last weekend.

Stoke have built a dynasty on direct football. Tony Pulis has erected a monolith to physical endeavour and muscular intent in the Potteries since guiding them back to the top table of English football for the first time in 23 years.

Many chose to sneer at the achievements of Stoke and Norwich. For those who castigate it as football by numbers the only statistics that truly matter are the financial windfalls accessible in the new broadcast deals for those lucky few who are part of the Premier League clique from the start of next season.

Certainly in Norwich's case, following a headlong descent to the bottom of League One not all that long ago, the transformative impact of substantial revenues will never be underestimated. Not when the spectre of administration was a genuine possibility barely four years previous.

Norwich manager Chris Hughton has succeeded not just on the pitch this season, but to a large extent off it as well in his ability convey that stark message to the terraces. It has not been pretty at times, it has certainly not passed for entertainment at times, but the ends have justified the means.

Norwich's club-record purchase of Dutch striker Ricky van Wolfswinkel hints at attempts to evolve a playing style which may in time earn them style points. Right at this critical juncture in the club's development, it is all about substance. The purists can get their fix elsewhere than the Britannia Stadium Saturday.