Norwich City's Elliott Bennett is a Premier League role model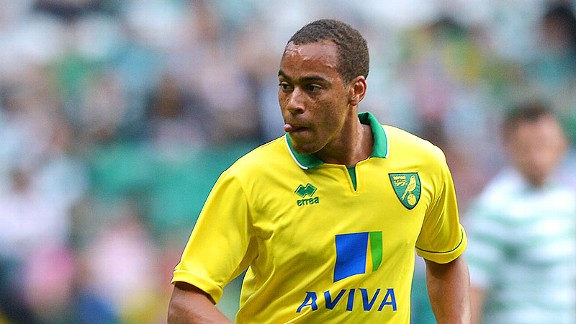 Mark Runnacles/Getty ImagesThe understated workmanlike attitude of Elliott Bennett was rewarded with a game-winning goal last week versus Reading.
Elliott Bennett is the perfect case study in Premier League perseverance.

Too often in the top flight the thin-skinned footballer, the prima donna player is projected as the dominant stereotype. Management at such a rarefied level of the game is as much about massaging bruised egos and bolstering fragile confidence. For all intents and purposes, it is a squad affair these days, but do not for one moment think the overwhelming majority of Premier League players are happy to defer to their direct rivals. To sit on a substitutes' bench, or worse, in the stands every weekend is an unpalatable prospect. The financial perks may insulate, but a footballer's career at the very top is ridiculously abbreviated.

- Ryan Bennett charged over tweets

Every game, every season is precious. Who wants to sit in the shadows given the searing spotlight that illuminates the best club product on the planet. Carlos Tevez's touchline spat for Manchester City at Bayern Munich in last season's Champions League was arguably the most visible example of the inherent strains and stresses of the dressing room dynamic aired in such a graphically public setting.

Norwich's young midfielder would reject any comparison with the gifted Argentine in purely footballing terms. But he is also a markedly different character. Bennett has retained that fresh-faced, wide-eyed enthusiasm he displayed on his first day as a Norwich City player in the summer of 2011 when he was unveiled to the media.

Bennett's career path has clearly hardened him to the turbulent currents of struggling to reach the top. The 24-year-old failed to make the grade at his boyhood club, Wolves, and via a succession of loan spells at less glamorous outposts such as Crewe and Bury found a home on the south coast at Brighton. The wide midfielder was heavily trailed with a Carrow Road move six months before he finally arrived.

Albion's push for promotion from League One at the time proved the dominant factor in a stalled deal that must have felt like a crushingly missed opportunity. Whatever Bennett felt privately, he was magnificent in Brighton's successful elevation to the Championship before leaving the Football League and the Seagulls' behind to finally link up with Norwich.

Bennett has since made 52 Premier League appearances for the Canaries, 21 of those from the bench, which tells you everything about his character. When you speak to the intelligent Telford-born prospect, you still hear the voice of a man who fully appreciates just how fortunate he is to be part of such stellar surroundings; grateful for the opportunity and willing to do whatever it takes to remain part of Chris Hughton's squad.

When he was pressed earlier this season on the frustrations of being a bit-part player, Bennett responded with an honesty laced with the realism of how far he had travelled. He was outstanding in the recent 2-2 Premier League draw against Swansea at home with two key assists for Robert Snodgrass and Michael Turner, but the following weekend he was left out at the Emirates. You won't hear a murmur of dissent from Bennett. He knows for clubs like Norwich it is all about the greater good.

Bennett's patience has been routinely tested. Hughton recalled him for the crunch test last weekend against Reading and Bennett responded by rifling home the match-winning goal that in all probability secured the Canaries' top flight status. He, more than most, deserves another shot at the big time.